Orlando
Alice Birch, freely adapted from the novel by Virginia Woolf
Schaubühne
Schaubühne, Berlin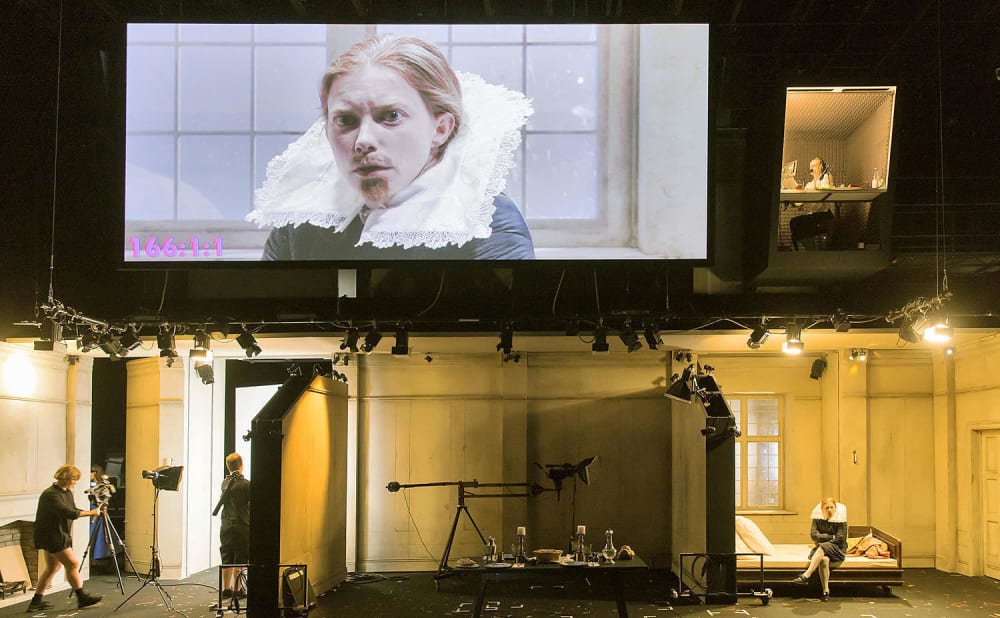 London audiences were expecting to see this stage adaptation of Virginia Woolf's novel at the Barbican earlier this month. While that disappeared along with everything else on the London stage, this recorded version in German with English subtitles was briefly available online.
Although Orlando was written close to 100 years ago, it has very much become a novel for our times, given its transgender theme. That is almost certainly why the team of avant-garde director Katie Mitchell and writer Alice Birch have chosen to bring it back into the public eye.
Everything about this 105-minute production is unconventional, including even some of the conventionality.
As has become a regular strand in much of her work, starting with another Virginia Woolf adaptation Waves, Katie Mitchell has chosen to use as the centrepiece a large film screen on to which ingredients are pieced together, as if in one of those popular TV cookery programmes.
Many scenes are painstakingly made up from composite parts, for example the hands of one actor filmed in close-up might be accompanied by sound effects from another, immediately followed by the face of a third, while the kind of artifice that is popular in film is exposed as viewers see exactly what the actors are doing to make up the "perfect" images on screen.
However, instead of making this all-encompassing, exclusively utilising the skills of actors and the production team in the theatre, a fair proportion of the video work is pre-prepared, especially scenes featuring wildlife and Jenny König's Orlando enjoying life in the open air.
His life starts in Elizabethan England at around the time of the Armada. The central character is an aristocrat who, by the age of 16, is enjoying a life of passion, taken up as a toyboy by the Queen herself.
A rampant life ensues with the young man squiring many equally aristocratic women from across Europe although, not once but twice, he suffers from some kind of ailment that leads to week-long periods in coma.
It is after the second of these that Orlando, by now as interested in writing as swashbuckling, wakes up to discover that he has undergone a gender change, losing his manhood and in return become the possessor of a pair of bouncing breasts. Before infuriated readers write to this critic's editor, it should be pointed out that part of the assimilation and recognition process involves he / she / they literally using this methodology to understand some of the dynamics of becoming female.
Having been a roustabout man chasing every woman in sight, our hero / heroine very much does the same in reverse in the new body. Now, following the novel, she also races through time, reaching the 19th century, albeit with constant anachronisms deliberately inserted into the visual text.
Not only does Orlando become a woman but there is a great deal of additional gender-bending as male Orlando's former female lover becomes female Orlando's male lover, while a number of the sexually predatory men are played by actresses.
While the period up to the transformation is treated relatively seriously, the evening becomes more and more tongue-in-cheek as it goes on, eventually ending in a kind of self-referential comedy in which the original gives way to something that is often funny but becomes more taken up by its own often well-judged wit than the ideas of the original author.
Holding the evening together, from a booth next to the big screen, is Cathlen Gawlich playing the biographer / narrator, who does her best to keeps the strange plot on track.
This is a strange but very watchable production in which an ensemble of actors and production staff work well together to support the efforts of the excellent Jenny König playing Orlando. One day it might even make that journey to London.
Reviewer: Philip Fisher