Orpheus
Devised and composed by Little Bulb Theatre
Little Bulb Theatre
Battersea Arts Centre
–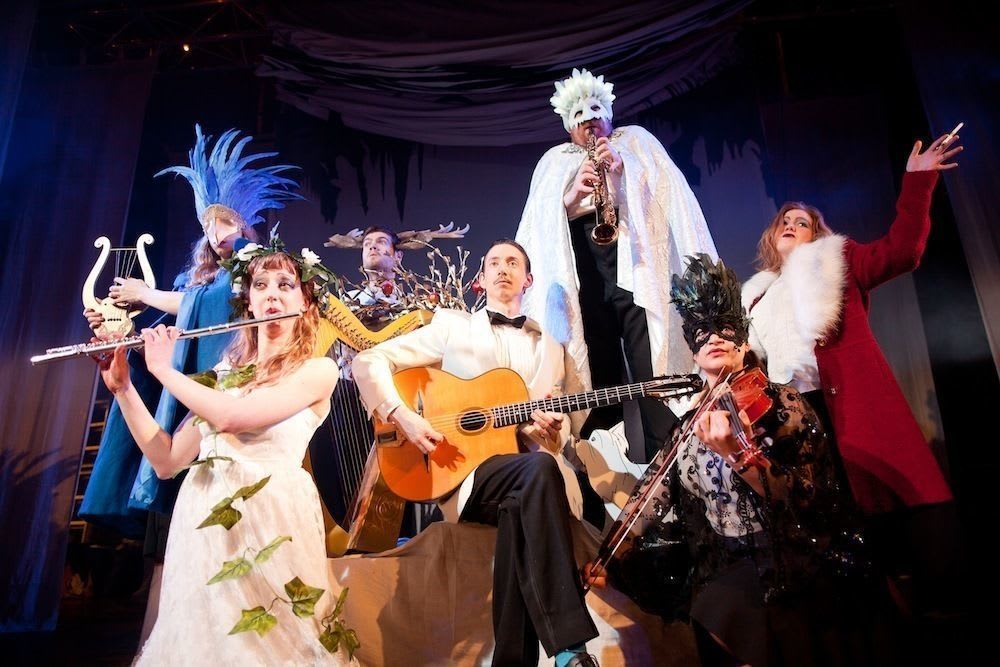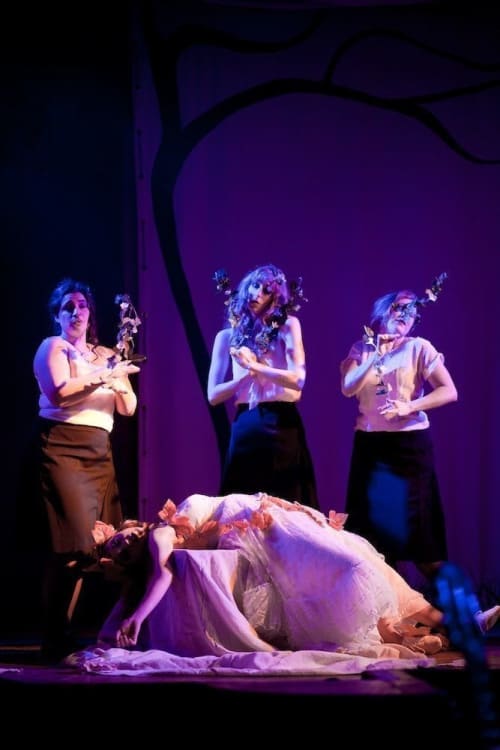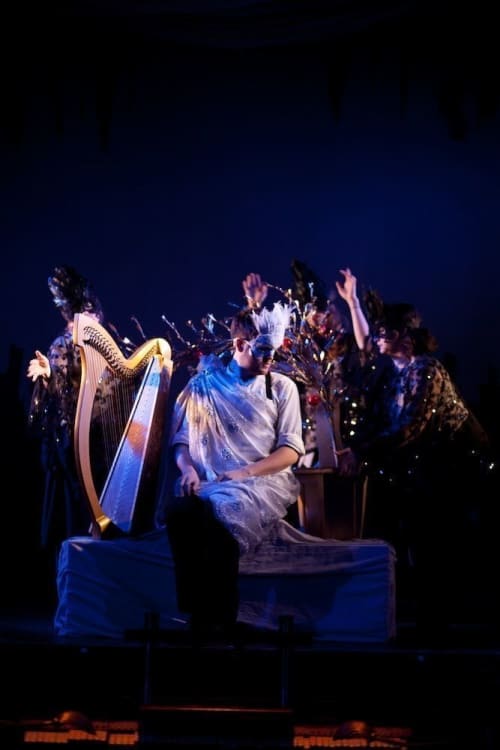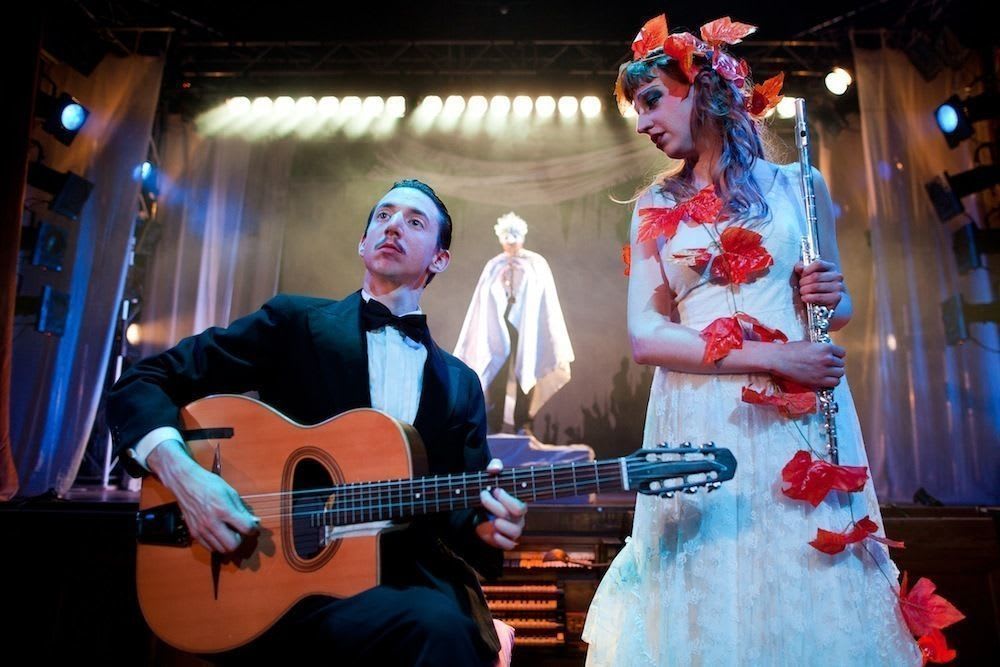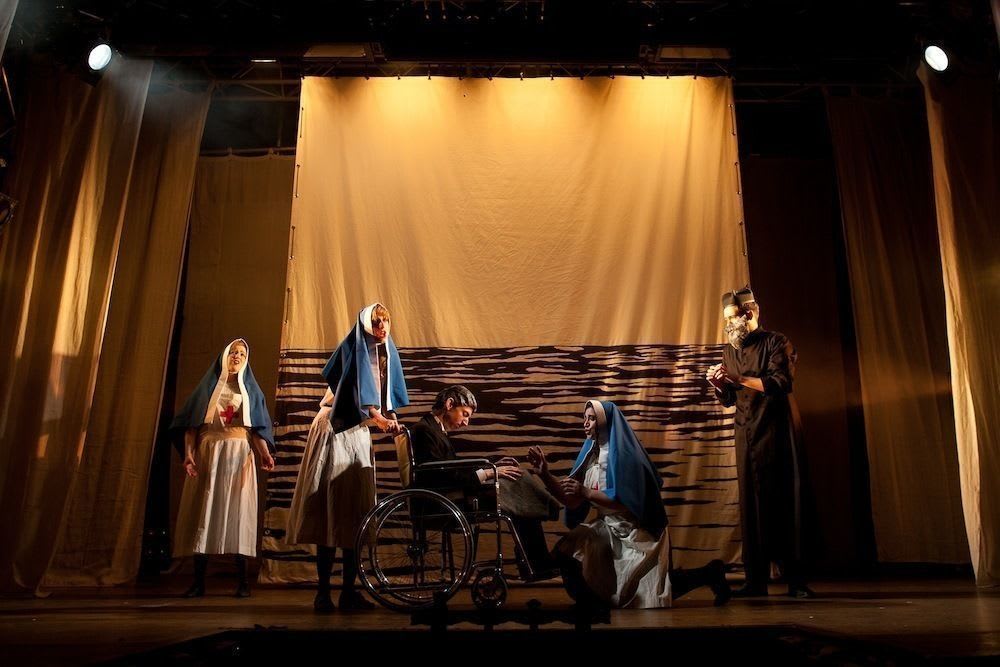 A fabulous evening, a clever concept, a generously gifted company, incredible value—Battersea Arts Centre has done it again. Take an acorn and given it time to grow into an oak. Shows what you can do with love and care.
Two years in development, Little Bulb Theatre's Orpheus, a mix of myth, magical design (Mary Drummond), music, and infectious mirth, set in a 1930s Paris music hall—well, actually in BAC's Grand Hall opened specially for this occasion—not only impresses with the multi-skills of its eight-strong cast, and crew, but also with its melding of knowing send-up and serious intent.
The oft-rewritten myth of Orpheus is reincarnated through the imagined love story of legendary guitar virtuoso Django Reinhardt and 'little sparrow' Yvette Pépin, his flute-playing Eurydice.
Dominic Conway (musical director, too), eyes kohl-black, a cross between Jean Dujardin in the 2011 silent film The Artist and Eric Elmosnino (and his model) in the 2010 Gainsbourg: Vie héroïque, is an enigmatic delight on the golden guitar. Eugenie Pastor, eyes Cleopatra bright, embodies a Piaf Eurydice/Yvette in dress, pencil eyebrows, gesture and song.
Original compositions by the company interweave with a range of music—Saint-Saëns, Debussy, Bach, Monteverdi, Brahms, Fauré, Edith Piaf and hot Hot Club Jazz—to tell and carry the familiar story along in a fusion of silent cinema, tongue-in-cheek captions, and sound, transcending time and place in Cocteau-surreal vignettes and set pieces.
A red balloon released, en passant, against a Paris skyline evokes the 1956 Le Ballon Rouge film. Masques and The Magic Flute are in there somewhere—in the feather mask headdresses for Hades, Persephone and the Furies, and puppet snake. Attention to detail has Eurydice's green leaves turn to autumnal gold to Jacques Prévert's Les feuilles mortes.
References are many and ingenious, and the doubling of gifted musicians as silent actors and singers showcases each member of the group: Clare Beresford double bass, Miriam Gould violin, Shamira Turner accordion (three-headed Cerberus, and triplettes de l'antiquité who sing in beautiful harmony), angelic-voiced Tom Penn (a falsetto Persephone) on percussion, director Alexander Scott (Hades) on clarinet, and Charlie Penn on piano and organ (BAC's original organ part restored for this production).
Django like Orpheus can charm the bears and birds in the forest (yes, we get to see him do that)—in his case the birds in the chorus (good parallel, non?)—with his playing, but is he reliable? Playful Orpheus most certainly is, charming us out of our trees.
A warm-hearted, joyous invitation to let our hair down in a cabaret style presentation, red-cloth candle-lit round tables at the front, Orpheus delivers on its nectar of the gods promise. Wine, food—yes there's a bar and bistro for food and drink before and after the show—and song.
As well as a twenty-minute interval followed by a twenty-five-minute musical interlude, to continue with the feasting and drinking, before the final act. Wander in and out, dance with the little sparrow. No surprise Orpheus ends in a standing ovation. Who wants to go home? Fridays and Saturdays there's late night dancing.
Battersea burghers are very fortunate to play host to an award-winning young company—produced by Farnham Maltings, Little Bulb Theatre formed in 2008—on its way up. Rough and ready theatre, but there's nothing rough about the talent on display. I wish them every success.
Late to see it, mid-run, but there's still time to catch the show. I urge you to go. With luck and wind in the right direction, maybe Orpheus will captivate a West-End producer. Just don't look back.
Reviewer: Vera Liber