Or You Could Kiss Me
Neil Bartlett and Handspring Puppet Company
RNT Cottesloe
(2010)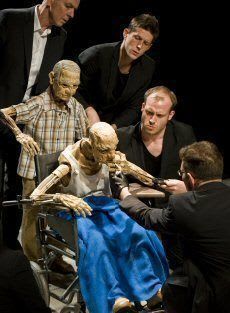 On one level, Or You Could Kiss Me is the long awaited London follow-up to War Horse. Like the NY's smash hit, still going strong at the New London and soon to be a Steven Spielberg movie, it features the magical puppetry of Handspring.
The South African story might be the start of a new genre, semi-autobiographical sci-fi. It is a tale of love seen painfully as if through a microscope at two points 67 years apart.
After a mythic nod towards Ovid, it starts at the end in 2036, as an old Gay man struggles through his final days, appropriately portrayed by an archetypally skeletal Handspring puppet.
He and his loving partner are forced to face up to the grim detail of mortality with issues such as partnership and a will breaking into the serious business of shuffling off this mortal coil with some measure of dignity.
To break up the story, we enter the dying man's dreams and, rather than seeing his whole life fly past, as is supposed to happen, we are flung back to his 19-year-old self.
That was the time when the callow student met the love of his life at the end of one of the evening's highlights, a swimming session in the ocean, which shows off the puppet-designer's talents to full effect, as does a squash match later on.
The attraction between the men is immediate but consummation takes time and, reflecting one of the problems with Rae Smith's staging using a narrow raised traverse, suffers from poor sightlines as no fewer than six bare-footed men in black manipulate the puppets for all that they are worth.
In addition to the direct depiction of these lives, Neil Bartlett also uses clinically dispassionate narration from Adjoa Andoh in a number of subsidiary supporting roles.
Or You Could Kiss Me tells a small tale of ordinary folk using intricate detail. As such, it has more of the feel of an impressionistic short story than a play, although it does benefit from the uncanny allure of these puppets.
At times, although they are only around four feet tall and their voices come from the surrounding human sextet, it is hard to remember that they are not real people. There is also a further element of authenticity generated because the two main puppets are operated by Adrian Kohler and Basil Jones, whose own story is the genesis for the play.
While the resulting confection can be moving and gently humorous, with so much of the action difficult to see from the stalls and drama being at a premium, it is hard to follow the characters' example and fall in love with this production.
Reviewer: Philip Fisher