Oslo
J T Rogers
Lincoln Center Theatre
Lyttelton Theatre (National Theatre)
–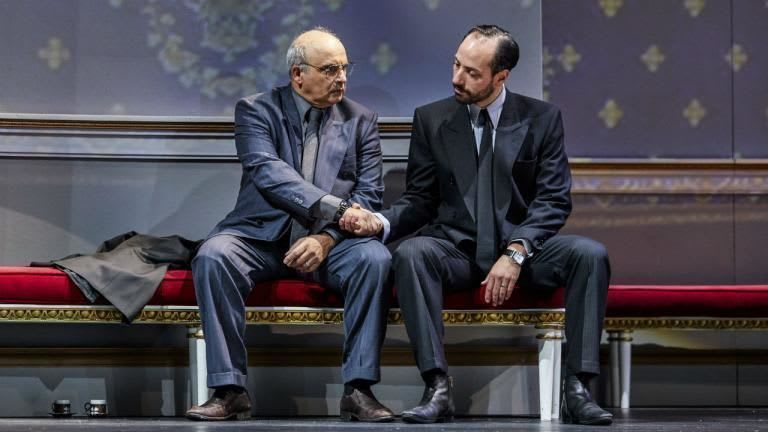 Even if it is timely given the recent announcement of talks between Hamas and Fatah, a play about Middle Eastern political diplomacy 25 years ago could so easily have been an extended exercise in tedium.
However, writer J T Rogers and director Bartlett Sher have created a gripping evening's entertainment that ramps up the tension to almost unbearable levels through three hours that feel like far less.
Oslo starts with the bold idea from the superb team of Toby Stephens and Lydia Leonard as Norwegian husband and wife team, quango chief Terje-Rød Larsen and civil servant Mona Juul, that they can solve the decades-long conflict between the Israelis and Palestinians on their own. They use the logic that "we have what the Americans can never have—the appearance of neutrality". Indeed, one of the pleasures of the play is the side-lining of a self-important superpower that was leading ultimately unsuccessful peace negotiations alongside events depicted on stage.
Far-fetched as all of this might sound, their idea began to get traction on all sides, thanks to a combination of charm, boldness, tact (on her part) and good humour.
Throughout a tortuous nine-month process of negotiations, the Norwegians had almost as many problems with their fellows in the foreign ministry as the parties at the sharp end of the talks.
At the beginning, on Michael Yeargan's adaptable, open set, it seems as if either member of the Palestinian team, finance minister Ahmed Qurie or PLO liaison official Hassan Asfour respectively portrayed by the immensely impressive Peter Polycarpou and Nabil Elouahabi, might kill someone, perhaps even the Norwegian brokers of peace but, more likely, a harmless pair of economics professors from Haifa. The latter duo were a necessary first step in the long process, given that it was literally illegal for Israelis to meet Palestinians in such circumstances.
Repeatedly, the parties come close to explosive breakdowns, matters only getting worse as each succeeding round was led by even more bullish Israeli negotiators, first Philip Arditti terrifyingly playing loudmouth Uri from the Foreign Ministry, then Yair Jonah Lotan as sinister lawyer-politician Joel, while their opponents were rarely less than fiery, even allowing for a degree of good cop / bad cop strategising.
It takes a long time but, as history (and a video with Jimmy Carter at centre) tells us, Yasser Arafat and Yitzhak Rabin eventually signed a treaty that brought relative peace to the region—and now, thanks to the efforts of the American creative team and British cast, we know much more about who was responsible behind the scenes for that accord.
There are a number of reasons why Oslo keeps visitors on the edges of their seats. First, plays about diplomacy are few and far between but when they are carefully constructed, as with David Edgar's The Prisoner's Dilemma, they provide a theatrical rollercoaster filled with thrills and spills. Secondly, this work is packed with humour, sometimes gentle but often brutal, to leaven what might otherwise be an indigestible history lesson. Finally, each of the key players is shown to be a human being to whom we can relate being rather than merely a politicised cipher.
This production started out at Lincoln Center Theatre, where it won this year's Tony for Best Play, and stops briefly at the National prior to a West End run at the Harold Pinter Theatre from 2 October to 30 December that will allow far more people to enjoy what will undoubtedly be one of the season's highlights with every chance of adding some British awards come the end of the year.
Reviewer: Philip Fisher