Otello
Music Guiseppe Verdi, libretto Arrigo Boito
The Royal Opera
Royal Opera House
–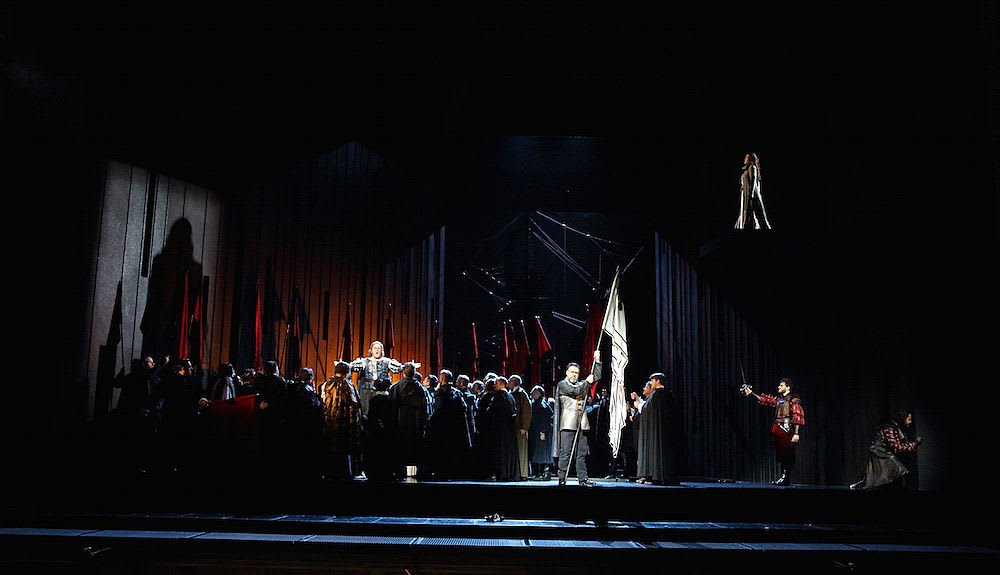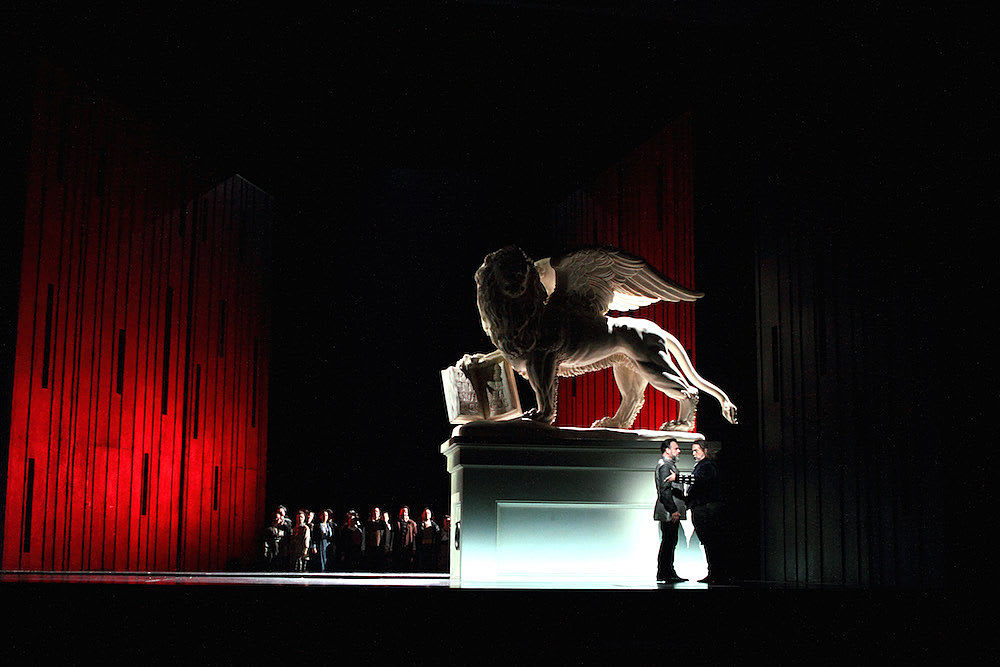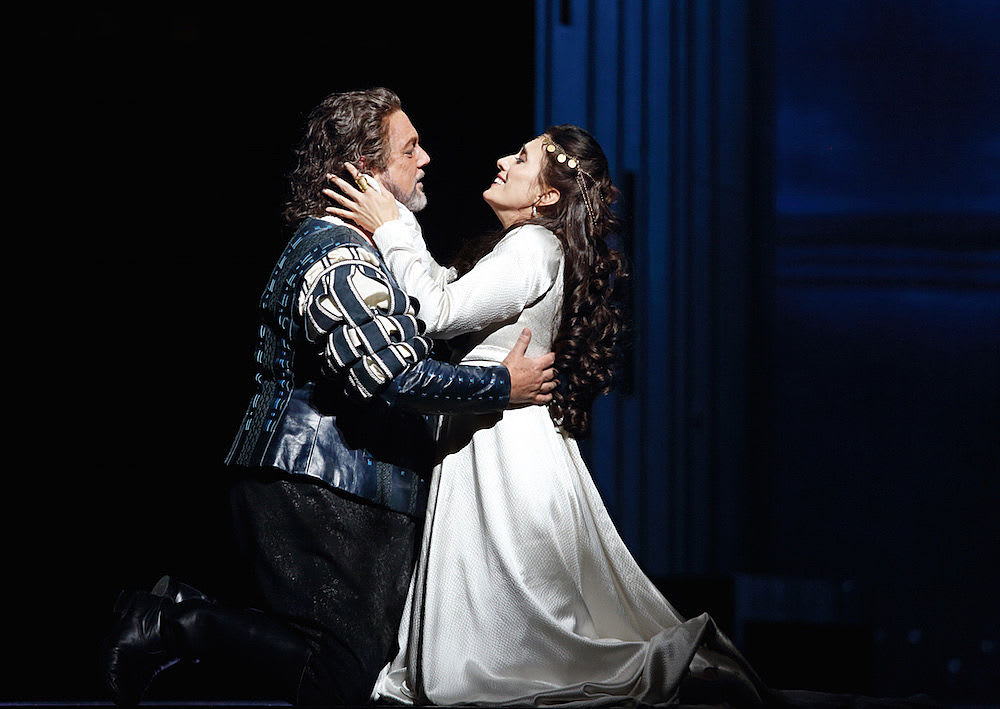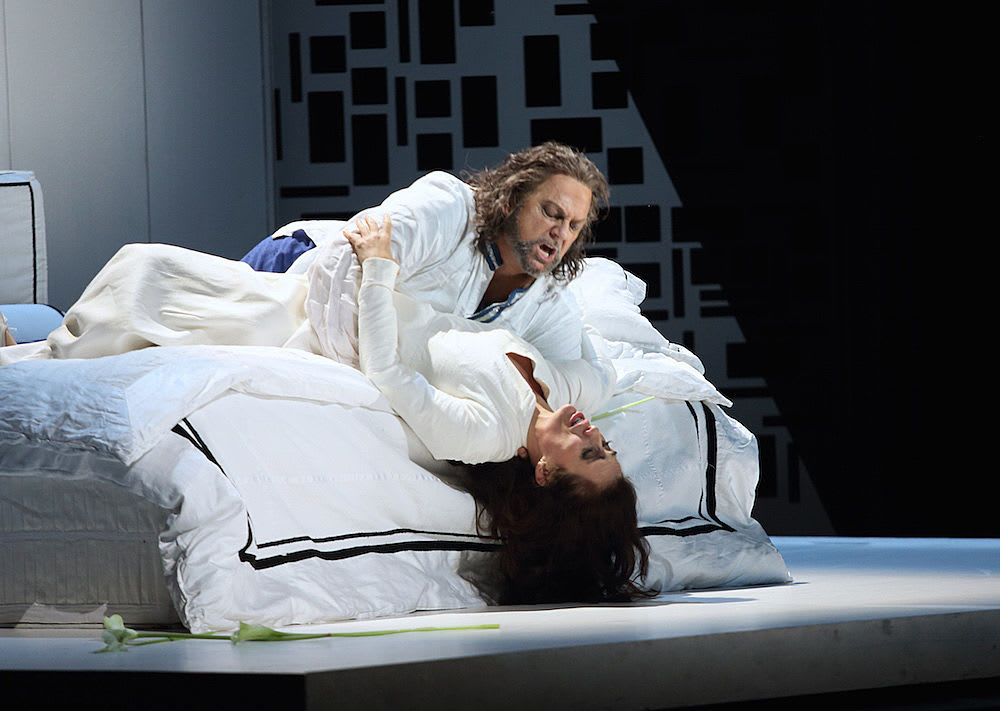 The devil has the best tunes (and great text by Arrigo Boito), and my word does Spanish baritone Carlos Álvarez deliver them! Does this demonic Iago singing his Credo—his belief in a cruel god who "has made me in his image"—bending down to the ground from which sulphurous fumes escape, owe something to Boito's own 1868 opera Mefistofele? A proud man and a saintly woman brought down by pathological hatred. Evil for evil's sake. "Death is nothingness" nihilism…
Indeed, Verdi's provisional title was initially Iago, mainly because Rossini's Otello was still playing and one didn't tread on others' toes, but Otello it had to be even though as in Shakespeare so here Iago is the main agent in the tragedy. I often wonder if Iago is not jealous of Desdemona—if he can't have Otello, then neither can she… his avenging pact duet with Otello is as close to a love duet as one can get. Accusations of gentle trusting Desdemona ("resigned to the will of heaven") as a common whore are shocking.
Iago sets up Cassio (a fine Freddie De Tommaso) and Roderigo (Andrés Presno) as the fall guys to catch his loving couple prey; his good wife Emilia (mellow-voiced Catherine Carby so good in her small but crucial role) too late exposes his game.
But it's the three lead roles, that triangle (a love triangle?), the predator and his victims, that need to captivate the audience as they navigate Boris Kudlička's stark conceptual Cyprus garrison sets—with rickety fretted walls and a raised balcony that clangs into place.
Not much to feast the eyes on. Chiaroscuro lit by Bruno Poet (has he been watching Orson Welles's 1948 Macbeth film?), director Keith Warner's symbol-heavy Manichean vision is signaled by a colour scheme that is mostly black and white with a dash of blood red (hell fire?).
Black shutters down ('robbed of the light') are the dark nights of the soul; light arrives with the visitors from Venice recalling the great man home and the children offering flowers to Desdemona. Her bedroom is chic white.
A huge white Lion of Venice statue is wheeled on and off. Blink and it's gone—like life itself. It lies in broken pieces at the side as Otello quickly loses control. Ironic graffiti—ECCO IL LEONE… behold the lion, your lion!—Iago gloating at his success. Verdi's wondrous music, sensitive to each twist and emotion rises above it.
Antonio Pappano conducts (there are only five performances and he will be conducting them all) with his usual sensitivity—he was the conductor for its 2017 première (with the then 48-year-old Jonas Kaufmann in the lead, for me a more credible Otello than tonight's 65-year-old Gregory Kunde)—and the chorus is outstanding, a volume of sound that pierces the heart.
But back to Iago, who sets the scene with his white comedy and black tragedy masks. The white, of course, is cast aside—evil will follow, but first we must have the glory before the fall, the joy before the sorrow.
Otello arrives after routing the Turks and surviving a stormy sea (Esultate!)—he won't survive the metaphorical one, it's all down hill after this. Superstition and suspicion… that tangled web of the handkerchief and its proof… But you know Shakespeare's story. The seed of doubt and jealousy planted so expertly by Iago in Otello's breast. "Each man kills the thing he loves" was never more true.
A passionate yet insecure man, a former slave—there's the psychology—can't believe in Desdemona's pure love for him. Their first duet, his wanting to die of ecstasy in her bacio, her kiss, and die he does with one last bacio at the end, the bookending frenzy of love.
Desdemona "will tire of the savage's kisses", Iago sings, his racism and lack of status on show. Women's vows are fragile—yet she goes to the death for love ("to love him and to die"). See what I mean by Manichean? Her plaintive "Willow Song", Desdemona's premonition of impending death, so poignant—Verdi wrings the heart.
Her "Ave Maria" follows: faith up against lack of faith. Innocence sleeps as evil enters the room. It's all in God's hands… Is it? Act IV is Ermonela Jaho's—her Desdemona accepts her fate. The "Romeo and Juliet" finale: husband and wife dead in the bedroom, he on the bed reaching down for her on the floor for that last kiss—evil, not fate, has succeeded. Iago slits his wife Emilia's throat. The sad chords linger. Applause is immaterial.
Powerfully built Kunde is in fine voice, if in stilted acting, his tenor blending sweetly with slender Jaho's soft soprano—occasionally I lose her lower register to the orchestra. In the subsidiary roles, Jette Parker Young Artists tenor Presno and bass-baritone Michael Mofidian (Roderigo and Montano respectively) are excellent, and the stage fights and tumbles are well staged. But in the sly dramatic acting stakes and interpretation, Álvarez holds the fort.
Reviewer: Vera Liber