Othello
William Shakespeare
Olivier Theatre (National)
–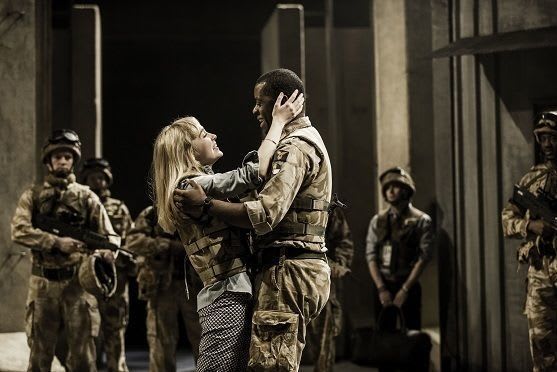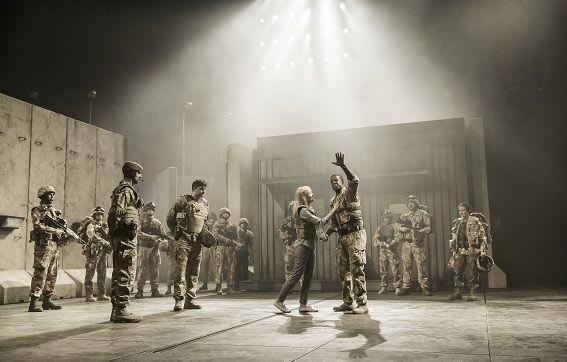 Whenever Sir Nicholas Hytner has wanted to do something really special, his go-to stars have tended to be Simon Russell Beale and Alex Jennings, often in combination. With this thrilling, modern dress Othello, he has introduced a new dream duo of Adrian Lester and Rory Kinnear.
This seemed like a safe bet, since Lester was in at the start of the Hytner reign ten years back as his Henry V, while Kinnear has been a regular, peaking with a truly unforgettable Hamlet on this stage three years ago.
Vicki Mortimer's set for this production is functional rather than attractive but it fits well with the concept that had Shakespeare written the play today, much of the action would have taken place against the backdrop of the War on Terror in the Middle East.
Many of the early scenes are dominated by William Chubb's Brabantio, who captures the pain of a disbelieving father losing a much-loved daughter in marriage to a loathed man from what he regards as an inferior race.
By then, the audience has already seen and heard enough of Rory Kinnear taking the role of an estuarine ensign Iago to know that he was a thoroughly bad lot, despite his surface respectability—in today's parlance perhaps a bank clerk type who spends his weekends punching and stabbing people outside football grounds.
On this occasion, he appears to be wholly driven by malice, seemingly sparked by a suspicion (no more) that his wife Emilia may have been having an affair with his boss, the hated Moor.
Once started on his evil scheming, Iago proves to be expert in manipulating as many people as necessary to achieve his ends. As such, he lacks the variety of motivations that can be drawn around the character but has internal consistency that rings true throughout a duration of close to 3½ hours.
It is a pleasure to see the love between Lester playing Othello and his sweetly innocent, very young bride Desdemona, played by Olivia Vinall, whose stage experience to date has been minimal. On this showing, she seems set to be yet another Hytner discovery who is heading for the heights. She peaks as the young bride desperately but vainly tries to prove her innocence, an impressively impassioned Lyndsey Marshal as Emilia proving the point far too late.
The love between Othello and Desdemona is contrasted with the bloodless marriage of Iago and Emilia, which seems long past its sell-by date as their main medium of communication is the sneer.
As the evening develops, Iago's orchestration of vengeance proves nigh on perfect, as he moves the characters around like chess pieces surely cornering the King and Queen.
Lester starts out as a well-spoken, demure superhero but the calm sophisticate is all too swiftly transformed by the green-eyed monster of jealousy. At this point, the actor moves into fearsome top gear and remains there until the evening's inevitable tragic climax.
Along the way, there is time for a good deal or drama, characterisation and comedy as one expects from a Hytner production.
There have been an awful lot of memorable Othellos, not least the National's last version, directed by Sam (Skyfall) Mendes and starring David Harewood, Simon Russell Beale and Claire Skinner.
With two tremendous leads close to their very best, this one is up there with some of the finest, at least for those that enjoy their Shakespeare updated.
Reviewer: Philip Fisher