Othello
William Shakespeare
Stratford Festival
Stratford Festival Theatre, Ontario
–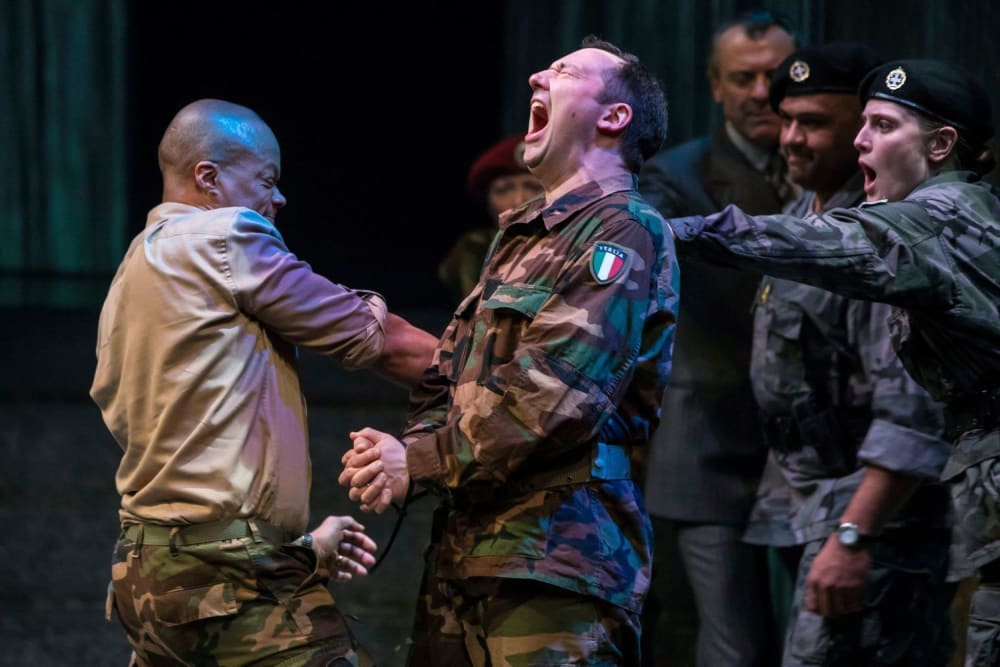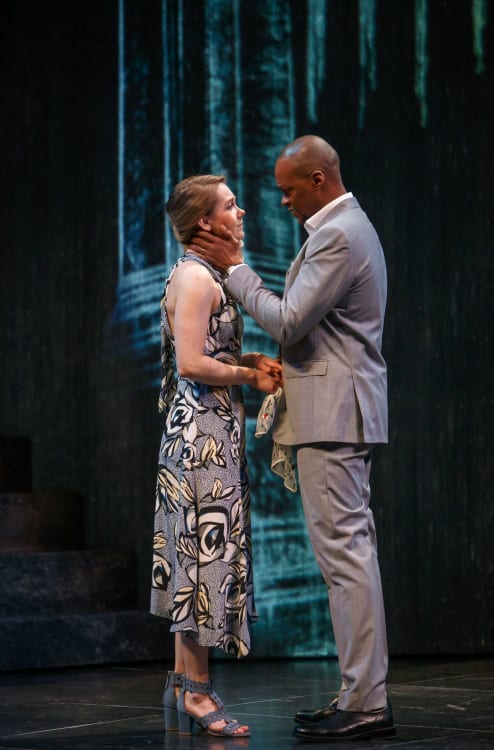 The second broadcast in Stratford's latest online season features a live performance of Othello at the Festival Theatre in 2019, directed by Nigel Shawn Williams.
In an effort to inject immediacy and a contemporary feel, he has chosen to kit his players out in largely muted but designer-influenced modern clothing and supplement the Stratford thrust stage with stylish black-and-white, computer-generated imagery, all courtesy of designer Denyse Karn. In keeping with the current fashion, without affecting the text to any significant degree, several roles have swapped genders, most notably that of the Duchess, played by Michelle Giroux.
The tone for this 2¾-hour production is set in the opening scene, as Gordon S Miller playing bitter Ensign Iago spits angry bile at the thought of marital happiness for the man whom he should be serving loyally, the Moorish General of the play's title. The degree to which the duplicitous, constantly scheming Iago exudes unremitting evil is a high compliment to the acting skills of the man chosen to portray him.
His hatred of Othello is profound and its underlying reason is explicitly stated as resulting from an imagined affair between the Moor and Iago's wife, Emilia. Unusually, Laura Condlin's strong but compassionate character is portrayed as a soldier. This alters the dynamics and relationships considerably, as does Amelia Sargisson's thoroughly modern Desdemona, who is clubbable and affectionate by nature, almost too much so.
In the early scenes, as one might expect from a newly married man, Michael Blake's smiling Othello can hardly contain his happiness. Despite father-in-law problems, he is a great, trusted warrior who seems to have the world at his feet as he heads off to lead his troops into battle. However, while fighting the Turk may be meat and drink, unwittingly waging war with his right-hand man is quite another matter.
By the time that Iago has worked his wicked spell on Othello, jealousy has not only taken over the general's every thought but even wrought physical damage in the form of an alarming epileptic fit, leaving him as a "green-eyed monster" beyond redemption.
This production has been thought through with great care, the updating is always coherent, the voice speaking precise and Nigel Shawn Williams's presentation has great clarity, ensuring that each of the characters' motivations seems realistic and recognisable in a modern setting.
If you were unable to catch the 36-hour-long free stream, which ends at lunchtime on 6 February, it will be added to [email protected] in the summer of 2022. The film is available now to subscribers within Canada and for purchase on Blu-ray and DVD worldwide at the Stratford Festival web site.
Reviewer: Philip Fisher