Othello
Ignace Cornelissen
Unicorn Theatre
Unicorn Theatre (Weston Theatre)
–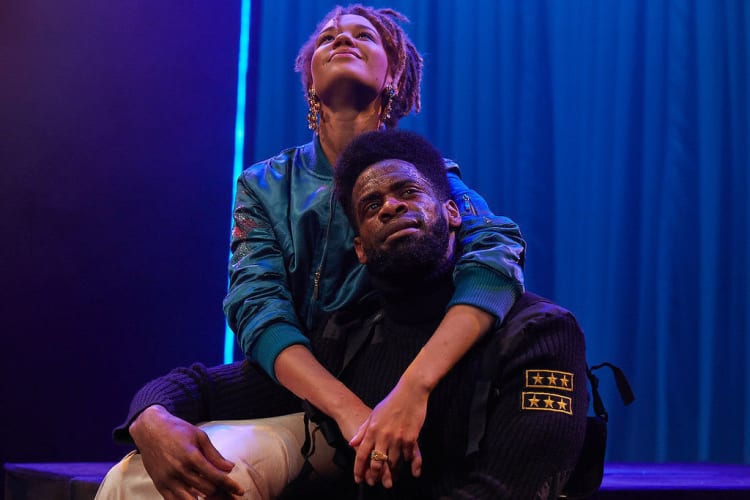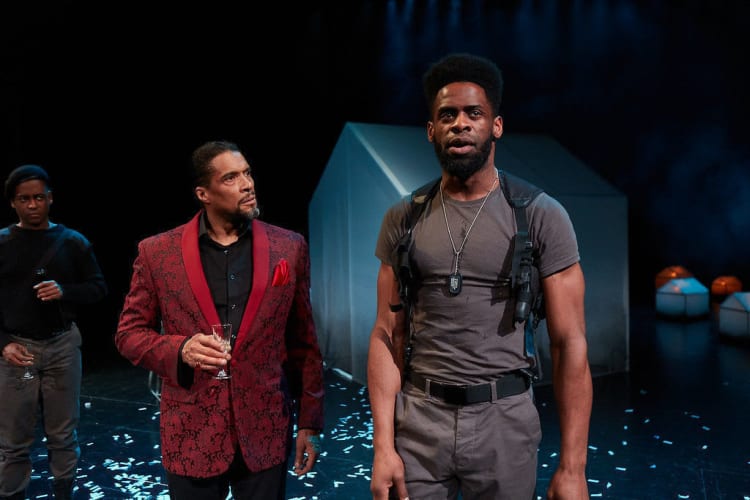 Presenting the bare bones of Shakespeare's plot, this is a streamlined and simplified version of the story aimed at young audiences. It's fast and it's funny, at least to begin with, in a telling that is remarkably childlike in the way it moves on the action.
Here Desdemona, now made the Doge of Venice's daughter, is dazzled by big butch Othello when she sees him with her father, fascinated by the adventures he lays claim to (including a fight with a tiger with bad breath). He acts them out with his comrades even as he tells them. It seems it is love at first sight and these two certainly fancy each other. At a nightclub that evening, Othello proposes and by morning they are married, Iago surreptitiously taking photos to alert her dad with.
Othello is a soldier, a General who is mates with his men—or at least two of them: Michael Cassio and Iago. The play starts with him choosing between them to appoint one as his new Lieutenant. Cassio gets the promotion; Iago's not happy.
He's a black man, though his colour is not significant. This Othello isn't about colour: none of the cast is Caucasian, it is entirely BAME, but Othello is still an outsider, an unsophisticated soldier with an African accent who doesn't know the niceties of a society that even his men understand. He may be a clever military tactician but in other areas not too bright. He is obeyed for his rank and his victories but a bit of a joke for his social faux pas.
You can't help but feel some sympathy for a man so out of his depth (and for Okorie Chukwu having to play such a one-dimensional character) but it is difficult to believe a man in his position would have such naïvety.
In his version of Henry the Fifth (at the Unicorn in 2013), Cornelissen gave us history as a game played by inventive children who added their own twists. This Othello follows the same kind of logic but neither script (translated by Purni Morell) nor production have the playfulness and theatrical flair that did, the subject perhaps too heavy to allow it.
Without that game element, the plotting here seems too arbitrary. Iago's insidious poison isn't slow-fed and Othello seems no sooner out of the bridal bed than determined to kill Desdemona. There is no time to see Othello tear himself apart, to witness a great spirit succumbing to the green-eyed monster, jealousy; he is made a man deeply suspicious of women, condemnation at the ready. Is this modern masculinity?
Lawrence Walker's lively Iago shares his plotting with the audience. The boys in the audience especially were grinning at Othello commenting on Desdemona having "a great ass". Their first kiss got a whistle from the audience and perhaps some would share his mawkish embarrassment at saying "I love you". Instead he resorts to muttering "Olive juice," as easier alternative that takes on serious resonance when it becomes his last words to her.
Ronald Nsubuga plays Cassio as a friendly, unquestioning comrade: he says he doesn't drink yet still takes what Iago gives him, and Ricky Fearon is a welcoming Doge Brabantio with Ayola Smart as a Desdmona who does her own thing whatever her dad says.
The humour is rather basic and geared to the audience: Othello's exaggeration of his exploits, the soldiers' pathetic attempts at disco dancing and a jokey approach to romantic moments, but then Ian Nicholson's production turns serious.
James Button's design is minimalistic: a gauze curtain across an opening can rise to become storm-tossed seas for the voyage to Cyprus, all disappearing to make way for a perspective of miniature tents with a larger one downstage as Othello's quarters where we see through its walls to witness the play's tragic outcome.
This is a new play, not Shakespeare's: there's no Roderigo subplot, no Emilia and none of his great speeches and rich language but, though it is no longer Othello being a Blackamoor in a white Venetian society, it still has the same message about the poison of jealousy whether sexual or social and about judgements made based only on difference.
Reviewer: Howard Loxton