Othello
William Shakespeare
Cheek by Jowl
Riverside Studios
(2004)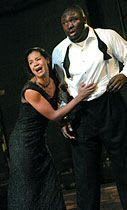 The second major London Othello this year is a real contrast to Greg Doran's RSC transfer starring Sir Antony Sher. Cheek by Jowl have been touring the world since the spring (25 venues on five continents) and eschew big names and elaborate sets. Their real strength is inventive direction from Declan Donellan that brings new meaning and added humour to several scenes.
Designer Nick Ormerod has chosen to present the play using a traverse set, which emphasises the size of the Riverside's Studio 2. The only props are five boxes that look like cheap coffins or boxes for guns; and the actors. Unusually, the latter often remain frozen on stage when they are not involved. This allows others to refer or point to them and gives the production a filmic quality, as scenes melt into each other or streams of consciousness are realised rather than merely spoken.
The dress is determinedly contemporary, Iago looking like a latter-day Mod, and the body language follows suit. This makes the story readily accessible.
The actors playing the central characters are an odd physical mix. Othello (Nonso Anozie) is built like a lumbering, heavyweight boxer, while Caroline Martin, very impressive as his Desdemona is tiny. Indeed, when Othello finally cracks under the burden of unnecessary jealousy, he throws her around like a rag doll.
Anozie jousts with a wholly malign Iago - Jonny Miller who looks rather like David Beckham in a short hair and stubble period. Othello is an innocent who cannot understand that this sneering, evil man means him harm, primarily as revenge for an imagined affair between the Moor and Iago's wife, Emilia. She is well performed by Jaye Griffiths, especially in her grief after the death of her mistress, whom she treats more like a fragile daughter.
The characterisation and acting are a little patchy but overall, this is a worthy updating of the tragedy. While Cheek By Jowl's Othello lacks the big names and star performances, it gives a fresh feel to a familiar play.
A good sign is that for over three hours, it completely silenced an audience substantially consisting of teenaged students. They were entranced by such novelties as a long-distance knife-fight with blows exchanged at 20 yards and a really novel use for the trademark strawberry-covered handkerchief.
With these kinds of ideas, the recently announced Cheek By Jowl residency at the Barbican will be a much-anticipated pleasure.
Reviewer: Philip Fisher