Othello
William Shakespeare
Shakespeare's Globe
(2007)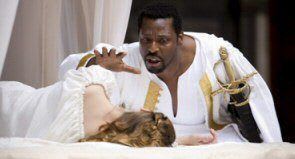 Anglo-American director Wilson Milam has had a long and fruitful working relationship with Dominic Dromgoole, just commencing his second year in charge of the Globe.
Milam is best known for radical work on both sides of the Atlantic and possibly owes his high reputation to his very successful collaborations with Martin McDonagh, whose The Lieutenant of Inishmore he recently transferred to Broadway with great success.
That play started out at the RSC but surprisingly for such an experienced director, his biography has not until now included any productions of Shakespeare.
With the assistance of designer Dick Bird, he has created something that involves the audience and impresses visually. He uses the space well, allowing actors to enter and exit through the groundlings, increasing the sense of involvement of those who have paid a fiver to stand in heat or rain for three-and-a-quarter hours.
The contemporary costumes are typically black, white when necessary, and in the case of the Duke of Venice gorgeous, characteristic gold and there are beards in abundance.
The highlights of this production are the scenes of greatest drama, with impressively realistic sword fighting and death scenes, none more so than when the eponymous anti-hero loses his life to a crossbow bolt.
The evening opens dramatically, thanks to a nice cameo from John Stahl playing the choleric Brabantio, shocked to discover that his much cherished daughter Desdemona has fulfilled many a father's worst nightmare by eloping with a man who might be a national hero but is also black.
The sweet, tiny Desdemona, played by Zoë Tapper, knows her own mind and is clearly much in love with her new husband, to the extent she is willing to defy her father and travel across the seas to the battleground of Cyprus with the Moor. She also conveys wounded innocence well, after her husband is wickedly persuaded that she has been unfaithful with his Lieutenant Cassio.
Eamonn Walker's Othello is a big, violent, wild-eyed warrior who shows early signs of succumbing to madness, possibly brought on by the epilepsy that at one point leads to a terrifyingly realistic fit. Walker, best known for his film and TV work in United States, is at his best when the character is angry, having succumbed to that green-eyed monster, jealousy.
He is egged on to this by Tim McInnerny playing Iago, primarily for laughs, especially in the early scenes. This is a big, shambling "ancient" whose motivations never become clear. The results are though, as with the assistance of the generally unwilling Roderigo (Sam Crane) he cunningly drives his master to madness and murder.
Further help in the evil plotting is provided completely innocently by Iago's wife, Aemilia, a role well played by Lorraine Burroughs, particularly in her set-piece speeches and final distress.
Having bravely chosen to devote his opening season to some less popular plays in the canon, Dominic Dromgoole has moved on to the big names in year two. This Othello doesn't fully work, as neither of the leads' characters have as much depth and roundness as one might wish to see. It should however fill the Globe on the back of a well-known title and a couple of stars with high-profile screen credentials.
Reviewer: Philip Fisher