Othello
William Shakespeare
Salisbury Playhouse
(2007)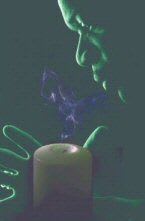 Whatever view one takes of Raz Shaw's production for Salisbury Playhouse of Shakespeare's Othello, the production is well worth a look - if only for its rarity.
This powerful domestic tragedy is among the most seldom seen of all Shakespeare's great works. Indeed, until Olivier famously played the role at the National, the only account I had come across was an excerpt served up on screen by Ronald Coleman.
Not that Salisbury's latest production can be said to advance the cause of this play to any extent. While Shaw has held the bones of a fine production within his grasp, there is too much about it to bemoan for theatrical comfort.
First offence is the lack of basic elocution. How is it that so many of today's young actors, trained at some of the country's finest drama schools - among them, RADA, Webber Douglas, Rose Bruford and Bristol Old Vic - arrive on the provincial stage shorn of the basic requirements of dramatic art - the ability to be heard and understood?
Had I not within the last ten days enjoyed three un-amplified operatic performances at the vast Southampton Mayflower without difficulty, I would now be worrying about my hearing. As it is, I am simply perplexed as to how a small theatre such as Salisbury's can render inaudible the English language's finest playwright!
Sadly, too, Nick Monu in the title role is among the greatest offenders. And it seems the real enemy of clarity is volume, which is to say that the louder he speaks, the less we hear. Those who know that the central theme of this play is the green-eyed monster and that Othello rages frequently as he wrestles with it, will appreciate our problem.
Irish actor Sean Campion fares rather better as the villainous, scheming Iago, though even he is sometimes apt to waste his anger on the ceiling. And Christopher Saul, otherwise an excellent father, Brabantio, cannot be entirely excused.
There is a sympathetic, and happily audible, Desdemona from Sinead Keenan and a strong Emilia from Suzan Sylvester.
Patrick Driver is a strong Duke while Sam Hazeldine fails to bring the necessary weight to justify his promotion over the evil Iago.
The setting for this production, we are told, is post World War Two which seems to offer little scope for the wardrobe department and even less for the bedroom which, considering it's importance to the closing stages of the play, is especially disappointing.
After engaging us with her dark doors and windows of first-half Venice, designer Hannah Clark rather lets us off the hook with the Cyprus settings and, arguably, adds to the acoustic problems.
The production continues until Saturday 24 November.
Reviewer: Kevin Catchpole