The Other Side
Ariel Dorfman
Manhattan Theatre Club, NYC, Center Stage 1
(2005)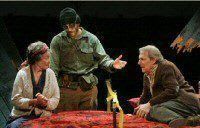 Ariel Dorfman is a Chilean-American writer best known for his play, Death and the Maiden, subsequently filmed starring Sigourney Weaver.
Much of his work has addressed issues arising from war and repression and The Other Side is no exception. This three-hander, featuring a husband and wife together with a mysterious stranger, has much in common with Death and the Maiden, in particular a sense of helpless claustrophobia and questions over identity.
Blanka Zizka's production takes place on a tremendous set designed by Beowulf Boritt. In the foreground is a ramshackle but colourful hut occupied by an old but active couple, while in the distance as one gradually realises, there are rows upon rows of carefully maintained graves.
The graves are symbols of a dreadful, possibly Balkan, conflict that has been going on for a couple of decades. The hut's owners, Levana Julak, played by American-based British actress Rosemary Harris, and John Cullum's Atom Roma are self-appointed undertakers.
They live right on the front line and hail from opposite factions. However, their love, together with a need to bury the dead and record their passing for relatives who will never come, means that they have overcome any sectarian rivalry.
In addition to their other problems, there is a hole in the centre of their lives represented by a photo of a little boy above their bed. Their son is now a man and has disappeared in the conflict.
The old couple's lives are suddenly turned upside down by two events. First, despite the continuation of noisy bombing raids, the war ends. Then, just as they begin to celebrate, a brutal soldier literally bursts through the wall in a scene straight from Sarah Kane's Blasted.
He proceeds to mark out a new borderline straight through their home (and bed) dividing the pair by harsh rule of law. In one further plot twist, Levana believes that the loud, ginger-haired ruffian (Gene Farber) is their son.
The Other Side is an exploration of the effect of the horrors of a long-lived war. It also looks at love in maturity and people's need to maintain hope. It is elliptical and meanings can be well-hidden., which may frustrate some theatregoers.
At its best though, this 90-minute drama features strong performances from the two veterans and makes powerful statements about the impact of wars on ordinary people and has the feel of Pinter's Mountain Language or Caryl Churchill's Far Away.
Reviewer: Philip Fisher