Ounce of Faith / Members Don't Get Weary / Ella / Revelations – Alvin Ailey American Dance Theater Programme C
Choreography Darrell Grand Moultrie / Jamar Roberts / Robert Battle / Alvin Ailey
Alvin Ailey Dance Theater Company
Sadler's Wells
–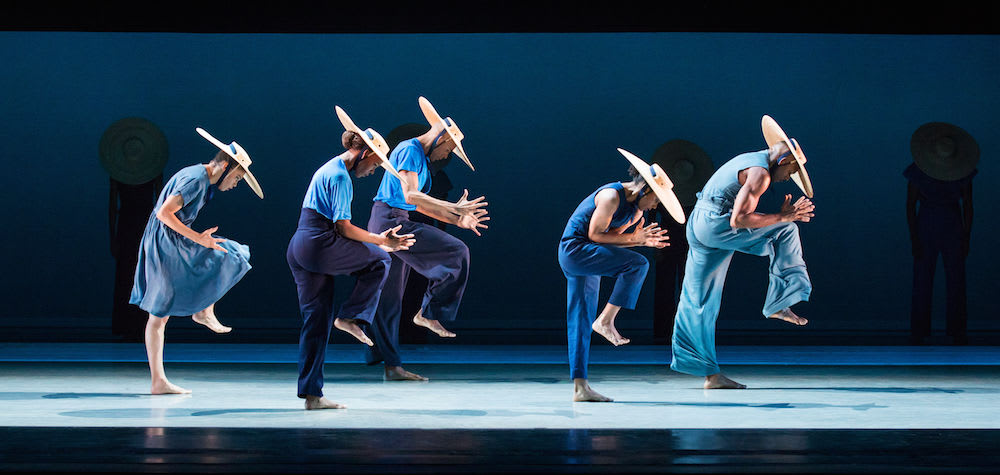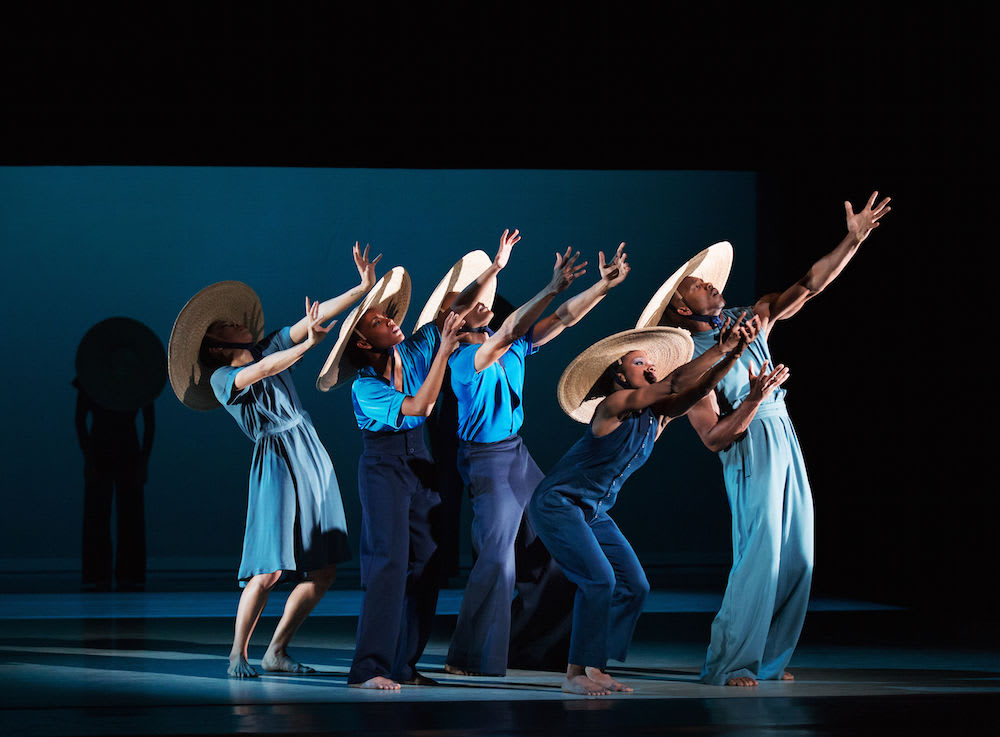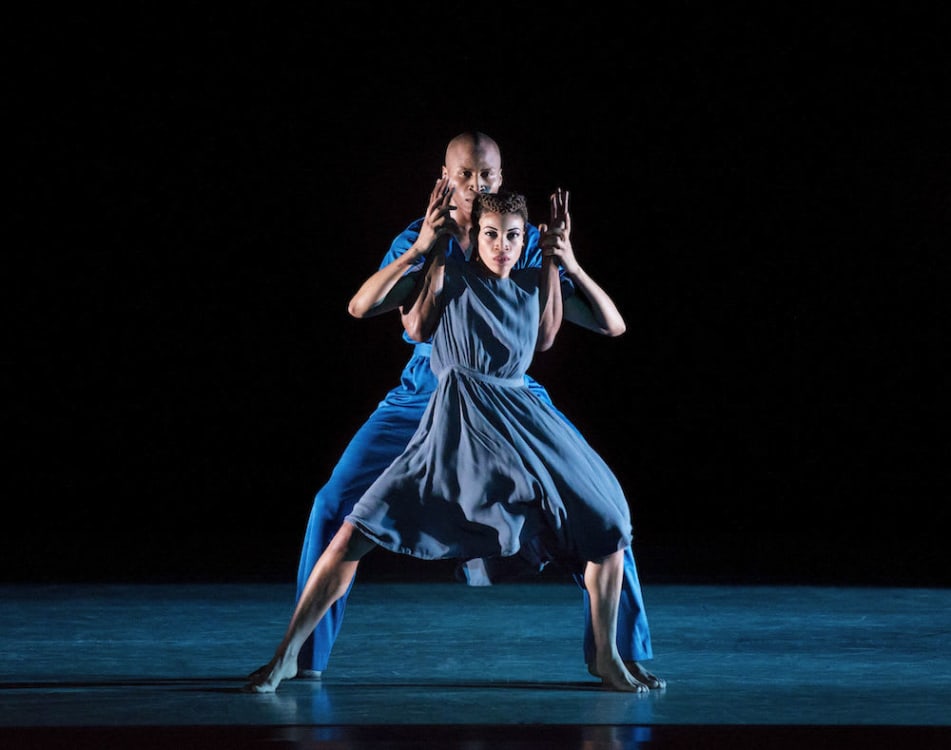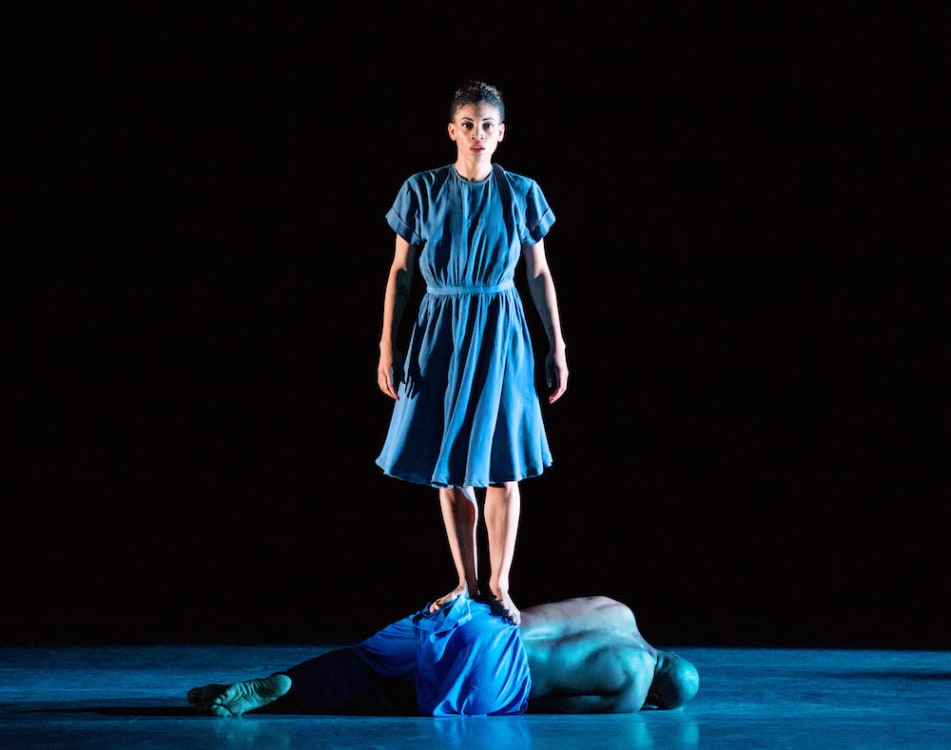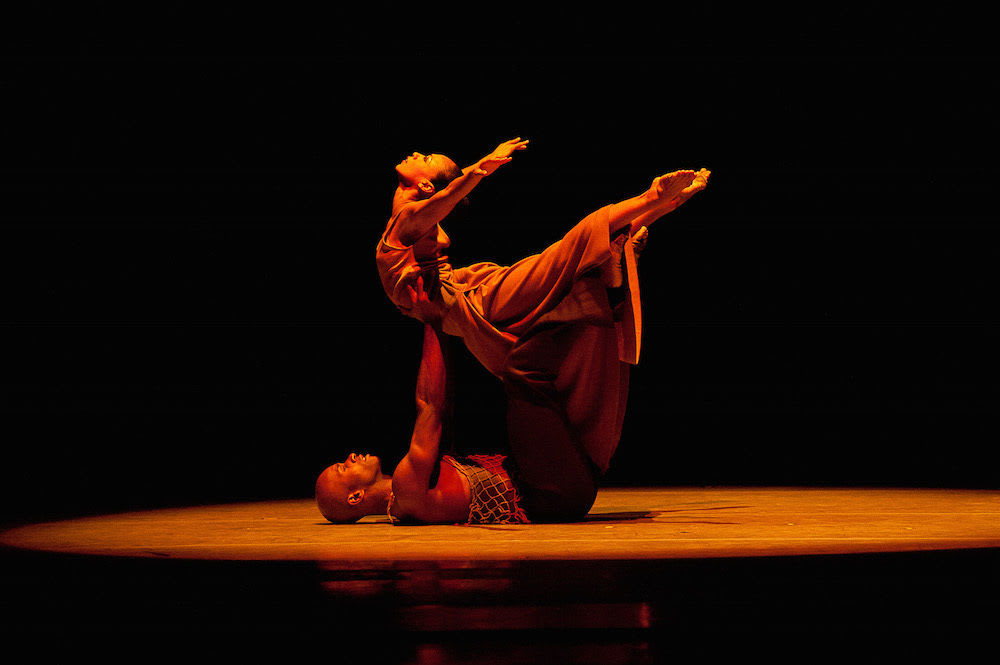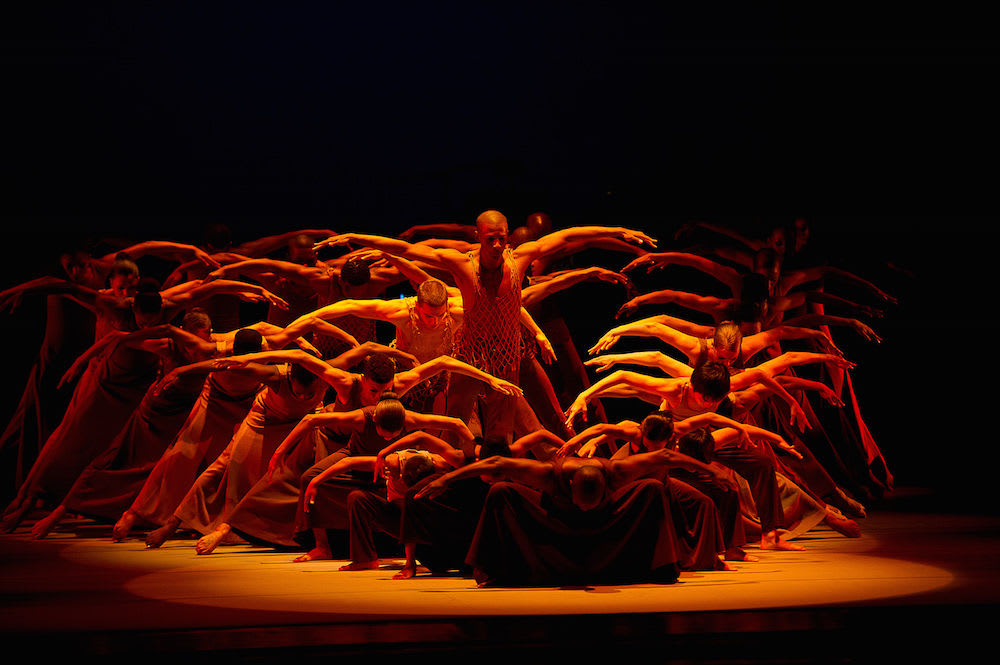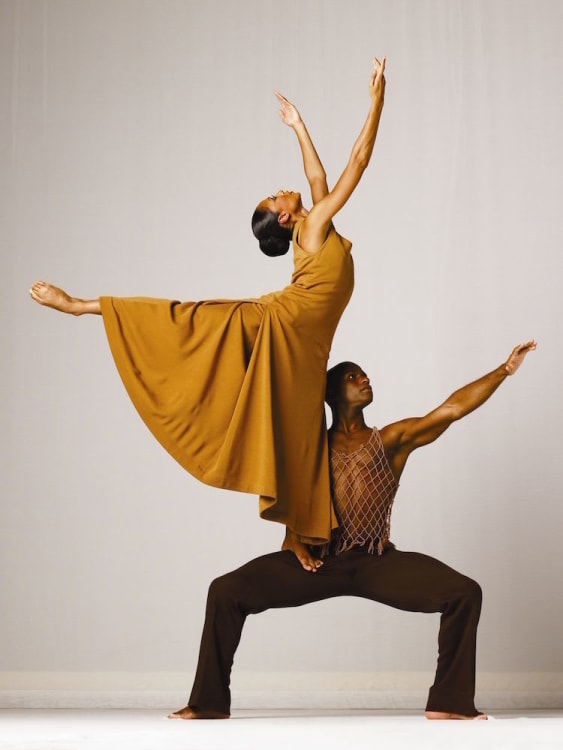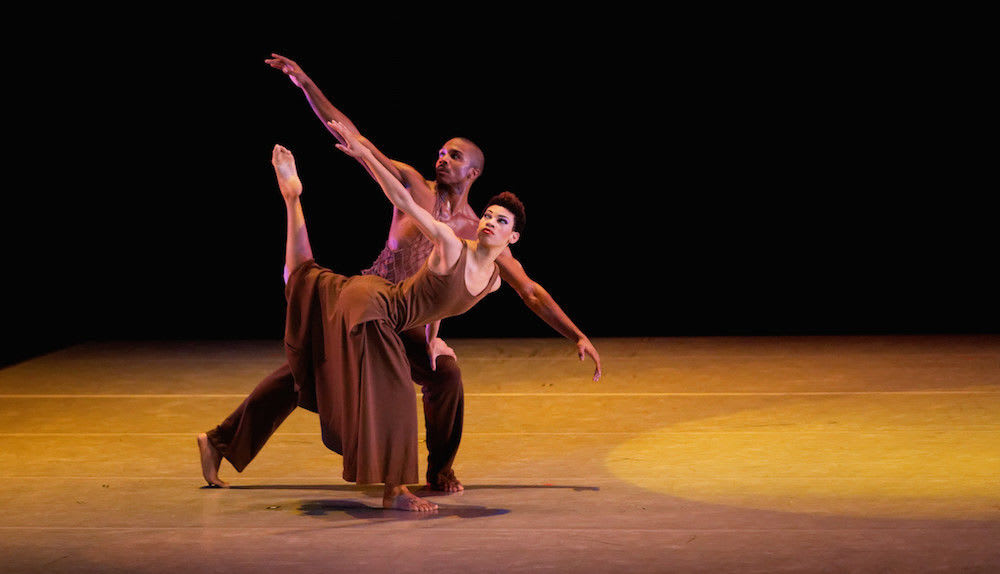 More blues in the night from AAADT in its third and final programme at Sadler's Wells—my younger companion prefers Darrell Grand Moultrie's opening number, the 2019 Ounce of Faith to music by Wynton Marsalis ('Logo Talk' and 'Where and When') and Liquid Liquid ('Bellhead'), whilst I like the second more, Jamar Roberts's 2017 Members Don't Get Weary to music by John Coltrane ('Dear Lord' and 'Olé').
Could be a generational thing. But it's splitting hairs: both (about half an hour each) are performed with a soulful exuberance that gets under the skin whatever one's inclinations and musical tastes. If you've not been yet, do go, there's still time.
Moultrie's Ounce of Faith lays out its message loud and clear with voice-over from him thanking his inspirational teachers for believing in him, for their sacrifice and love. And one doesn't need much imagination to understand the hardships many have had to overcome (founder Alvin Ailey's extreme childhood poverty, working picking cotton from the age of five, an example).
"Lift Every Voice and Sing", which the NAACP took up as its hymn, commonly known as the Black National Anthem in America, in a recording by Aisha Jackson and Dante Hawkins, sets the searing agenda. Heritage, and success against the odds, is being celebrated.
Twenty-three bodies in nude-look outfits stand briefly behind the striking, statuesque figure of Khalia Campbell in orange glitter leotard. A black curtain descends and she is left alone front-stage to present a physical expression of that anthem. Strength, flexibility, determination, is she the one who stands for the many, are they on whose shoulders she has risen?
But not for long—suddenly the stage is ablaze with dancers in sizzling colours, red, blue, yellow, orange, purple (costumes Mark Eric) and a jazzy club scene. It's a showy youthful vibe. Twenty-four shades of ostentatious success streak across the stage to moody piano and Marsalis's virtuosic trumpet: a Copacabana nightclub?
Groups form, lingering duets, intense solos, male and female, emotions range from introspection to elation. Remarkable bodies, William Blakean in majesty (Michael Jackson, Jr. much commented upon), women and men, scribbling their own signatures, too many to name, more's the pity, are electrifying. Slow lyrical flow and fast beats alternating, this a pulsating fever trip. A final hug for partners and soul mates; fingers point upwards—to the deity or to the future?
Jamar Roberts, dancer with the company since 2002, has produced a more sophisticated work to my mind with Members Don't Get Weary, if with a similar agenda. The title of a spiritual slave song, the promise of reward in the afterlife, it moves me as it is meant to do. I don't want it or Coltrane's music to stop.
Ten noble dancers, dressed in shades of blue and straw hats (soon discarded) to cover the heads in the beating sun one imagines, perform a solemn dance of work and prayer, helping each other, brother unto brother. Jeroboam Bozeman's solo is particularly expressive; as is Jacqueline Green's emotional lone figure; and Bozeman's duet with Ghrai DeVore-Stokes is both passionate and compassionate.
There's much investment from the dancers, who shift from stillness to incredible speed, to agitation, to razor sharp moves. It's a baring of the soul, and a conversation: strength in numbers, despair when alone. Blood rising, the music tempo speeds up—this is not the mood of the lyrics I read. But Members Don't Get Weary speaks with a surefooted eloquence, as do Coltrane's compositions. I'm blown away.
As an amuse-bouche, before the inevitable rousing Revelations to wrap up the evening is a five-minute curiosity, Ella, from AD Robert Battle. Two guys (Daniel Harder and Renaldo Maurice) in tuxedos and knowing grinning faces do a super-speedy vaudeville / cabaret dance act to Ella Fitzgerald's scat singing "Airmail Special".
They remind me of the amazing Nicholas Brothers (whom Fred Astaire admired immensely). If that's not your reference, think Astaire and Gene Kelly. Originally created in 2008 as a solo, it became a duet for a gala benefit in 2016, An Evening of Ailey and Jazz, in advance of Ella's centennial in 2017. But who the three guys, who dash across the back of the stage during the performance, are meant to be, apart from playing for a deliberate laugh in Marx Brothers style, I can't imagine.
Which brings us to Ailey's signature grief to exultation piece, Revelations. My young companion calls it musical theatre, and he's not far wrong. But the audience falls for the prayer every time. That's the power of gospel songs. One leaves with their rhythms coursing through the body and embedded in the brain.
The dancers give in good-hearted spirit. I find I'm more fascinated this time by the Martha Graham inspired sections, sombre dancers in long earthy brown shifts (costumes Ves Harper), Ghrai DeVore-Stokes and Yannick Lebrun's partnering mesmerizingly meticulous.
The African-American collective experience, its history, its defiance and courage and above all its belief in itself is laid out with generosity, dignity and pride. Company founder and continuing inspiration Ailey will not be turning in his grave, his tenacity has paid off as the company (founded 1958) continues to celebrate its 60th anniversary.
AAADT, recognised officially as a vital American "Cultural Ambassador to the World", this year marks 30 years since Ailey's untimely death, during which time the company has been directed by Judith Jamison from 1989–2011, followed by Battle, its current Artistic Director.
And what is more, it seems that Barry Jenkins (Moonlight, If Beale Street Could Talk) is to direct a film based on the life and work of Ailey. Praise be and fingers crossed…
Reviewer: Vera Liber