Our American Cousin
Tom Taylor
Over Here Theatre
Finborough Theatre
–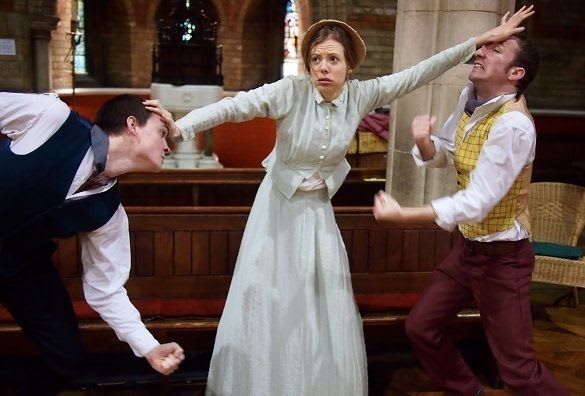 Our American Cousin is possibly the most famous play of all time, from a historical perspective.
While almost nobody could name it and the playwright Tom Taylor is sadly long forgotten, the work first seen in 1858 has taken on a quasi-mythical status.
That is because this is the play that President Abraham Lincoln was enjoying when John Wilkes Booth brought his life and tenure to an abrupt closure.
Theatre's most infamous moment took place 150 years ago on April 14, hence this timely revival by Lydia Parker for Over Here Theatre.
Our American Cousin was one of those Victorian Sensations that combines melodrama with elements of the stuff that today makes up TV sitcoms and soap operas.
The events take place in the stately home of the Trenchards, "one of the first families in the country" but crippled by debt for reasons that are never fully explained.
Gathered there in front of an over-sized portrait of a stag, which splits impressively when bosky countryside is needed, those that pass through the house are as rum a collection as any playwright could hope for.
The home team consists of dull Sir Edward and his bright, vivacious daughter Florence, played with wit and spirit by Kelly Burke.
The guests include a trio (mother and two daughters) of unmannerly gold-diggers, a bunch of rich supernumeraries and Timothy Allsop's splendid Lord Dundreary.
This last could have been a model for Monty Python's Upper Class Twits. As such, he is a fine comic ass who enlivens proceedings with absurd idiocy.
The drama is spiced up by the arrival of a long-lost American cousin. Solomon Mousley has real stage presence and lifts the evening in his role as the country bumpkin from Vermont.
While his manners are laughably uncultured, Asa has native intelligence and a good heart, effortlessly but amusingly running rings around the pretensions of polite society.
That is as well, after he discovers that Daniel York as the Baronet's dastardly agent is intent on defrauding the Trenchards of their birthright.
He also threatens Florence with a fate worse than... But how can one finish that sentence given the events that were to take place on the other side of the Atlantic seven years after the play first saw the light of day?
The American's reward is the hand of simple milkmaid (and another Trenchard cousin) Mary Meredith. Not only does Olivia Onyehara win the visitor's heart but she sings like an angel in one of several variety turns that complement the plotting.
In this kind of play, a happy ending is de rigueur, with couples lined up around the small playing space to get wed as the baddie departs.
Our American Cousin is probably best remembered for its history but it offers a pleasant if undemanding 2¼ hours with enough laughs to justify the price of a ticket and the chance to see how our forefathers entertained themselves.
Reviewer: Philip Fisher