Our Ladies of Perpetual Succour
Based on the novel by Alan Warner, adapted for the stage by Lee Hall
National Theatre of Scotland and Live Theatre
Traverse Theatre
–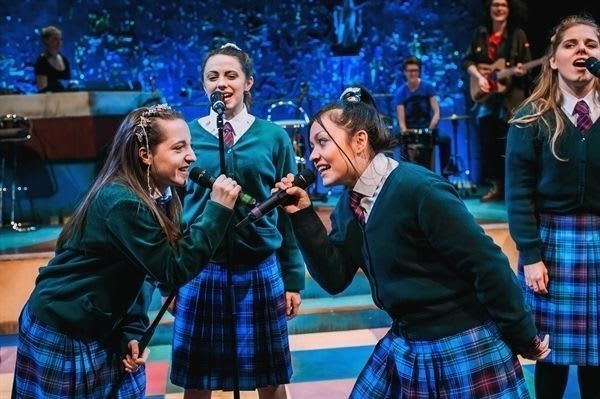 It always seemed likely that the Traverse was saving the best till last with this musical co-production reuniting Vicky Featherstone with the National Theatre of Scotland.
Our Ladies of Perpetual Succour is based on Alan Warner's popular novel The Sopranos (not to be confused with the American TV series) and has been adapted by Lee Hall of Billy Elliott fame.
The best way to describe the evening is to ask readers to imagine a cross between The Commitments and Once a Catholic and then overlay Scottish accents.
The ladies are a sextet of GCSE age choristers from a convent in Oban who travel to Edinburgh to take part in a singing contest.
Rather than the sweet angels that their voices promise, these lasses are wild enough to put fear into the hearts of the main players in the other Sopranos.
Led by Dawn Sievewright's formidable Fionnula, they are intent on drinking themselves silly and getting shagged by anything in trousers.
However, in order to achieve these goals, it is necessary to escape the clutches of Sister Condom (not her real name).
This 100 minutes is filled with rich fun but does have its darker side. Gaunt Orla played by Melissa Allan has cancer but nobly supports her pals, while Karen Fishwck as Kay is posh and pregnant, an unfortunate combination for a devout Catholic who plays the cello like a Scottish Jacqueline Du Pré.
Issues of gender, sexuality and religious repression also impinge on what might otherwise be little more than a joyous riot.
What would be a very funny comedy with heart and soul is taken to a new level by a varied musical score, allowing the girls to demonstrate gorgeous voices a capella and work well with a three-piece band, also all-female.
To give a flavour of the mix, Jeff Lynne and ELO get more of the airtime than anyone else but J S Bach has his place and Bob Marley closes the evening on a poignant note with "No Woman, No Cry".
Congratulations should go to all involved in an unforgettable production that is bound to hit the heights across the UK and quite possibly the globe.
Reviewer: Philip Fisher