Our Town
Thornton Wilder
Barrow Street Theatre, New York
(2009)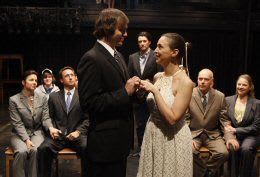 David Cromer's remarkable directing talents, which have yet to conquer Bradway, have been well rewarded off it as for a second consecutive year he has bagged the Lucille Lortel/OBIE directing double under the auspices of Barrow Street.
Cromer, who also plays a leading role, is deserving of the plaudits. He has worked wonders with the ever-popular American classic that spawned a mawkishly sentimental 1940 film version starring William Holden.
Our Town is a homage to all that is good about small-town America but, at the same time, seeks to debunk some of the myths.
In just under 2¾ hours including two intervals, Grover's Corners in New Hampshire is seen over a twelve year period from the start of the Twentieth Century. We are helped along by the narrative efforts of a mobile phone-toting stage manager, played by a confident (if ailing on the night under review) Mr Cromer.
He sets the scene, which is as well, as the actors are in contemporary rehearsal clothes and, for most of the time, the set consists of no more than a couple of tables and a few chairs.
The staging is novel, with a thrust overhung by a choir loft. Two rows of eight audience members each are laid out within the playing space, adding to the town's inhabitants, some even given speaking roles.
The bareness, like that in Lars Von Trier's Manderlay, allows the audience to do some imagining and it is great fun to fill in the gaps for once, rather than being spoon fed by a director with an overpowering vision.
This is as ordinary a town as you could get, as the narrator demonstrates with help from a couple of his friends. A cast of twenty or so go about their daily business, conveying an impression of what life was like back when mod cons were still mechanical.
The main attention is directed towards two nuclear families, those of the town medic Doc Gibbs, played by George Demas, and the newspaper proprietor Mr. Webb (Ben Livingston).
Their wives (Lori Myers and Kati Brazda respectively) work as hard as the menfolk, bringing up mildly unruly children and keeping house.
The central story centres on the two older children. James McMenamin is George Gibbs, a determinedly unintellectual boy who wants to be a farmer and loves his baseball. He woos Jennifer Grace's vainly brainy Emily Webb and we witness the ups and downs of a couple that is heading irredeemably towards Love and Marriage in Act 2.
So far so romantic. However, no sooner do we get another interval that moves the story on to 1913 than everything changes.
Director Cromer creates an unforgettable graveyard from nothing and, oh so slowly, we realise who is to be its latest inhabitant (though that word could hardly be less appropriate).
The coup de théâtre though comes when, despite wise advice from a predecessor, that person decides to ride back in time to re-live the happiest day of their lives.
This is painful to watch and many an audience member must have struggled to hold back tears as the setting did a kind of breathtaking Wizard of Oz transformation and we were left to contemplate the pain of our mortality.
By the end, visitors will have relished a trip back to a rose-tinted past. They will also have seen a few of the warts that existed in those supposedly idyllic times and enjoyed a cute love story with a twist in the tale.
This is theatre at its best and those lucky enough to get tickets in a reduced house should be thankful to all concerned that they were willing to invest in the kind of large cast production that seemed to have disappeared Off-Broadway years ago.
Reviewer: Philip Fisher