I Don't Believe in Outer Space
The Forsythe Company
Sadler's Wells
(2011)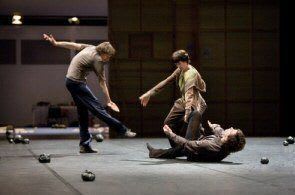 For two nights only Sadler's Wells patrons are treated to a fun dance drama installation, I Don't Believe in Outer Space, from the eighteen-strong Forsythe Company, and they love it if we can believe the first night cheers and whistles. William Forsythe has a loyal following. His creative path has been an interesting one to follow, as he experiments with different styles and forms. A lively mind...
A lively mind pulled up short, apparently, on his sixtieth birthday, with intimations of mortality, the basis for this quirky meandering self-mocking piece, which premiered in Frankfurt am Main in 2008.
Forsythe investigates the arbitrariness of our/his existence. He splashes and dribbles and spills and spins a loopy loop of infinite threads and thoughts. He is Jackson Pollock, The Dice Man Luke Rhinehart, David Lynch all in one. Eighty minutes of it is invigorating fun but quite enough, the circular repetition on the verge of tedium.
Thom Willems's score, now ethereal and other-worldly, now this-worldly with its traces of popular music, is suggestive and witty. Are we in outer space or spaced out? Banal lines from popular songs that get us through the day: the 'I will survive' refrain persists, 'I've got my life to live'. Clichés and clips from life, meeting the neighbours, playing games, fighting, loving. Explicit and cryptic.
Life's contortions reflected in the dancers' contortions on a stage littered with misshapen black balls that could be meteorites or droppings of some sort, which the dancers displace, throw, stuff down their clothes. Are these rolled up memories that we mould and cling to, baggage that litters our accidental lives and trips us up?
"Hello," tiny Dana Caspersen with the big voice, greets us in the half light, and then launches into a role-play, playing two freaky neighbours, whilst others dance around and beside her, all in their own worlds, their own stories, a cacophony of stories, bodies rippling, feet flexing, hurtling across the stage.
She speaks instructions to her body, and her body obediently follows them. Her child size body, the smallest on the stage, draws the eye away from the others, doing their own thing, 'as if by chance'. Intersecting planets, in their own orbits, in constant motion, stars that glimmer and die, free spirits, dyspeptic, hectic, sceptic, yet serene.
So much for our eyes and ears to process: 'I'll put a spell on you, 'cause you're mine'. Dissonance and a sinister minister preacher man. Radio stations on jammed wave lengths, all talking at once. Are these rolled up balls the unspooling tapes and films of our odd hit and miss lives?
One hooded player has two table tennis bats and his opponent has none. But we can hear them play, though we see no ball. One is blindfolded, one can't see or hear but can speak. Another talks to us and we have to respond, we are part of this madness. And then we die. Then there's no more of anything a list of what there will be no more of but we'll survive.
Caspersen, as mesmerising as Giulietta Masina, whom she resembles, her tiny figure, all sharp angular lines, dominates a dynamic ensemble. The pace is frantic, the dancers outstanding, and Forsythe unstoppable - the juice is still flowing.
Structured randomness, playful improvised, mirroring, reflecting, joking and kicking against the dying of the light. Mortality is confronted and teased, mocked and ridiculed. With effrontery, and energy. We're alive here and now, for now. What fun But do we understand any of it?
Reviewer: Vera Liber