Out of This World
Cole Porter
Chichester Festival
(2004)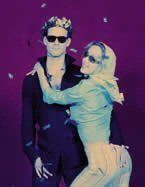 Few shows have the temerity to advance their own epitaph. Yet there are moments in Martin Duncan's sparkling revival for Chichester Festival of Cole Porter's too long unseen mixture of Hollywood and ancient Greece, Out Of This World, when the title seems a fair summary of proceedings.
For a start, original choreography in the '50s involved Agnes De Mille, Hanya Holm and Glen Tetley - a line-up that has clearly inspired rather than intimidated Chichester's Vanessa Gray. Movement is everywhere and numbers are slick and pacey, none more so than the spectacular Climb up the Mountain which opens Act 2.
Francis O'Connor's design, ensuring easy movement between Hollywood and Mount Olympus, is an essential element of the slick choreography, though the transformations would benefit from more smoke and a touch of the fireworks enjoyed outside after the opening performance. No complaints, however, about Richard Balcombe's orchestra serenading us all from the clouds.
Porter's title has provides the theme for this Chichester season and, as with Shakespeare's contribution to the programme, action takes place on a midsummer night. As if any further excuse were needed for digging forgotten piece of 50 year-old Broadway magic from the archives, who is writing musicals like this nowadays?
Recalling the great names that have strode this Cathedral city stage, this is a relatively unknown ensemble of 25, though perhaps not for long. Talent, individual and collective, is much in evidence amidst the vibrant score and brilliant script, itself the rich fruit of revision by Greg MacKellan and Jeremy Sams. Youthful promise appears in the slim form of Richard Dempsey's Mercury, Clare Foster's innocent Chloe, the muscular Mars of Chris Jarman and the graceful feet of Julie Barnes' Goddess of the Night.
Someone, however, has to stamp an authority on this performance and it promises to be Nicolas Colicos, when his Jupiter assumes greater presence, together with Ann Reid and Darlene Johnson whose delightfully underplayed Juno and bitchy Isadora will surely soon have the sparks truly flying.
Fiona Dunn is another name to watch for her finely sung Helen, a treat for the eye and the ear.
Out Of This World is unlikely to resolve any of the problems within it - yet if it only serves to take our minds, for a few luxurious moments, from the business around us, it will have achieved its original single objective.
"Out Of This World" plays in repertoire with "A Midsummer Night's Dream", "Just So" and "The Master And Margarita". Details from box office: 01243 781312.
Reviewer: Kevin Catchpole