Out of the Piano
The Tim Williams Awards
London Shakespeare Workout
Cochrane Theatre
(2010)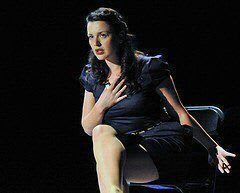 The Tim Williams Awards celebrate the bringing together of texts not originally intended to be sung with composing talent drawn from across the land.
In Out of the Piano, the third Awards event, there were no fewer than twenty new compositions being showcased, each sung by a different performer and providing a non-stop display of artistry and expertise.
Each item was more than just the delivery of a "ditty" since the compositional assignments comprise a title, a dramatic scenario and a suggested musical style as well as the text set to music. It's more of an exercise - to borrow the words of Awards host, Bruce Wall - in "the art of storytelling through song, where emotions demand an extension beyond our natural speech".
As part of the development process the singers have the freedom to interpret their pieces within the pre-determined margins and, given the complexity and sophistication of much of the wide-ranging source material, many of the performances were vested with insightful detail and touching emotion.
With such a rich seam to mine, selecting highlights is an unenviable task but I particularly enjoyed The Earth Exhales in which Anton Stephans made an eco-friendly appeal to the bombs to fall on Slough in James Lark's setting of John Betjeman's poem of similar sentiment, and Fault Lines where Valerie Cutko echoed many a parents' inner thoughts about spoilt little girls going down garbage chutes as imagined by Roald Dahl and set to music by composer Alex Baranowski.
For a different kind of entertainment was the beauty of another Baranowski composition If Thou Wilt in which the Christina Rossetti poem When I am dead ( my dearest, Sing no sad songs for me) was put into the context of mythological Penelope's long wait for the return of husband Odysseus. Rebecca Caine's performance was absorbing down to the last astonishingly lovely note, and with added goose-bumps was Laura Pitt-Pulford's interpretation of Shakespeare's words and Gareth Peter Dicks' music in What Case I? in a scenario set during the American Civil War.
The sweep of the suggested musical styles that encompassed among others Torch Song, Ladysmith Black Mambazo, Verdi and the recondite "Aaron Copeland mixed with Jules Styne" complemented the multiplicity of established texts - everything from Elizabeth I to Hillare Belloc it seemed, taking in the likes of Noël Coward and Roger Woddis en route.
But new writing is also recognised with the Tim Williams Award for Best Original Lyric Inspired by a Classical or Established Text. This was presented by Sara Kestelman to Blanche Girouard for the piece Horsey based on George Bernard Shaw's Heartbreak House: "There are only two classes in good society in England: the equestrian classes and the neurotic classes"; the performer was Helen Goldwyn agreeably complete with silver spoon in hand and plum in mouth!
The inaugural Audience Club Best Old Words-New Music Award was presented by Nigel Lilley to Craig Adams for Live Hence by Truth which had lyrics from Blacking Iago, an LSW devised play after William Shakespeare which was performed powerfully by John Addison.
And there could have been little argument about Christopher Hamilton becoming a second time winner of The Tim Williams Award for Best Composition with the piece Burn. For this the suggested style was "Lena Horne dubiously dubbed by a Marilyn Monroe to remnants from Jack Stratchey's insistent tune These Foolish Things". Well No one said it was going to be easy. Dianne Pilkington did the composition proud with a delightfully witty and sardonic interpretation of the lyrics provided by Tennessee Williams' poem Life Story.
Bruce Wall, Executive Director of the London Shakespeare Workout, compèred the evening, his relish of the more outré scenarios or suggested song styles - mix Mel Levin's theme song for Cruella de Ville with Cole Porter - matched by his jubilant alliteration: "gleeful glorification of grotesque Grand Guignol". It was all delivered graciously and if I may, and with all respect, in a style that might be described as "avuncular rococo".
What composing talent, what interpretive skill and what fun!
Visit www.lswproductions.co.uk/piano.htm for biographical details of the composers and performers and members of the judging panel; further information on LSW may be found at www.lswproductions.co.uk and www.londonshakespeare.org.uk
Reviewer: Sandra Giorgetti