Outside Edge
Richard Harris
Theatre Royal, Winchester, and touring
(2004)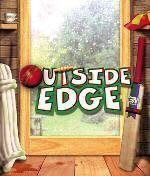 Long ago, when the Archer's Omnibus Edition was broadcast on Saturday mornings, ordinary Englishmen were living out on the local cricket field their dreams of heroism - as their womenfolk looked helplessly, often irritably, on.
To think that Richard Harris wrote Outside Edge more than thirty years ago! As revived at the Theatre Royal Winchester in Ian Dickens' new production, it might have been last weekend - but for the Saturday Archers, of course.
As Robert Duncan's Roger organises everyone, including his long-suffering wife Mim, into submission, we begin to get the message: now as then, people are concerned only for themselves. No wonder Mrs Thatcher thought there was no such things as "society" if she came across a bunch like this!
It must be a measure of the excellence of this production that, as the action progresses, everyone in the on-stage cricket team together with those surrounding them becomes steadily more irritating. Until the dreadful thought dawns that we might be looking into a mirror. Outside Edge is the play most often mistakenly attributed to Alan Ayckbourn - I've done it myself. When writers and actors recreate such frighteningly recognisable people before our very eyes, fine distinctions of origin and style are apt to blur.
That doesn't prevent us worrying about David North's strangely constructed pavilion. Nor, for all Roger's shouting, about the absence of any real sense that there actually is a field of play beyond our vision. Not that cricket has much to do with anything, with Harris himself almost entirely ignorant on the subject.
Craig Fairbrass seems a shade too intimidating as Bob, Frazer Hines's Dennis hardly suggests he could wield a bat at all, while John Rose hasn't yet got to grips with the upper class bounder Alex. Yet isn't all that disproved by Ian Swann's rounded Kevin, whose unathletic figure is just the sort of thing to expect in a district league demon spin bowler?
Nevertheless, from Sabina Franklyn's harassed Mim to Anita Graham's outrageously funny Maggie, it's the onlookers who see most in this game.
From Winchester, this production tours to: Sheffield Lyceum (20 July), Guildford Yvonne Arnaud (26 July), Canterbury Marlowe (3 August), Swansea Grand (17 August), Stoke-on-Trent Regent (23 August), Richmond Theatre (30 August), Cheltenham Everyman (6 September), Taunton Brewhouse (14 September), Durham Gala (20 September) and Lichfield Garrick ( 27 September).
Peter Lathan reviewed this production later in its tour at the Gala Theatre, Durham.
Reviewer: Kevin Catchpole