The Overwhelming
by J.T. Rogers
The National Theatre and Out of Joint
RNT Cottesloe
(2006)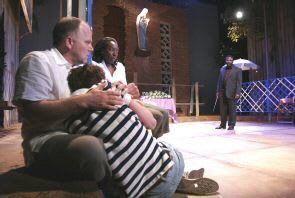 Two quotes from J.T. Rogers powerful play about life and genocide in Rwanda say it all. A young American asks, "Why is everybody here killing each other?"
While you have to see the play to get some answers to that question, your ignorance of the subject is pressed home by "The world doesn't care", said of a heroic doctor helping children with AIDS but as meaningful for as a comment on attitudes to his country.
This is a co-production between the National Theatre and Max Stafford Clark's Out of Joint, which says a lot about what one can expect. That company specialises in gritty, politicised dramas, often - but not in this case- verbatim.
While the words may not all be from Rwandans, Stafford Clark and playwright, J.T. Rogers did their research in the country in order to achieve the required level of authenticity.
An American Professor of International Relations, Jack Exley travels to the benighted African country in 1994 in order to obtain material for a book that he hopes will save his academic tenure. Bizarrely, he takes his troubled teenage son and beautiful new African-American wife into the war zone, believing in a cease-fire that doesn't exist.
They are there at the invitation of Jack's old college room mate, Joseph, the inspirational AIDS specialist who may also have darker connections. However, by the time that the family arrives, he has vanished from the face of the earth. What ensues is part detective story, part political history lesson.
The three visitors all have unexpected experiences, Matthew Marsh's Jack has the shock of leaving a selfish, protected western cocoon and seeing the harsh reality of African life as he searches for his friend, well played by Jude Akuwudike especially when Joseph is running scared.
Tanya Moody, as the naively intelligent Linda, is charmed by a Government minister whose politics are dubious and feels the power of living in a country where her race is in the majority.
Arguably, it is Jack's son who develops most, naively allowing himself to be taken up by a spy and then enjoying a prostitute while risking AIDS. Andrew Garfield confirms the promise that he recently showed in this theatre in the Burn/Chatroom/Citizenship trilogy.
In parallel with the family's problems, Rogers offers us a terrifying lesson about the problems of Rwanda and neighbouring Burundi. In the former, the ruling Tutsis seem to have a goal of exterminating the former leaders, the Hutus. In Burundi, there is a danger that the opposite is happening.
The playwright comes up with many wonderful aphorisms and constantly chums out ideas and facts. He rather over-eggs the pudding with his intricate plotting and conveniently placed symbolic characters drawn from around the globe. Having said that, The Overwhelming sheds a lot of light on the tragedy of Rwanda and its two warring peoples; who, tellingly, were one until the arrival of Belgian colonialists.
Max Stafford Clark's fluid direction with constant activity throughout ensures that attention is held even when the story gets a little convoluted.
Spending two and a half hours in the Cottesloe steeped in the problems of Rwanda may not make one want to visit the country but it will certainly leave many audience members horrified, disbelieving and wishing to learn more about it. That should be regarded as a strong recommendation for any political play.
J.D. Atkinson reviewed this production at the West Yorkshire Playhouse
Reviewer: Philip Fisher