Owen Wingrave
Music by Benjamin Britten, libretto by Myfanwy Piper after Henry James
Aldeburgh Music
King's Theatre Edinburgh
–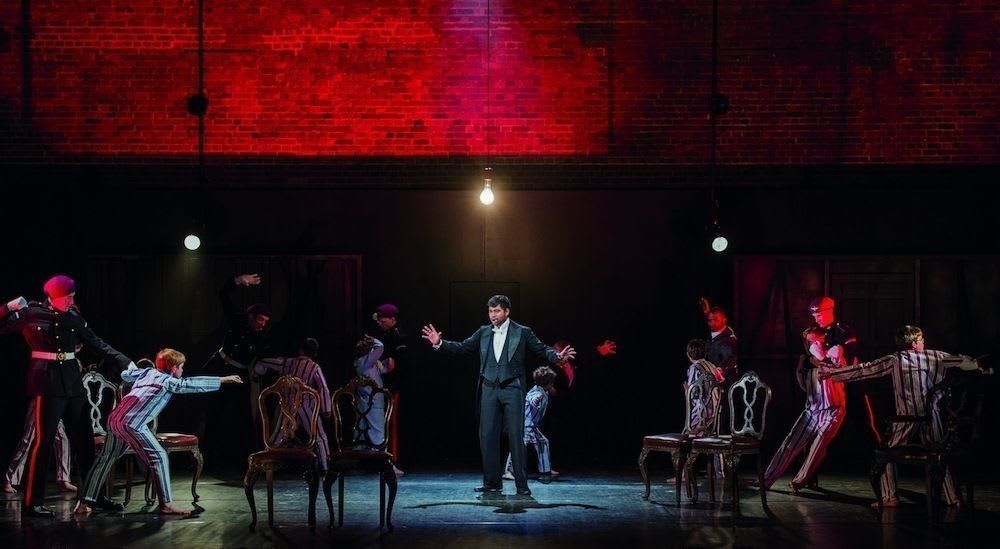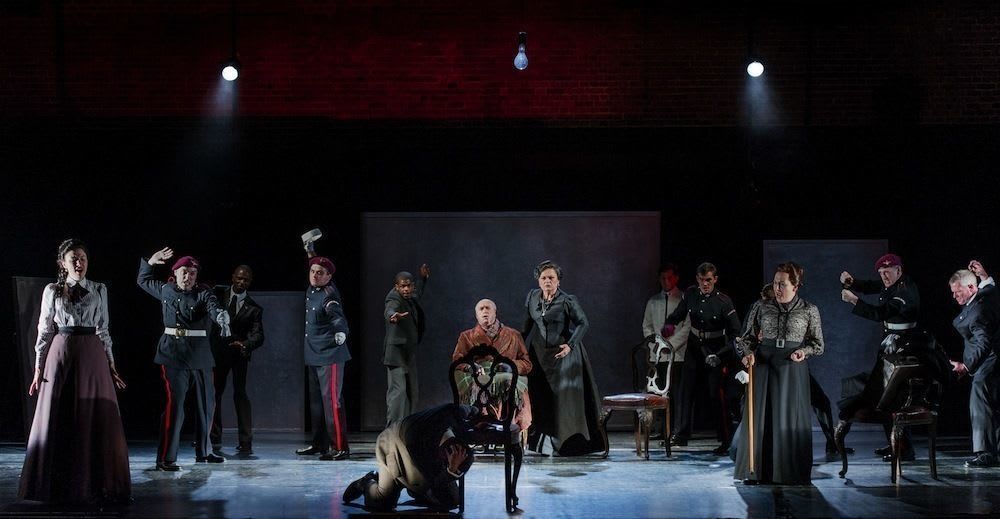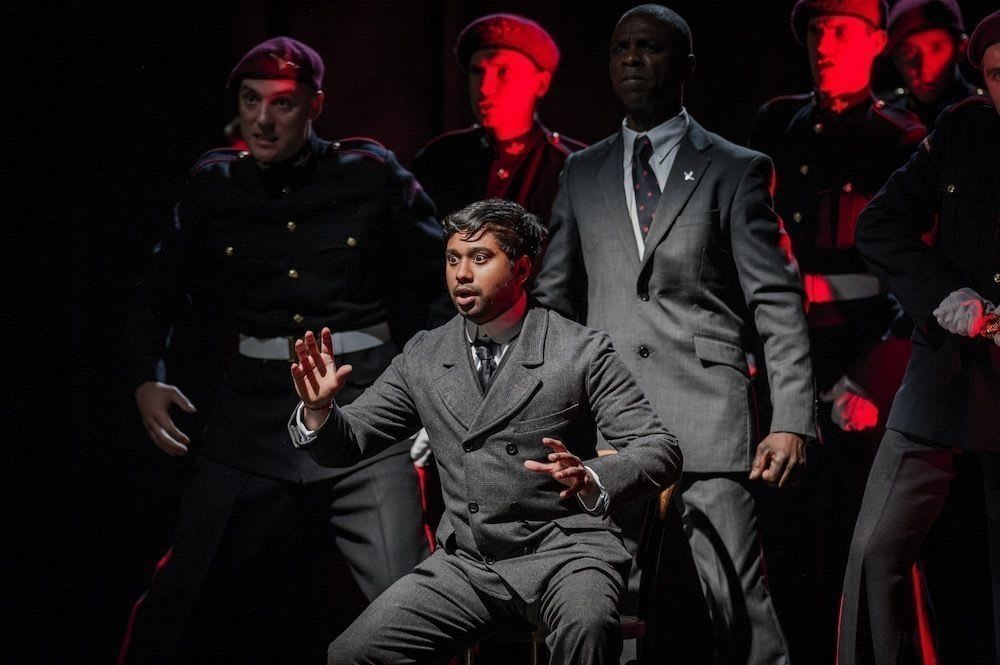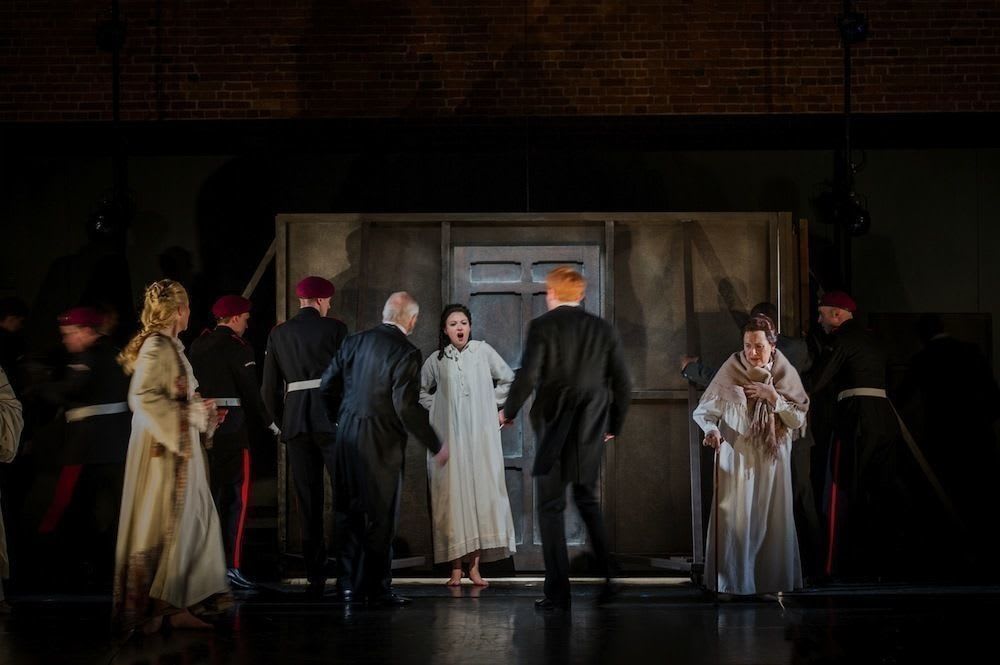 An opera commissioned for TV in 1969 (performed in 1971) from a composer who apparently didn't have a set, though his Billy Budd had been successfully adapted for the medium in 1966...
Imagine it on the small screen now, speaking intimately to so many, the confining screen so apt for the opera's claustrophobic setting of a young man trapped in the straightjacket of family tradition.
Director Neil Bartlett has taken that constricting notion into his new staging of Benjamin Britten's 'pacifist' Owen Wingrave—on a stage that has the look of a bare studio set—as stripped of the extraneous as Britten's music in David Matthew's marvellous clear as a bell chamber orchestration.
A few moveable blank flats, chairs and minimal props handled by an ever-present company of soldier-servants, some in red berets and military uniform, some in civvies, primed for the fight, a metaphor for the Wingrave ethos.
A rehearsal space, or derelict country pile, this haunted house (note its ironic name Paramore), in which Owen declares his fight for pacifism, is a house populated by revenants. The living as entombed as the dead in their entrenched chauvinistic views.
Henry James once more—an 1892 short story—provided the inspiration for the libretto. The past is always present.
The Wingraves are a military family, always were, always will be. Military clichés abound. Note their name: 'win' and 'grave'. Their duty is to die for God and country, soldiering their life and religion. Owen's father died in battle, as did his intended, Kate Julian's. All are scarred by death, but a taste for heroics and pride keeps them going.
Star pupil Owen, schooled in military strategy by kindly Spencer Coyle (Jonathan Summers), puts it to good use in his pacifistic battle with the irascible head of the household, his grandfather General Sir Philip Wingrave (Richard Berkeley-Steele).
The women are as fixed in their views as the men: Owen's fierce aunt, Miss Jane Wingrave of 77 Baker Street (Sandra Bullock), still in mourning dress, capricious Kate (Catherine Backhouse), and her mother (Janis Kelly) who had hoped to remain in the house as the mother of his bride.
"How dare you?" they scream at him repeatedly, the orchestra backing them up ferociously. "He will listen to the house". To "the living and the dead". The house and its portraits, heroes of Agincourt and Domesday, will sort out the "traitor". Only Mrs Coyle (Samantha Crawford) has any sympathy for the ardent young man.
But, Paramore has a haunted room where a gentle boy died at the hand of his admonishing father, who was also found dead without a mark on him when the room was opened.
And it is this room in the house that is the undoing of poor brave defiant Owen, not a coward, but steadfast in his "scruples", standing up to a deaf world, as Britten a conscientious objector did during the Second World War.
A weighted personal opera, one that touches the heart and mind, a sore spot for him and a compassionate one for us... And the music that pours out is lyrical, moving, intense, underlining emotions and arguments.
Bartlett maintains that Owen is 'one of Britten's most vivid and disturbing self-portraits'. His 'pacifism comes from the terror of knowing that he could so easily become one of war's perpetrators'.
Adults abusing children is a common theme in Britten's operas, think Billy Budd, Peter Grimes, and yes, The Turn of the Screw. One doesn't have to look hard to see why it touched him personally and so deeply.
A dozen Chelmsford Cathedral choristers' angelic treble voices thrill and the sight of boys in striped pajamas manhandled by grown men, by soldiers obeying orders, chills the bone.
Act one ends with Owen seeing the ghost of the boy from that room. He knows his destiny: he knows he has the capacity to fight his corner. He is not a coward. It takes a brave man to stand up to the pressure of society, family and friends.
He is a soldier on the battlefield. And the solo sung so perfectly by James Way says as much. 'A soldier boy' is given a military salute—is this hypocrisy on the part of his killers, for indeed they all killed him by ostracizing him, his grandfather by disinheriting him, the women by shunning and haranguing him.
Or is this Bartlett adding his voice in support? This he has done with a tremendous production. I wonder whether he was influenced by Lars von Trier's Dogville.
A co-production between the Aldeburgh Festival, where it played in June, and the Edinburgh International Festival, controversial in its time, Owen Wingrave has a wonderful cast, much appreciated by the silver brigade. Why so few from the younger generation?
Emerging talents from the Britten-Pears Young Artist Programme, Ross Ramgobin and Isaiah Bell sing and perform respectively Owen and Lechmere, Owen's fellow student and rival for Kate's hand, with great assurance.
Mark Wigglesworth conducts the Britten-Pears Orchestra with his usual panache and verve in a passionate rending of a surprisingly infrequently performed opera. Tension and aggression, mockery and wit, gentleness and peace can all be heard in Britten's music. Powerful stuff.
I'd like to see and hear it again. Very apposite for this centenary year of the war to end all wars, 'lions led by donkeys'. "I'd hang the lot." An anti-war anthem, a morality play and a critique of a society that blindly follows…
Reviewer: Vera Liber