Oxford Street
Levi David Addai
Royal Court Theatre Upstairs
(2008)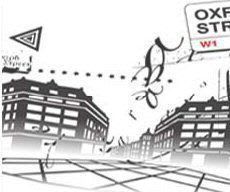 Levi David Addai's debut play, 93.2 FM in the same space albeit very differently configured, introduced a number of great characters but was light on plot. House of Agnes at Oval House followed suit.
Oxford Street once again shows us a writer who can create situations and people that are entirely believable and from groups rarely represented on stage but, sadly, the storyline is wafer thin.
Helped immensely by the marvellous efforts of designer Soutra Gilmour, Addai takes us into a West End discount sports store where the music, staff and goods are equally brash.
The audience are placed on small stools rather like white African drums, circular at top and bottom but tiny in the middle, while the actors play in a narrow traverse walkway down the middle, occasionally weaving in and out of the paying guests.
The drama can rapidly move from shop floor to security office, canteen and changing room, thanks to Miss Gilmour's efforts, making for a breezy 90 minutes. What goes on has the feel of life lived, and it would be a surprise if the writer has not spent some time working in a shop of this type.
Many of the staff members are authentic too. The best creation is Cyril Nri's Emmanuel, a Ghanaian security guard and father figure, who just happens to be extremely funny. So too is Amelia Lowdell playing the mother hen of the sales floor Stephanie, who works tirelessly like somebody with a vocation in a situation where that makes no sense.
Further down the ladder come witty stereotypes like bored Russian security guard, Alek (Kristian Kiehling), and Asian shop worker, Husnad (Shane Zaza). What they all have in common is an ambition to do something else - become a businessman/performance artist/petty criminal, though one fears that in most cases, it will never be fulfilled.
This is all great, as a behind the scenes exposé of life in the Christmas season. However, Addai's attempt to inject drama into his world falls flat.
It centres on newcomer, Ashley Walters' Darrell, a young South London bwoy with two kids and no Christmas presents, who decides to make some cash on the side by filching goods, helped by a couple of gormless teen raiders. He does this by bullying Nathaniel Martello-White's nice, honest security guard, Kofi. Worse, he also hits on Kofi's girl Loraina, comically portrayed by Preeya Kalidas. Her intonations and speech ring true from the infuriating "whatevers" to the "you manz are all the same".
The eventual outcome is unsatisfying despite the efforts of director Dawn Walton and her talented young cast. This is something of a disappointment, as Levi David Addai has great ability and can set up a mean joke. At this venue, he has so far created a radio station and an Oxford Street store and inhabited them with some cool and geeky personalities. Having got them there, all he now has to learn is what to do with them.
Reviewer: Philip Fisher