The Wizard of Oz
Music by Harold Arlen, lyrics by E.Y.Harburg based on the book by Frank L. Baum, additional lyrics by Tim Rice, additional music by Andrew Lloyd Webber
London Palladium
(2011)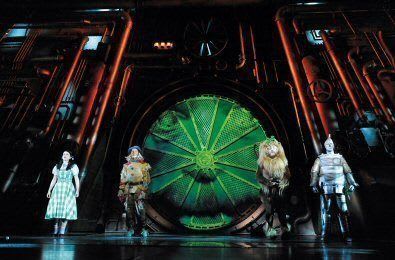 A new musical at the Palladium, specially spruced up to celebrate its centenary at the end of last year, is always an exciting prospect. These days, the odds are that it will have been prefigured by a find-a-star TV show and be familiar, either as an old favourite or adapted movie with a big budget and star names both on and off stage.
The Wizard of Oz ticks every one of those boxes and might also benefit from its close relationship with Wicked, still as popular as ever.
The show's young star Danielle Hope was discovered by Lord Lloyd Webber and her devoted public in Over the Rainbow. She turns out to be a good all-rounder on stage.
Miss Hope's voice is attractive, if hardly powerful, the feet twinkle adequately but the newcomer's strongest suit is her comedic acting. This is probably just as well, as the professional stage debutante has to compete with that greatest of scene-stealers, her lovable dog, Toto a West Highland White Terrier (or Westie), so one is reliably informed.
Jeremy Sams's production was always likely to look good in the hands of designer Richard Jones and his lighting colleague Hugh Vanstone. Unusually these days it falls back on traditional concepts, which are frequently based around a revolve and use vibrant colour to complement the solid construction.
Everyone will take away favourite images and the odds are that the green, art deco Emerald City, a cackling Wicked Witch precariously suspended high over row H and a first sight of the land beyond the rainbow will all score highly.
However, it is a rare flash of Jon Driscoll's computer-generated graphics that takes the breath away, as Dorothy is dizzyingly transported in a 3D twister from Kansas to Oz.
The story must surely be familiar to all, as are most of the songs, though there are some modern additions from a famous musical pairing.
Plucky young Dorothy is so frightened by the threats to her pet dog from ugly Hannah Waddingham 's Miss Gulch that she runs away from home, gets caught in a storm and transported into a dream that might give Freudians enough material for a thesis, if not a library of analytical literature.
There, she picks up three oddballs, David Ganly's Cowardly Lion, Edward Baker-Duly as a heart-less Tin Man and a brain-less Scarecrow, the last an amazingly malleable dancer portrayed by a rubber-limbed Paul Keating.
With them, helped by blue-rinsed good witch Glinda and hindered by the evil green Wicked Witch of the West, she quests like a mythical Greek hero for the key (well broomstick) to make them all happy. To do this, she must overcome fear and persuade Michael Crawford's fearsome Wizard of Oz to sort everything out.
Within this framework, director Jeremy Sams provides a feelgood evening that can seem patronising on a couple of occasions but, with a stream of much-loved songs, some good dance routines from Arlene Phillips and a happy ending, will sell well for ages having already managed advance sales ahead of opening night of phenomenal proportions, some £11million, if rumours are to be believed.
As well as Danielle Hope, a household name before she even got on to a stage, there is the much-loved Michael Crawford making a welcome return to the theatre as the ultimately vulnerable title character.
Best of all though is that amazing, green giantess Hannah Waddingham who will scare more than just the very young as the evil Wicked Witch of the West and delivers Red Shoes Blues, a fine Kurt Weill-style song written especially for her by an ennobled duo named Rice and Lloyd Webber.
This version of The Wizard of Oz may not add much to what we already know from the movie and earlier stage incarnations but provides an enjoyable 2½ hours. As such, it will undoubtedly prove popular with the attractions of Lloyd Webber and Rice added to a much-loved story and the new highly-publicised phenomenon, Danielle Hope.
Visit our sponsor 1st 4 London Theatre to book tickets for The Wizard of Oz
Reviewer: Philip Fisher