P.A.R.A.D.E
Marc Rees, Caroline Finn, Marcos Morau
National Dance Company Wales and Marc Rees
Wales Millennium Centre
–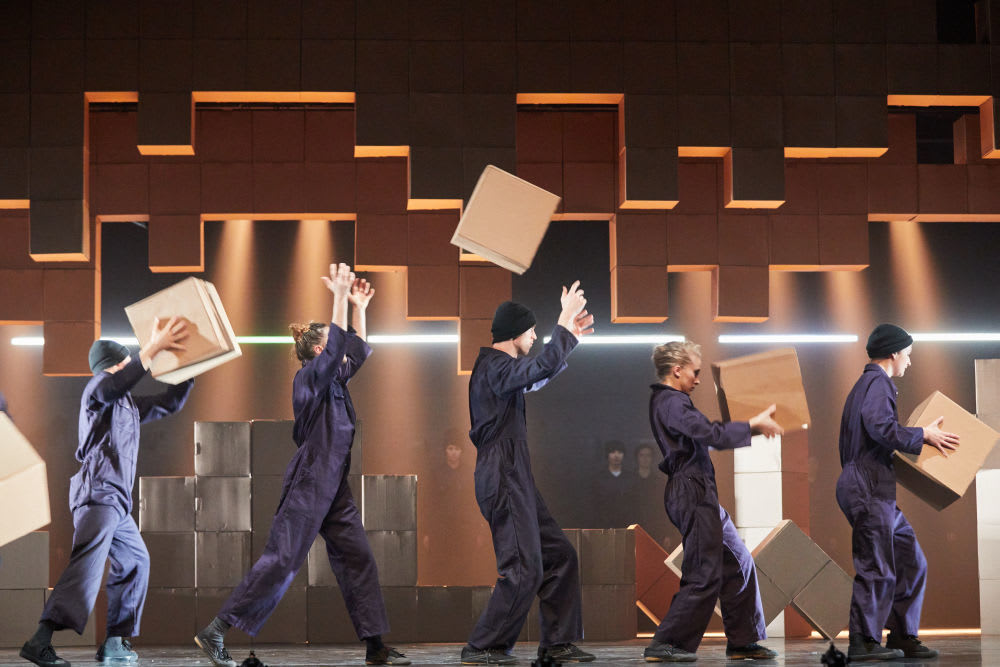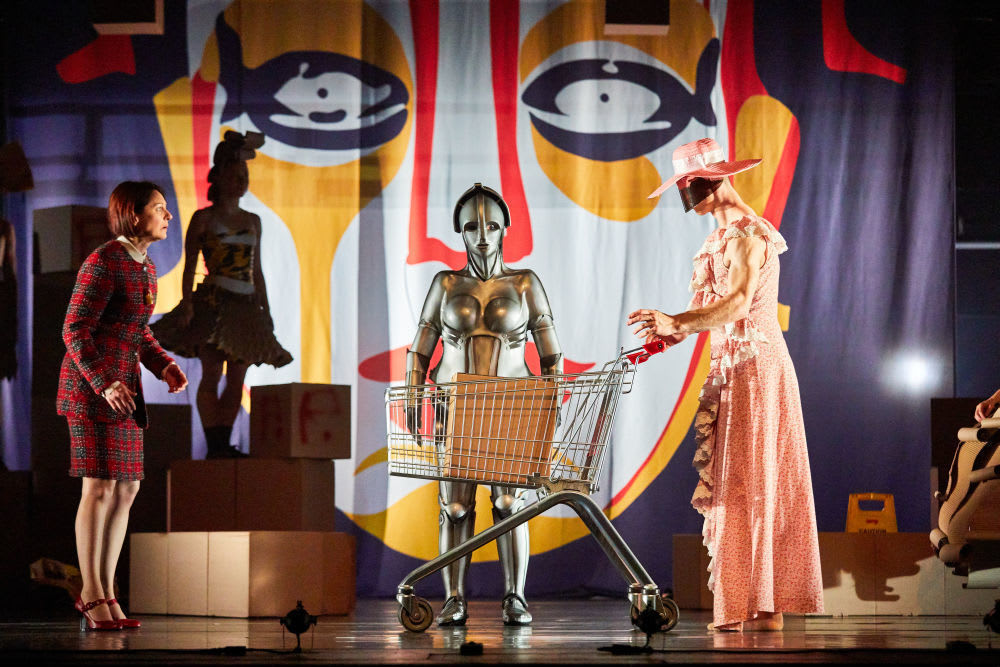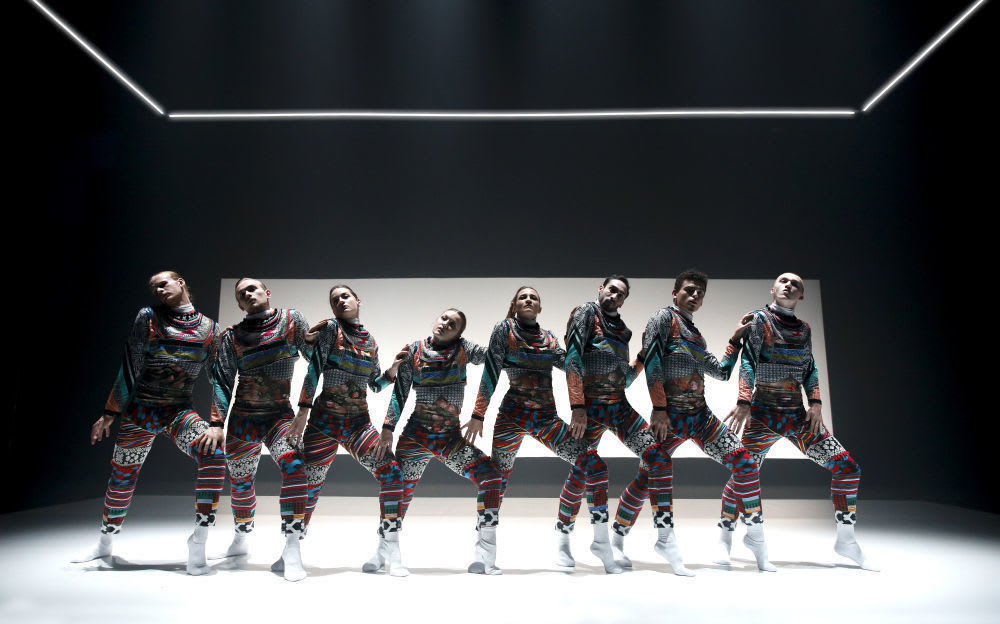 The ballet Parade was a landmark of modernism, bringing together the remarkable talents of Jean Cocteau, Eric Satie and Pablo Picasso. Choreographed by Leonid Massine, its unconventional, apparently haphazard and proletarian nature shocked the arts establishment when it was first produced in May 1917.
One hundred years on, a stellar collection of Welsh artists have collaborated on a new piece in homage, as part of the commemorations of the centenary of the Russian Revolution, the original having been performed by Diaghilev's Ballet Russe.
This 2017 P.A.R.A.D.E begins in the outdoors (mercifully rain-free), with a stuttering fanfare (composed by Jack White). For this segment, directed by Marc Rees, we have been furnished by red-clad stewards with flags to wave, bearing the letter "P". We are welcomed by a smartly dressed politician, played by Eiry Thomas (with a bilingual script written by Branwen Davies), who welcomes us "workers" to the unveiling of a new work of public art, celebrates the long history of productive links between Wales and Russia, and hails the importance of Progress.
At this point, an impressive, Metropolis-style robot (created by Simon Windus and RS Props, and under the control of aerialist Kate Lawrence) starts to walk down the outside of the Wales Millennium Centre.
There is dissent, however—workers dressed in black (from the community troupe Rubicon Dance) shout in protest, running through the crowd bearing placards which, when they finally storm the stage, form a composite parodic robot image (created by graffiti artist Pure Evil).
We are then ushered into the foyer, where another futuristic drama is being played out. This is Stepford Wives, choreographed by Lee Johnston; a short, looped performance in which male dancers, dressed as robotic women, browse supermarket shelves—actually, empty cardboard boxes—in an ironic take on consumerism, while as Jack White's seductive muzak soothes us.
The atmosphere is maintained as we make our way towards the auditorium itself, with an installation piece involving workers in overalls obsessively manipulating boxes—throwing forward to the main event.
Once inside the performance space, the politician reappears and, this time afflicted by an amusing Theresa May-style cough, invites us to settle down and enjoy the entertainment on offer. This is the centrepiece of the evening—Caroline Finn's Parade.
Jenny Hall's set (with stark lighting design by Joe Fletcher) presents us with a factory floor, on which the ensemble (Àngela Boix Duran, Ed Myhill, Elena Thomas, Robert Bridger, Camille Giraudeau, Cyril Durand-Gasselin and Evan Schwarz plus apprentice dancers, Marine Tournet and Mathew Prichard) are engaged in box-oriented drudgery. However, with the accompaniment of Satie's atypically expansive score (more reminiscent of Stravinsky), played live by the BBC National Orchestra of Wales (under Martin Yates), regimentation slowly breaks down.
There is romance, prank-playing involving masking tape, a little light disrobing, irreverent box-tampering, and the conversion of drab work-wear into more glamorous attire (costume design by Rhiannon Matthews). Eventually, however, a form of order is restored, as they hail the reappearance of the robot.
This is a brisk and entrancing twenty-minute journey, and while elements of the narrative are inevitably opaque, it commands the attention throughout.
Following the interval comes a complementary piece, specifically commissioned by Finn to reflect the revolutionary theme. This is Marcos Morau's Tundra. Apparently set in an Arctic wasteland, it commences with a sole performer centre-stage, singing a wistful Iniut-style chant.
She is quickly replaced by the ensemble who, in sumptuous red gowns, proceed to magically glide across the stage in unison as though on ice; frankly, I could have watched this segment for hours.
Too soon, however, and after a miraculously quick change, they are transformed, framed by a fluorescent rectangle of white light (design by Joe Fletcher). Now clad in costumes (designed by Angharad Matthews), which seem to combine elements of the snug with the space-age, they largely remain linked as they perform, operating as a team—with only the occasional outlier.
Perhaps this is meant to signify the importance of co-operativeness in order to survive in a harsh environment. Or maybe it is an indictment of conformity. Either way, it is beautifully done (if perhaps a tad over-long at 30 minutes), and cleverly soundtracked with a pleasingly astringent playlist combining electronic and folk elements.
I can't claim to have remained unconfused throughout this evening of diverse treats, but the vision and ambition of the P.A.R.A.D.E project cannot be faulted. While the political message is unclear (are we meant to be celebrating solidarity, or individualism, or both?) there are moments of great beauty and there is much talent on display.
Reviewer: Othniel Smith