Pacific Overtures
Music and lyrics by Stephen Sondheim, book by John Weidman, additional material by Hugh Wheeler
Union Theatre
Union Theatre
–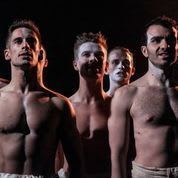 What I like most about director Michael Strassen's and producers Sasha Regan and Paul Callen's production of Pacific Overtures is that they have taken this 1976 Sondheim-Weidman collaboration and made it something contemporary without feeling the need to dumb it down.
The show is an account of Japanese history from the arrival of an American trade mission in 1853, told largely through the relationship between two characters.
Their alliance over the decades exemplifies, as Sondheim put it, "the apocalyptic effect of Western culture... upon a serene, self-contained society".
The main protagonists are Kayama, an inconsequential Samurai sent out to the American ships to shoo them away, and Manjiro, who helps him deal with the barbarians, having been to America after being rescued by a foreign ship from his wrecked fishing boat years earlier.
However, the Americans are not to be dismissed and enforced trade between the nations breaks the centuries-long isolationism of the floating island.
British, French, Dutch and Russian trade envoys arrive to aggressively compete, their presence further disrupting the social order, ultimately causing a schism between fraternisers who adopt new ways and those who try to preserve cultural observance.
Borrowing freely from traditional kabuki theatre, Sondheim and Weidman have provided a Reciter for Pacific Overtures.
His unnatural narration at first reflects the ritualistic and antiquated nature of Japanese society, unchallenged for 250 years since the previous attempted invasion by a foreign state, and by the end of the show it reflects a new Japan which has absorbed the Westerners' ways into it's own.
In the closing number, "Next", Japan's transition from "preposterous nation" to world class player is cemented by references to Toyota and the 2020 Olympics.
The move from old to new is also heard in the songs and their arrangements and seen in the action and the choreography.
In Strassen's staging, the choreography sometimes hints at something homoerotic, but this doesn't detract from the effect of something very ancient and Eastern moving towards something very modern and Western.
This quirk probably has more to do with the chest-bearing costumes and the all-male cast, also a tradition of Kabuki theatre.
Ken Christiansen leads strongly as the Reciter, who steps in as the ineffectual Shogun where he transforms into a cross between a white Orc and Shrek.
Other standouts are Marc Lee Joseph as the Shogun's mother and other roles, Ian Mowat as Old Man and in a pair of funny older lady roles and Oli Reynolds who plays Kayama.
That said, the cast are uniformly superb and are supported by an excellent orchestra under the musical direction of Richard Bates, putting this show amongst the best I have seen this year.
I would like to see it again, but I suspect it is going to be very hard to get a ticket.
Reviewer: Sandra Giorgetti