Pagliacci (Clowns) and L'enfant et les sortilèges (The Child and the Magic Spells)
Ruggero Leoncavallo, Maurice Ravel and Colette
Opera North
Leeds Grand Theatre
–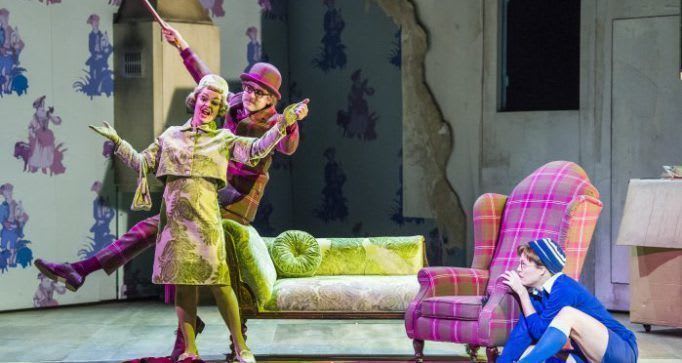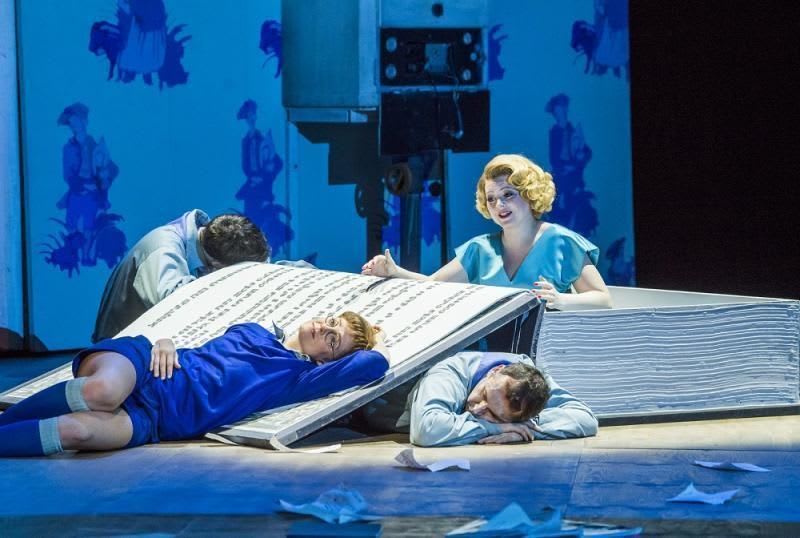 For their autumn season, Opera North has opted to stage six short works rather than three full-length ones. By doing so, the company hopes to celebrate the diversity of the operatic form by offering audiences a broad range of different theatrical experiences.
Leoncavallo's Pagliacci (1892) is a prime example of Verismo, an artistic movement that sought to replace the mythic elements found in operas by Wagner and Verdi with more earth-bound characters and storylines. Like Puccini's Il tabarro (1918), memorably staged by Opera North last year, Pagliacci deals with sex, jealousy and murder in the lives of ordinary working-class people.
Canio (Peter Auty), the leader of a travelling theatre company, is thrown into despair when he learns from the villainous Tonio (Richard Burkhard) that his wife, Nedda (Elin Pritchard), has been having an affair. Suffice to say, things do not end happily once he discovers the identity of his love rival.
In a bold and brilliant move, director and designer Charles Edwards relocates Pagliacci from its original Italian setting to the rehearsal room of a contemporary opera company. Leoncavallo's opera is explicitly concerned with performance, and this change of setting explicitly foregrounds the theatrical nature of the piece.
This production benefits from several strong performances. Peter Auty does a fine job of conveying Canio's overwhelming pain and fury, and his rendition of 'Vesti la giubba' ('Put on your costume') is deeply moving. As Tonio, the spurned suitor who turns upon Nedda, Richard Burkhard makes a suitably diabolical puppet master, particularly in the scene where he dresses up the other characters as stock figures from commedia dell'arte.
Elin Pritchard, so terrific as Kupava in The Snow Maiden earlier this year, is less effective this time round. She sings beautifully and conveys Nedda's passionate nature, but often her performance feels needlessly hectic and overblown. This is a shame as a more nuanced approach would made the bloody dénouement even more shocking and tragic.
While I admired Pagliacci, I adored Annabel Arden's wondrous production of L'enfant et les sortilèges (1925)—an inspired collaboration between French composer Maurice Ravel and novelist Colette.
One of the great musical works about childhood, L'enfant et les sortilèges was the subject of a seminal essay by the psycholinguist Melanie Klein, who explored the Freudian undercurrents of the piece. While the opera accommodates such readings, it can also be enjoyed as the simple story of how a young boy learns to care for others.
A rambunctious child (Wallis Giunta) would rather do anything other than his homework, and is chastised by his mother for being lazy. Left alone, he flies into a rage and assaults everything in his room, including the family's pet cat. Miraculously, the objects—including a grandfather clock (Quirijin de Lang) and an armchair (John Savournin)—come to life and complain about their treatment.
Opera North's staging of L'enfant et les sortilèges succeeds in every respect, with Annabel Arden managing to create an increasing sense of magic and wonder, culminating in a moving final scene.
Wallis Giunta is superb as the eponymous child, skilfully charting every stage of the protagonist's emotional journey. Fflur Wyn dazzles in the dual role of household fire and fairy-tale princess, and the rest of the supporting cast—including Katie Bray, Ann Taylor, Lorna James and Kathryn Walker—deliver strong performances.
Hannah Clark's candy-coloured costumes are delightfully witty, bringing to mind the worlds of Roald Dahl, Tim Burton and Wes Anderson. The priapic garb worn by the teapot (John Graham-Hall, hilarious) is especially memorable. Equally striking is Charles Edwards's flamboyant set design, which adds to the magical feel of the production.
Throughout the evening, the Opera North orchestra—conducted by Tobias Ringborg and Martin André respectively—play with conviction and flair.
Pagliacci and L'enfant et les sortilèges are not an obvious pairing. Indeed, one could hardly think of two more different operas. However, the decision to combine them results in an evening of thrilling contrasts.
Reviewer: James Ballands