Palermo Palermo - Tanztheater Wuppertal Pina Bausch - World Cities 2012
Pina Bausch
Tanztheater Wuppertal Pina Bausch
Sadler's Wells
–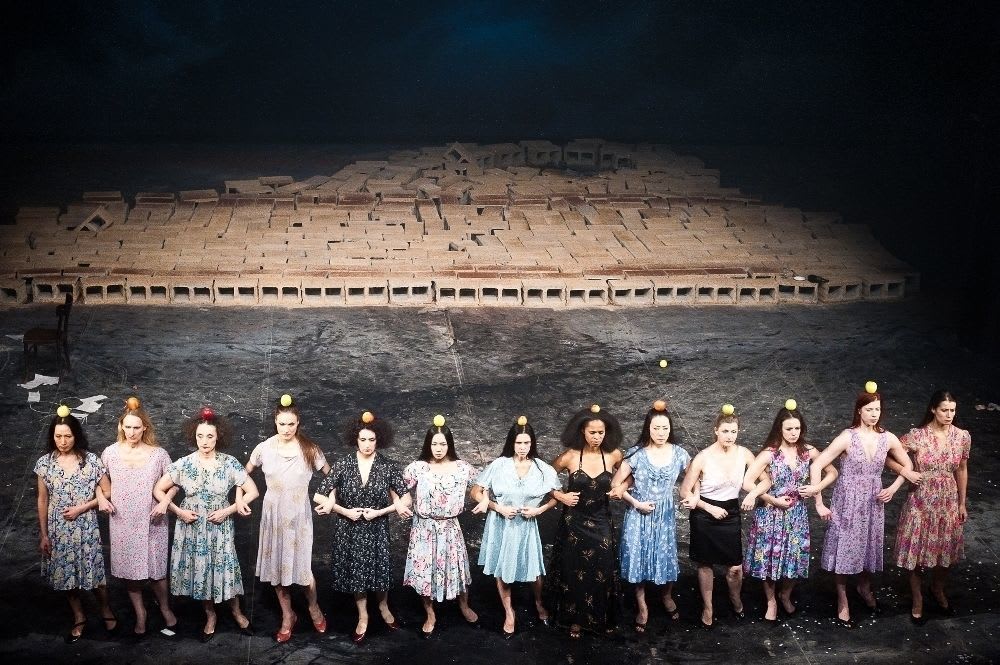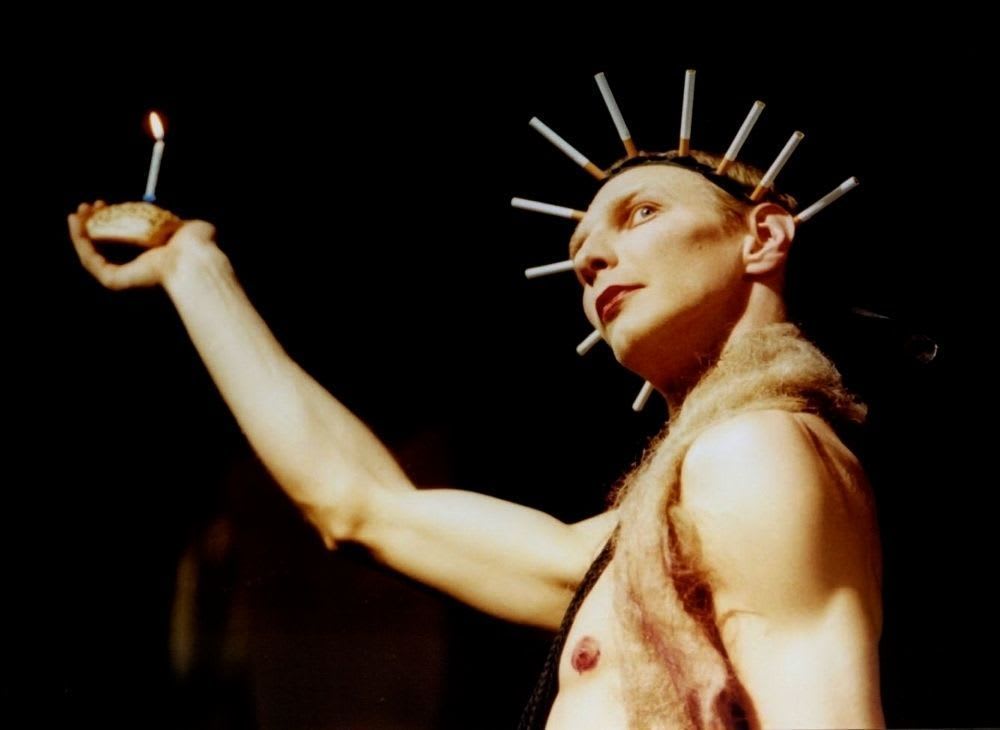 No touristic picture postcard in this penultimate World Cities number, but rather a crowded, impenetrable reaction to a complex city, Palermo, a crossroads since the days of antiquity. This is the Pina of old, the one that divides opinion.
Is this the response the Mayor of Palermo had in mind when he invited Pina to create a work inspired by Sicily's capital, in co-production with Teatro Biondo Stabile, Palermo and Andres Neumann International in 1989?
Pina and Palermo Palermo, riddles "wrapped in a mystery, inside an enigma" (to borrow a phrase) stimulate the senses: caught in the headlights of curiosity, one comes away little the wiser from this perverse anarchy, but, my word, has the mind been exercised… Imagery, as Tarkovsky said, that would baffle adults but not a child.
The usual symbols abound: snakes and apples (the garden of Eden), buckets, stones, water, gender-manipulation, breasts on show, ape men, scolding women, trees, food (hunger and greed), breath itself, hair used to sweep the floor clean, upturned tables, chairs, drinking jokes, their juxtapositions significant and mystifying, a secret language, a code to be broken.
Omertà and the Mafia (fingers in many post-war pies—the building, smuggling, and drug trades), vengeance, initiation rites, and obedience to women, Pina unpicks, shuffles and reshapes not in cohesive mosaics, but in fragmented montage pixels. We piece them together as best we can. Performers' direct gaze challenges the audience (you looking at me / look at me), but demotic traditions are opaque to the outsider.
The stage is immured; the city is bricked in. The breezeblock wall comes down in dust, smoke, and rubble to cheers from the audience. Julie Shanahan appears, smears a cross on her face as Kansas Joe McCoy's "Why Don't You Do Right?" plays, a song of poverty and the depression era. She demands Damiano and Federico hug her, kiss her, bring her a chair, throw ripe tomatoes in her face, to love and debase her.
Soil and dust rain down—ashes to ashes, dust to dust? Church bells toll. A loaf of bread is made into a shoe, a gunshot is heard, people pick their way through the rubble, add their own rubbish to it, try to pass water cupped in their hands from person to person. Scavengers—a scrawny dog eats a carefully laid out picnic—and profiteers.
Women do handstands against the back wall, and cling to their property, their essence. Snow in a fridge? Nazareth Panadero guards her shoes diligently, guards her spaghetti too, firmly stating that each piece of spaghetti is hers, she won't give any away, she won't lend it out. Presently Dominique Mercy will try to do a St Sebastian on himself with it.
Women in widow's weeds and forties style dresses (few glam gowns this time) proliferate. Ruth Amarante, held up by bodyguards, water bottle between her legs, pees before Eddie Martinez, shakes the last drop out like a man—a warning? Later she is cradled on men's feet. A woman not to be crossed, she kicks and kicks a man till he spills all the contraband cold meat about his body.
Meat, plates of meat, flesh, Christian symbols borrowed by the Mafia? Andrey Berezin cuts slices from his wrist, fries them on a steam iron, and eats. Berezin is the oddball that lives in his own little world at the side of the stage. Watches two televisions, transforms himself into a transvestite… or is that a priest?
Julie Shanahan stalks the stage with pistol and stocking over her face, Regina Advento buys kisses, Eddie Martinez and Jorge Puerta Armenta in identical red-lined white rainmacs stand and smile at the audience as they rub squeezed lemon juice on their hair, and Daphnis Kokkinos tells a fable about how the geese delay the fox eating them. Poems are declaimed, stories read, Tiepolo clouds fill the sky.
Myths, fables, what is true, what is dreamt, what is imagined, carved out of the wreckage of people's lives, nothing is what it seems. A man fakes a broken arm, a woman swallows her wedding rings, another is lifted so fiercely she drops naked out of her dress, yet another recites a gypsy song.
Music from Sicily, Africa, Scotland, Japan, village bands, renaissance sounds, and blues and jazz confuse the ear and the context. Six pianists pound out Tchaikovsky's Piano Concerto no 1 in B Flat Minor on a wall of upright pianos, a lone saxophone player plays Stormy Weather, a Jew's harp twangs from the side stalls.
Men and women line up, arms linked, advance on the audience in two rows in a slow funeral march, and trees full of blossom descend from the flies. Stagehands work to untie them, and there the story ends. Throughout the production stagehands are visible shifting and sifting the debris. Pina includes everyone. Take from Palermo Palermo what you can or want.
Reviewer: Vera Liber