Pamela Drysdale's Lockdown
Jane Hainsworth
Three Chairs and a Hat
Online@theSpaceUK
–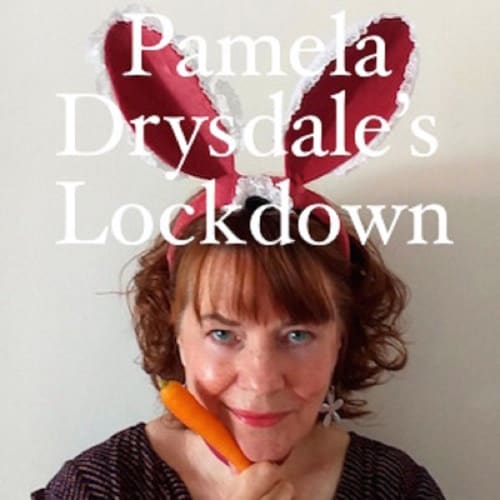 Although Pamela Drysdale's Lockdown is described as a comedy of errors, writer-performer Jane Hainsworth includes enough twists and turns to keep viewers uncertain as she explores the dark underside of suburban life.
Pamela Drysdale's marriage, to a husband who is happy if she is happy, is warm rather than hot and steamy. An office flirtation with Keith spirals into an affair and she is delighted to accept his invitation to a clandestine weekend in the country. Things do not go to plan. The promised discrete cottage is a mobile home / caravan and when lockdown is imposed Pamela finds she is stuck with a sex maniac who has a variety of kinky outfits on hand.
In the style of Victoria Wood, Hainsworth's script blends the prosaic with the outlandish. Pamela, despite her aspirations, is mundane and finds the kinky sex outfits not offensive but uncomfortable and chilly—wishing they came with a cardigan. Hainsworth constantly balances fantasy with cruel reality. Keith lovingly carries Pamela across the threshold, but his sexual interests turn out to be borderline perverse rather than romantic.
Much of the humour in the play comes from the audience being aware Pamela is nowhere near as worldly-wise as she imagines. Pamela seems blissfully unaware she is getting out of her depth. Her reference points come from reality TV shows leaving her unprepared for her misadventures.
Hainsworth keeps viewers on edge with subtle shifts in style and mood. In the manner of a noir thriller, Pamela refers to herself in the third person and acts as narrator. There is an edge of potential violence with Pamela tiring of Keith's once endearing habits.
Pamela Drysdale's Lockdown is ideally suited for online rather than theatrical staging. A sense of lonely desolation and disappointment is generated by shots of unappealing agricultural landscapes and Pamela's increasing sense of confusion reflected in close-ups of Hainsworth's face.
The quirky approach taken by Hainsworth makes going for a walk on the wild side with Pamela worthwhile.
Reviewer: David Cunningham