Peter Pan
J. M. Barrie, adapted by Tanya Ronder
Kensington Gardens
(2009)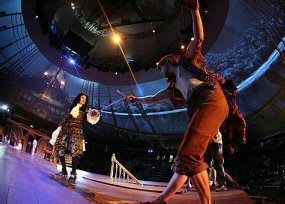 Peter Pan is one of those intrinsically English institutions that has practically imprinted itself on the collective national psyche. From early days, every English child becomes aware of the boy who will not grow up and his nemesis Captain Hook, although these days their initial immersion may be courtesy of Disney or any number of American movies.
This play's soul is planted in Kensington Gardens and therefore the producers' decision to put up a gigantic, luxurious circular tent in that very location shows great taste and shrewd business acumen, even before they populated it with 1,200 seats and designs to die for.
These days, the name of designer William Dudley conjures up untold pleasures, as he is the master of computer-generated images. Bill Dudley surpasses even his own high standards with his panoramic, 360° images of leafy Kensington, piracy on the high seas and Never Never Land. Best of all though, is the flight across London, which offers an utterly awe-inspiring, bird's eye view of the city as it was 100 years ago.
Already Ben Harrison's production is off to a flying start before we enter the home of the Darling family. There, bumptious father and sweet mother (Jonathan Hyde and Karen Ascoe) struggle to bring up three lively children.
They are aided by another of the evening's treats, their canine nanny Nana, recreated on stage by the kind of life-sized, articulated puppet still wowing audiences of War Horse, on this occasion created by Sue Buckmaster.
Abby Ford in the role of Wendy catches the essence of a responsible little girl capably playing at motherhood, while rather confused about the relationship between boys and girls. She enthusiastically embraces the opportunity to fly away after the boyish if rather hunky Peter (Ciaran Kellgren) returns for his lost shadow.
He is accompanied by a deliciously wicked fairy Tinkerbell, looking like a shabby, angry ballerina and played by Itxaso Moreno as a spitting punk (of the rocker variety). These two athletically fly around like aerial gymnasts, only outdone by a Mermaid who turns out to be the real thing (aerial gymnast, that is) in the person of Fiona Lait.
Peter and Wendy fly into the escapist world of Never Never Land with her two brothers and soon team up with a quartet of Lost Boys. Much of the subsequent fun derives from their battles with an unstable, rather sinister but strangely lovable, old Etonian Captain Hook (Hyde once more) and his band of pirates.
A lot of swashbuckling goes on, much to the delight of the rapt younger members of a packed house, although the very youngest might have been more than a little frightened by some life-like cannonballs that appear ready to leave the screens and enter the audience, and the appearance of a skeletal, ticking crocodile operated by a duo of puppeteers.
There is even a fair dose of romance injected by not only Wendy and Tinkerbell but also a sexy little minx of a Tigerlily (Amber Rose Revah).
The 2½ hours fly by, which is a compliment both to J. M. Barrie for writing such a stirring story and the current creative team who have freshened it up for a contemporary audience used to HD TVs and Wiis.
There is little doubt that even the most demanding of visitors will be enchanted and excited by the high production qualities and the kind of story that has won over generations. Peter Pan will therefore be the perfect school holiday treat for children of all ages in 2009.
Reviewer: Philip Fisher