Paradise Found
Book by Richard Nelson, lyrics by Ellen Fitzhugh, music by Johann Strauss II
Menier Chocolate Factory
(2010)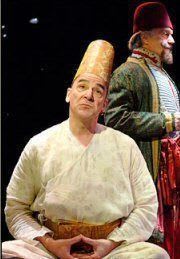 At first sight, Paradise Found, based on Joseph Roth's 1939 novel The Tale of the 1002nd Night, could not fail to be yet another Menier hit.
Somehow, the Southwark powerhouse has tempted a completely fresh New York creation to open on this side of the pond, presumably taking the place of an Off-Broadway or American regional house for the show's world premiere prior to great things.
Even better, the production that is American from top to tail centres on a bevy of big names. The Viennese duo of Johann Strauss II and Joseph Roth provided the initial inspiration. This was then turned into a stage story by Richard Nelson, directed and choreographed by another heady pairing, Harold Prince (Winner of 21 Tonys for shows such as Evita and Phantom) and Susan Stroman (The Producers) and stars the original Evita Che, Mandy Patinkin, plus a clutch of Tony winners.
With all of these stars, it was hard to see how the new musical comedy could be anything but sublime. However, the conversion from page and score to stage has not provided the delight that seemed inevitable.
The plot is like some 1930's film comedy with elements of Ruritanian fantasy. It opens as John McMartin's ageing old-fashioned, New York comedian of a Shah bemoans his failure of sexual prowess, despite the availability of a large harem.
So depressed has he become that even a state visit to Vienna, the contemporary home of sex, fails to fire up any enthusiasm, causing concern to his chief Eunuch, a perpetually perspiring Patinkin.
Just when all hope seems lost, the Shah becomes energised by the sight of the Empress of the Austro-Hungarian Empire, an unfortunate choice as she is married to the Emperor of etc.
This is where the combined forces of Eunuch, a besotted Baron played by Shuler Hensler, a Madam (Judy Kaye) and a sample of her stock (who happens to be the mother of the Baron's son) play the old switched woman trick made popular by Shakespeare.
The old man is satisfied and energised by Kate Baldwin's gorgeous Mizzi but the big-mouthed Baron causes all kind of problems that are only resolved in an unlikely but happy ending fifteen years later.
This is all rather silly, although many highly successful musical comedies have found that no obstacle to a long run or film adaptation.
The plot is choreographed, on Beowulf Boritt's attractive sets, around Strauss's Viennese waltzes, adapted by Jonathan Tunick and then turned into quite effective if often corny and rarely memorable songs by lyricist Ellen Fitzhugh.
The performers sing these well enough, though Mandy Patinkin is no countertenor and mixes his attractive standard tenor with something higher pitched but not sustained. Hensler as the Baron and the sweet-voiced Kate Baldwin, fresh from a 2010 Tony nomination (alongside the Menier's finest) for Finian's Rainbow come out best.
Where London audiences might struggle is with the overwhelming New York values that run through the production. Whether Persian or Viennese, the characters speak the same language and have the same sense of humour and both are pure Big Apple. Therefore, the Shah and his Eunuch, the good-time girls and the Viennese élite specialise in wisecracking and eventually even parody themselves in a burlesque show.
Paradise Found is a serviceable light comedy musical but with the talents available, many visitors might have hoped for an evening a little closer to Paradise.
Reviewer: Philip Fisher