Parlour Song
Jez Butterworth
Almeida Theatre, Islington
(2009)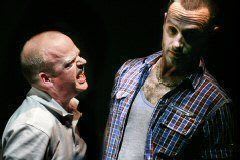 Parlour Song is a blackly comic piece of social commentary that allows Jez Butterworth to do what he does best. The playwright, who first came to prominence with Mojo, a deeply unsettling tale of London gangland feuding, is a master of naturalistic dialogue.
Aided by his regular director, Ian Rickson, who has been wowing Broadway of late, Butterworth has created an elliptical tale about suburban neighbours somewhere in Hertfordshire.
Teachers star Andrew Lincoln is our Jack the Lad narrator, car wash magnate Dale, married to the never-seen Lynn. His best friend, who lives a mere six feet away is Ned, an insecure destruction expert played with deft skill by Toby Jones, who brings the house down at one point with a lampoon on the world of body building.
The pair exchange blokeish talk with alacrity, as friends do. The mundane chat about work and wives only occasionally gives way to something a little out of the ordinary.
The first mystery is what is happening to the bric-à-brac that once littered the home and garden occupied by Ned and his sultry and remarkably sexy wife, Amanda (EastEnders) Drew's Joy.
While Ned claims that "everything is disappearing" from his well-protected dwelling, that is not quite true, as for the most part, it is items of sentimental rather than real value that go for walks. It is also his peace of mind.
Butterworth cleverly takes us into a hinterland where dreams and fantasies can tell as much about their protagonists as the facts of their lives. In particular Ned, who is as surely destroying his own happiness as he does the buildings that he so proudly blows to smithereens.
Gradually, in and around a tree-bordered house ingeniously built by Jeremy Herbert on a revolve and illuminated by Steven Williams highly animated, computer-generated images, we begin to get into the heads of the trio. What we find there is stress (Ned), sex (Joy) and surprisingly little (Dale).
Jez Butterworth likes to build sinister plays out of little and this is a high risk strategy that has not always worked. On this occasion though, while he may leave viewers a little unsure of exactly what has happened to these three and what their future(s) might hold in store, the oblique view of the ordinariness of life today is extremely funny and constantly intriguing.
With really fine performances from each of the actors, this play is well worth a trip to Islington for anyone who is happy to spend 100 minutes being entertained without feeling a desire for any formal closure.
Playing until 9 May
Reviewer: Philip Fisher