Particle Velocity
Choreography by Richard Alston, José Agudo, Douglas Thorpe, Sharon Watson
Phoenix Dance Theatre Company
Linbury Studio Theatre, Royal Opera House
–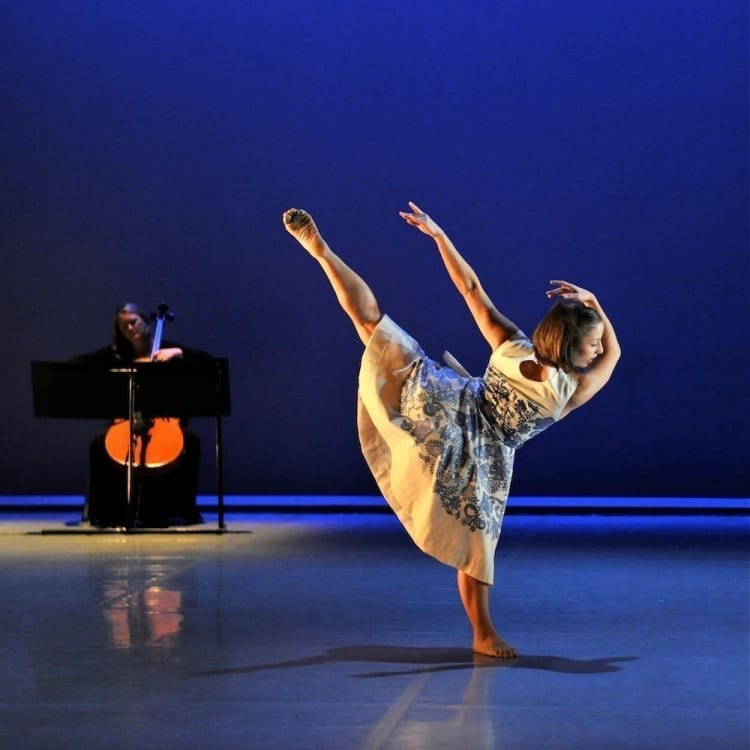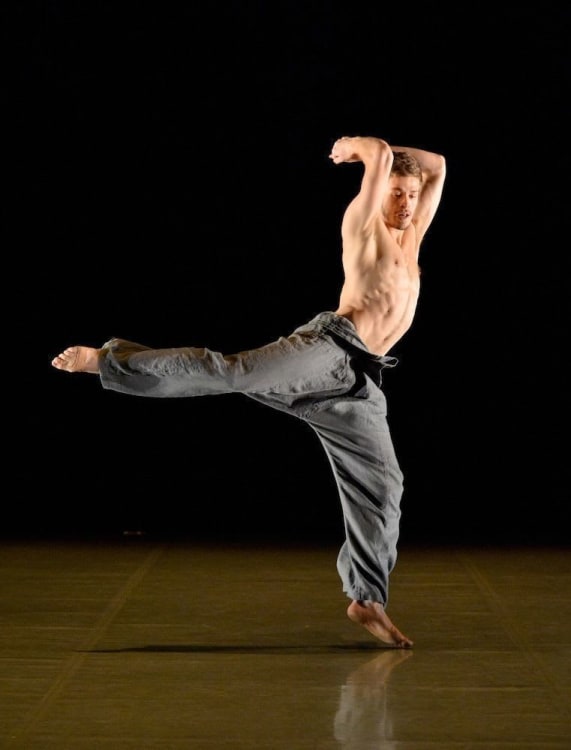 Leeds-based Phoenix Dance Theatre has been through various reincarnations in its thirty-plus years of existence—I remember it when it was an all-male troupe—but this is the first time Richard Alston has choreographed a piece for them.
Although he doesn't make much work for other companies—he says in the programme notes interview—he took on this commission because Phoenix has more of a profile now, is more sure of itself, he knows some of the dancers and to support the company and its artistic director Sharon Watson.
Support them he does: he serves them well, and they in turn serve him well in All Alight to Ravel's Sonata for Violin and Cello played live on stage by Benedict Holland and Jennifer Landridge of the Psappha ensemble.
Ravel's Sonata may be 'stripped to the bone', but Alston draws out its Debussy lyricism, its Russian folk rhythms, its almost Stravinskian spin of sound in its four movements, fast, fast, slow, fast: vif (allegro), tres vif (scherzo), lent, and the fourth a very spirited vif, avec entrain.
In spirited dance, Andy Waddington's lighting setting the time of day with its rosy purple hues and dappled sunlight, seven dancers in their best outfits join in the dance. Is this a country scene, a bucolic commune? Becs Andrews's Russian-look shirts for the boys suggest a peasant dance, the girls' frocks a hoedown.
Four boys for three girls always make for complications and variations. Philip Sanger is the outsider and the outstanding soloist amongst them. Do they all alight on the right person? Are they a group of starlings on the wing?
Joyful arms lift the upper body towards the sun, as the lower sinks in profound pliés into the goodly soil. Alston's calligraphic paintbrushes, they find their way through Ravel's dense labyrinth of pizzicato jigs, machine sounds and contemplative melodies.
Josh Wille finds his way to power in José Agudo's first work for Phoenix, Ki, inspired, he says, by Genghis Khan's life, in a powerful ten-minute solo, Wille's former gymnastic training standing him in good stead.
In a pool of light that gradually grows to fill the stage we see a life force born in self-pleasure, awakening on stumbling legs, a body discovering its own strength. Vinz's electronic sounds support his life energy, his qi, spilling in tumbling turns, handstands and fighting capoeira spirit.
Douglas Thorpe's thirteen-minute Tender, Crazy, Love, a lovers' wrestling match, plays with love song clichés in dramatic dance theatre narrative form: "How Can You Mend a Broken Heart" (Al Green), "Miserlou" (Dick Dale and his Del-Tones), "Bang Bang He Shot Me Down"(Nancy Sinatra) and Wovenhand's "His Loyal Love".
From red-lit club dance floor to post wedding day confetti Sandrine Monin and Phil Sanger give each other unsophisticated hell and very little tenderness.
Ostensibly about DNA (a favourite subject for dance exploration it seems: Rambert, Wayne McGregor…), its double helix shape, renewal and evolution, Sharon Watson's ambitious new work, Repetition of Change, takes the path of primitive enlightenment.
A ritualistic miasma, a masonic rite, a high priest and his power over life in mysterious hocus-pocus: in shapeless black chiton, Philip Sanger dangles a vast shroud-like parachute cloth from his neck on its chord as magical lights play on it and the darkness beyond.
It falls from his neck, cascades across the lunar landscape floor, and is swooshed up into the air to become a ruched cabaret backcloth. His vestal virgins and acolytes in similar baggy black, a chosen few in red, whirl and swirl around him. Tunic tails flap in random dance, in frantic formation, in portentous ceremony.
Kenneth Hesketh's specially commissioned classical score, Forms entangled, Shapes collided, played again by the Psappha quintet on stage, xylophone, cymbals and drum prominent, wind and strings, is the polyphonic atonal music of the spheres.
Reviewer: Vera Liber