Pass Over
Antoinette Nwandu
Kiln Theatre
–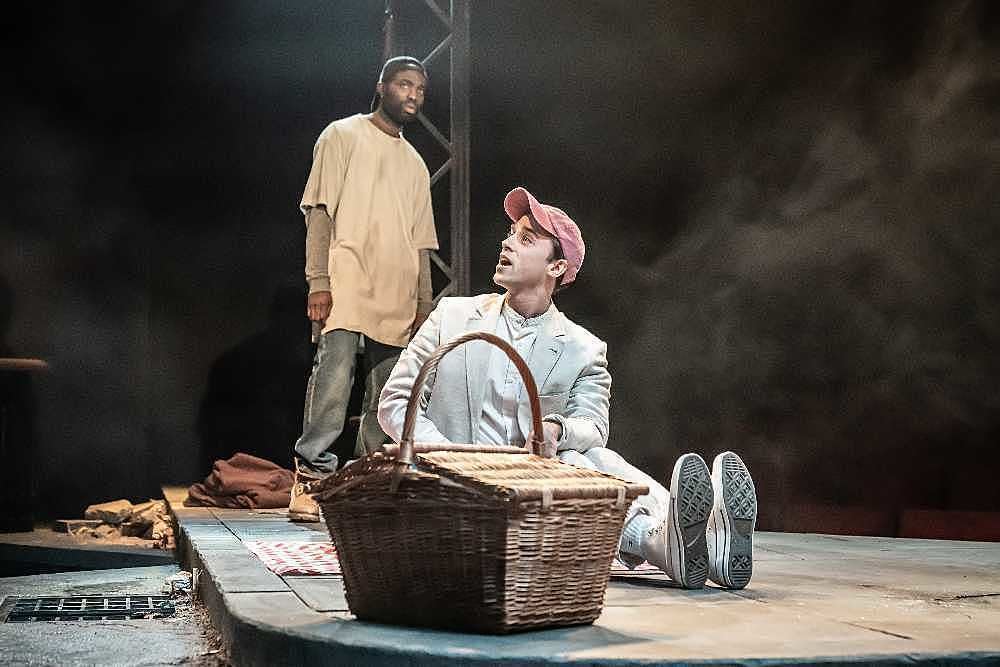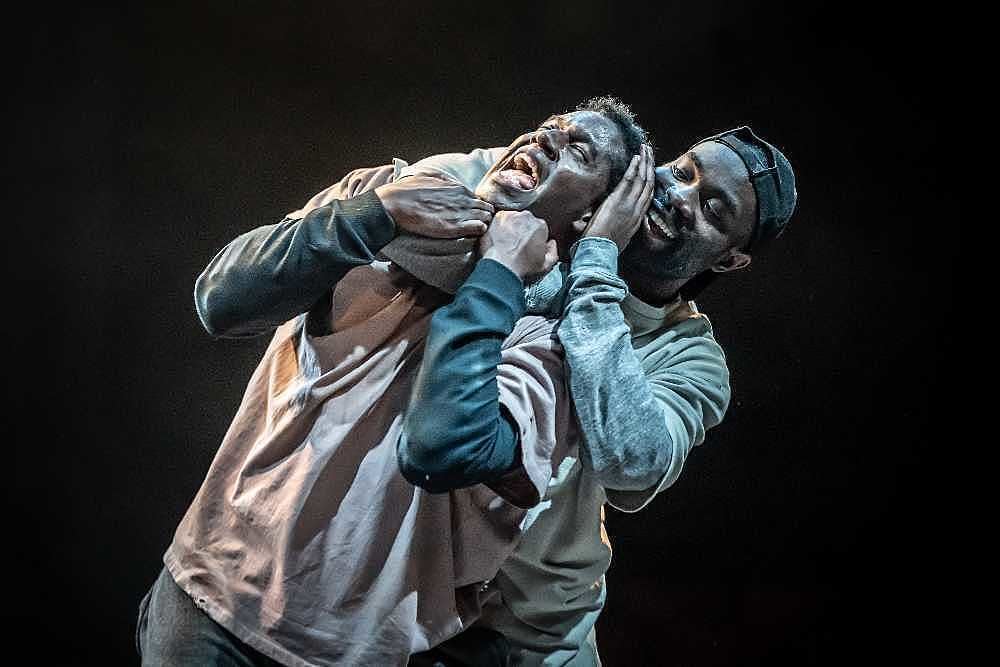 American playwright Antoinette Nwandu's debut play has already hit the heights, receiving its world première at the august Steppenwolf Theater in Chicago, before playing in Lincoln Center's LCT3 studio.
Now, British audiences get an opportunity to see a production featuring a home cast directed by the Kiln's Artistic Director Indhu Rubasingham.
The theatre has pulled out all the stops, allowing designer Richard Jones to reconfigure reconfiguring the auditorium in-the-round. In doing so, he manages to create an authentic American street corner, complete with fire hydrant and traffic signals.
This is the environment in which Paapa Essiedu as Moses and Gershwyn Eustache Jnr playing Kitch have great fun portraying a couple of hungry lads who wished that they were literally chewing the fat in what gradually transforms into a 90-minute-long, African-American homage to Waiting for Godot but containing its own powerful political cri de coeur.
For the first 10 minutes, the lively young men's utterances are likely to be close to unintelligible to British ears, while their moves are incredibly slick, conveying the closeness of their relationship. They might also easily offend, liberally making use of what has become euphemistically known as "the N word".
As far as one can tell, their lives are vacant and they are waiting for something to happen, while Moses, the sharper of the two, has hopes of emulating his biblical namesake.
At a stage when visitors might just be approaching the point of restlessness, Alexander Elliot appears in the guise of the ineffectual Mister (according to the programme although he refers to himself as "Master") before making a second appearance as a Police Ossifer (sic).
This gauche young man in a pale linen suit and red baseball cap seems to have strayed far from the beaten track, apparently doing his best Little Red Riding Hood impression as he carries a hamper of food supposedly destined for his mother.
Neither party can quite comprehend the presence or motivations of the other, although they eventually bond, share a feast together, and part as something close to friends.
Having tried once, this successor to Beckett inevitably does so again. Many of the lines and moves are similar, although now it is slightly easier to understand why the play has its title, as the starving duo talk more seriously about the afterlife.
The evening only begins to diverge from what appears to be at destined pattern with the reappearance of Officer Ossifer. Suddenly, the play begins to take on considerably greater meaning, commenting much more directly on the experiences of far too many young African-Americans today.
Many might find Pass Over close to impenetrable but the same was true of Godot when it first saw the light of day. Whether this is a work of genius, something that is striving for that title but doesn't quite get there or a piece of hokum will be for individual theatregoers to decide.
What is beyond dispute is that all three performances are of the highest quality, with the actors impeccably drilled to fluency.
Reviewer: Philip Fisher