Passe-Partout / Gods and Dogs / Cacti

Nederlands Dans Theater 2
Sadler's Wells and touring
–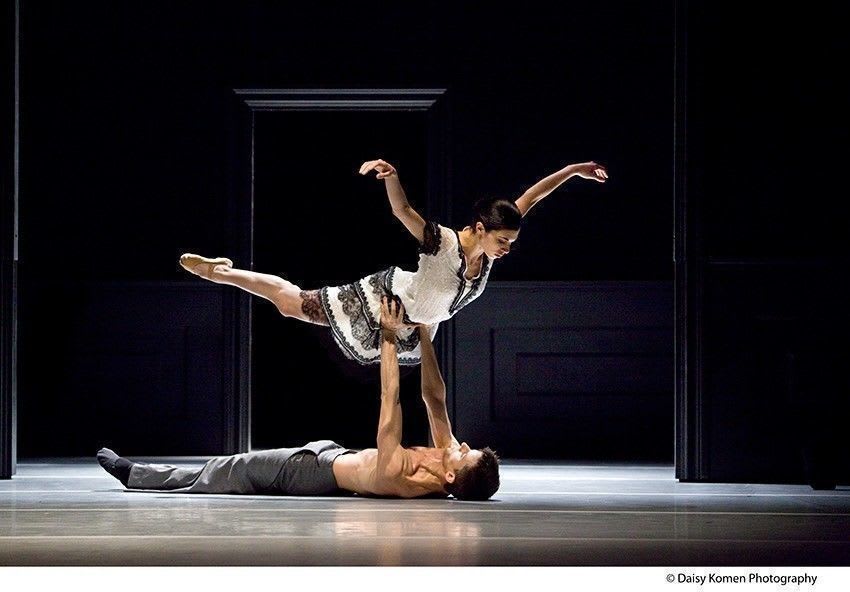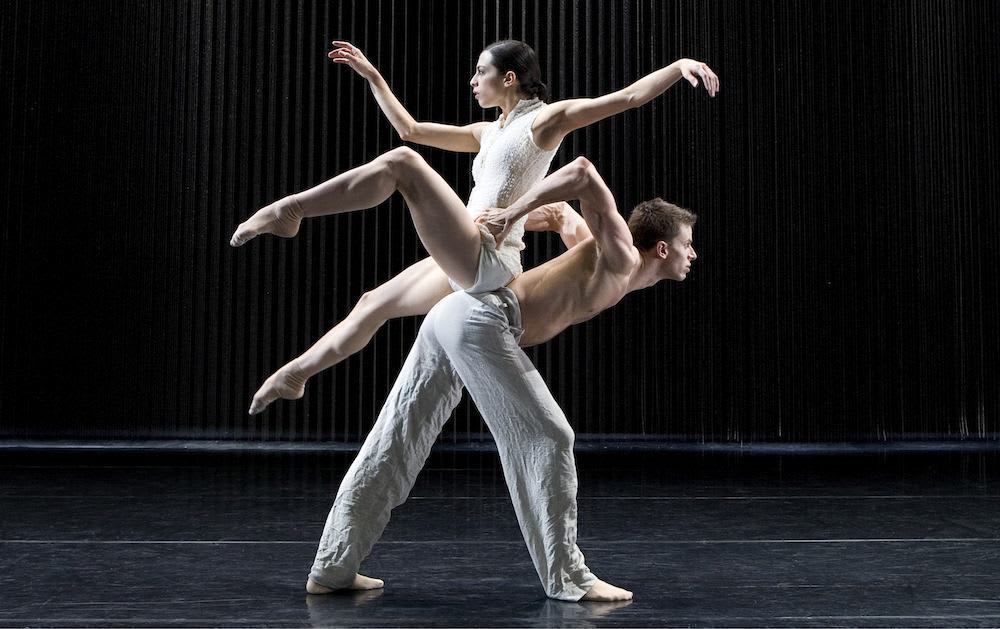 Angst, existentialism, and post-modern irony make perfect bedfellows in NDT2's programme of three intriguing ballets. Dramatic cinematic sets, costumes neutral monochrome, dancing that is focused, effervescent and dynamic from dancers aged seventeen to twenty-three, all classically trained, the international young wing of the Nederlands Dans Theater is proving its mettle.
Paul Lightfoot and Sol León's Passe-Partout (2009) to the music of Philip Glass, adamant and intense, hysterical and lyrical, strident and soft, is pure dance theatre. Lightfoot, NDT's new artistic director, likes 'a strong stage aesthetic'.
On Passe-Partout's set (design by the choreographers themselves) of shifting black doorways, Cocteau Orphée surreal, a bizarre drama unfolds. A key that opens all the doors, and a supporting picture frame mount—passe-partout has a double meaning.
Ibsen… Vilhelm Hammershøi… Chekhov's Masha mourning for her life, then… Hamlet… are the thoughts that race rapidly through my mind. Glimpses of court intrigue, Kozintsev's Hamlet. Nailed it. But then maybe not. Stoppard's Rosencrantz and Guildenstern are Dead?
In semi-shadow a woman (Astrid Boons) in head to toe heavy black gown—in the light we see her naked upper body (seat of the soul?) is covered in transparent gauze—glides from doorway to receding doorway, semaphoring her inner feelings. A man (Spenser Theberge) appears. Gertrude and Claudius?
A young man (Jianhui Wang) in white shirt and black trousers rants and raves. A young woman (Meng-Ke Wu) utters disturbed stilted phrases with gestures to match. Two men (Marne van Opstal and David Ledger), identical suits, quiver and shake in intimate pas de deux. Rosencrantz and Guildenstern? Solos, duets, and private ordeals.
No one comes more tormented and mysterious, more troubled by the cosmos than Andrei Tarkovsky, whose spiritual influence I imagine I see in Jiří Kylián's dramatic Gods and Dogs (2008) to David Haubrich's soundscape mix of electronica and a Beethoven string quartet.
Infinite dark space, a film noir set of lengthening obliterating shadows. All is illusion, a candle flickers, a woman leans over and vanishes. Someone crawls from under the backcloth. Looming out of the darkness closer and closer a wolf dog slowly pads.
Shimmering silver cords—a wall or wind-lashed rods of rain? Faces in shadow, staccato action, aggressive interaction, an electrifying / electrified solo? Dancing in the dark. Drums beat softly, and lights out. The hound has arrived.
'A humorous piece about how dancers use their bodies to interact with music', Alexander Ekman's droll Cacti comes as light relief, in every sense. Sixteen dancers in skullcaps on their very own 'ivory pedestals' dance under individual spots like the lights on a Tenori-on digital sequencer.
Individual moves become amplified when danced en masse: instruments in an orchestra, pixels on a screen, hieroglyphic writing on a wall, busy hands dancing and torsos swaying in symbiotic relationship. Timing is crucial. Ohad Naharin, whose Minus 16 is one of the eight pieces in the repertoire NDT2 are touring, is a presiding influence. Cross-fertilization…
Collaboration is what it's about, a voiceover tells us. Tom Visser's lighting and Urtzi Aranburu's staging are major players in this dance installation, but Ekman's costumes and set design make the overall concept his own. Dancers running on the spot Muybridge-style are at once silver screen Keystone Kops and busy cogs in a wheel, workers rearranging the plinths into a beautiful constructivist landscape.
One of the dancers, Spenser Theberge, provides an amusing internal dialogue for a pas de deux between himself and Astrid Boons, and a witty voiceover on the meaning of the 'subtle' title… spiky poses and subtext… hmm… 'but the trained eye sees the truth'.
Dance and thought processes explained, but 'what about the cat?' A stuffed cat lands on stage. Is this Schrödinger's cat? And the cacti represent 'the journey of life from the beginning to the end'. Absurd and self-mocking, a serious joke one might call it, Cacti is rescued from joky intellectual overload by the sheer energy and exuberance of the dancers. Haydn, Beethoven and Schubert help too.
NDT2 is touring to: Hall for Cornwall, Truro; Wales Millennium Centre, Cardiff; Grand Opera House, Belfast; Festival Theatre, Edinburgh; Alhambra Theatre, Bradford; Royal Concert Hall, Nottingham.
The programme on tour also includes Déjà vu and Solo by Hans van Manen, Minus 16 by Ohad Naharin, Studio 2 (Lightfoot / León) and Sleepless by Jiří Kylián. A full tour schedule can be found at www.danceconsortium.com
Reviewer: Vera Liber