Patricia Gets Ready (for a date with the man that used to hit her)
Martha Watson Allpress
Nur Khairiyah (Khai)
The Lowry, Salford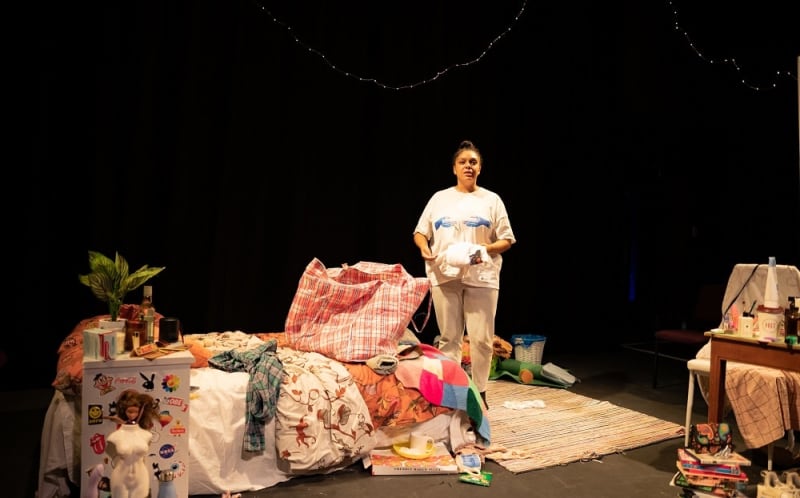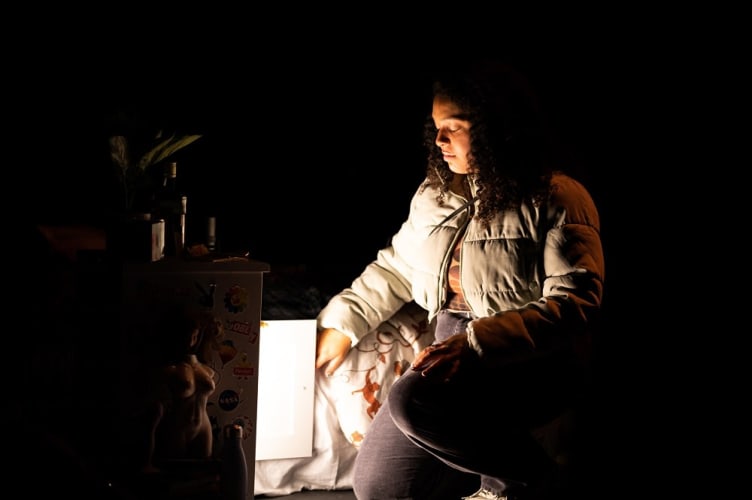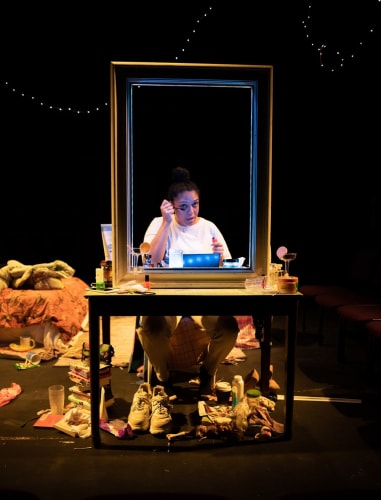 Patricia (Yasmin Dawes) is a warm host chatting to the audience about her happy memories of favourite pop songs and the like. But she clearly has issues—constantly distracting herself by reciting word definitions from the dictionary or undertaking deep breathing relaxation techniques. Her bedroom is hardly an advertisement for good mental health, resembling a jumble sale. The reason for her agitation becomes apparent—having escaped a physically abusive relationship, Patricia feels she has let herself down because, when she re-encounters her abuser, rather than deliver the speech she has rehearsed countless times, she accepts an invitation to dinner.
Patricia Gets Ready (for a date with the man that used to hit her) is not so much a title, more a summary of the play. Author Martha Watson Allpress refuses to simplify a complex issue. People who have never been in an abusive relationship agonise over why victims do not simply leave. In Patricia's case, this is because she remains drawn to, possibly even in love with, her abuser despite his behaviour. This is not the Christian Grey syndrome of being turned on by rough sex but genuine attraction, or at least infatuation. The infuriating, contradictory aspects of abuse arise with Patricia apologising after she has been hit.
The script examines in harrowing detail the physical effects of abuse and the lasting psychological impact, with Patricia embarrassed that leaving the relationship has had little practical benefits—she has gained weight and returned to living with her mother. Well-intentioned interventionists are not spared criticism, with the suggestion their involvement is to reassure themselves they would never get into such a situation rather than offer practical help.
Director Kaleya Baxe sets a relentless, taut pace. Changes in time and place are achieved instantly with variations in lighting or discrete sound effects. The pressure upon Patricia remains, therefore, constant as she gets no distraction from her self-criticism.
Yasmin Dawes shows all sides of Patricia, recalling her wild years as a party girl, yet getting so caught up in a sentimental Randy Crawford song she breaks the fourth wall and encourages the audience to try a sing-along. Dawes is tremendous at drawing out Patricia's sense of shame at having endured the abuse for so long and, in her perception, not being able to confront her abuser. Although Patricia is able to come to terms with having had an abortion, she remains traumatised by her experience of abuse.
The tension grows until a superbly cathartic scene of Patricia finally delivering the speech over which she has agonised for so long. It is actually spoken three times. Initially by Dawes in a halting, apologetic manner before suddenly recognising the insignificance of her abuser and switching to vitriolic Medea-style mode for abuse and condemnation and finally returning to the formal speech delivered as a dignified woman in control.
The author cannot resist gilding the lily; despite having achieved an emotionally satisfying climax, she returns with a blank verse encore. But then with a play as powerful as Patricia Gets Ready (for a date with the man that used to hit her), it is hard to say goodbye. It is an unflinching examination of a complex subject and challenges audiences to review their attitudes towards survivors of physical abuse.
Reviewer: David Cunningham