PAYNE: The Stars Are Fire
Ross McGregor
Arrows & Traps Theatre Company
Jack Studio Theatre
–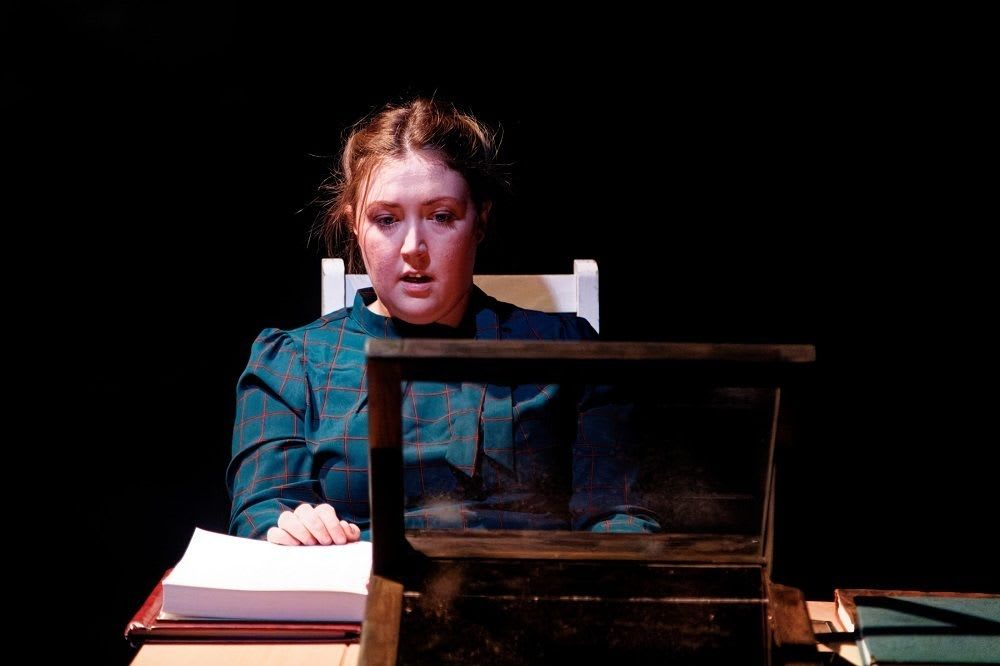 Theatre company Arrows & Traps' two-play rep season at The Jack The Dyers Hand is completed with the opening of PAYNE: The Stars Are Fire.
This is a biographical piece based on early twentieth century astronomer Cecilia Payne, linked to its partner play, HOLST: The Music In The Spheres, by the influence of Holst the music teacher on gifted student Payne, which was at the centre of the season's first play.
The two have been written by Ross McGregor to stand alone or together but seeing them in historical sequence does something of a disservice to PAYNE which does not meet the exceptional HOLST in form or content. That said, it is an engaging piece, the central performances are strong across the pair, and the music that accompanies Payne's career across the decades is terrific, so altogether well worth a visit to see both.
History is dense with stories of women pioneers and innovators whose critical contribution to their field has been appropriated by, or otherwise credited to, male colleagues, or simply 'allowed' to be forgotten.
McGregor starts to rectify the wrong done to Cecilia Payne in telling her story, one part of which reads like an almanac of injustices from Cambridge University's policy to not award degrees to female students, to her exploitative and unequal remuneration at Harvard Observatory, and her work there being discredited to protect the reputations of male superiors.
Payne was a female trailblazer but she followed in the footsteps of other women, and in a sense this story is as much about them.
Amongst "Shapley's hareem", named after Harlow Shapley head of the Observatory, are big-hitters Annie Jump Cannon, who established a system of classification that endures to this day and who championed Payne's work and position, and Adelaide Ames, the Observatory's first graduate student who became known for work cataloguing stars and who became Payne's closest friend.
Payne's relationships with Ames and Jump Cannon have the ring of truth but don't leave the cerebral trail evident between the young Payne and mentor Holst in the earlier play.
Whilst McGregor may have been appealing to the brain with HOLST, his sights are set more on the heart with PAYNE, never more so than when he indulges a mawkish dance sequence to mark a tragedy.
That aside, the dramatic tensions of the piece are balanced by scenes of a more comic hue, and although there is a fair amount of astronomical theory, not keeping up with the science doesn't detract from following the narrative arc, where McGregor's lucid text gives clarity to the import of events.
And McGregor's words are in good hands. In the care of Laurel Marks, Cecilia Payne blossoms from the awkward loner of HOLST to the groundbreaking young woman and inspirational teacher we see in PAYNE, in which Toby Wynn-Davies makes a cameo appearance as the elderly, endearing Gustav Holst.
Alex Stevens's Harlow Shapley wears his misogyny authentically without guilt, and Edward Spence supports as Donald Menzel, who would eventually take the directorial role in spite of Payne's achievements.
Lucy Ioannou is a lively Adelaide Ames whose bubbly exterior belies a brain to be reckoned with, and Cornelia Baumann's dignified and acerbically witty Annie Jump Cannon channels Katherine Hepburn in early century high-collared ruffled blouse.
The opportunities for Ames, Jump Cannon and Payne to work at Harvard Observatory may have been created by men but the women made them their own, achieving great things in spite of the obstacles in their paths, sadly many of which remain.
PAYNE: The Stars Are Fire stands as an engaging reminder of these women's contributions and their lasting position as role models. Payne wanted to be known for a her work as an astronomer, not for her work as a female astronomer, but it is still tempting to say that the stars here are women.
Reviewer: Sandra Giorgetti