Pedro, the Great Pretender
Miguel Cervantes, in a new translation by Philip Osment
RSC Spanish Golden Age season
Albery
(2005)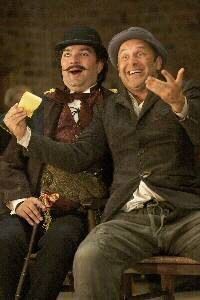 The final play in the London season of Comedies from the Spanish Golden Age presents a series of Ovidian Spanish folk tales written by the author of Don Quixote, no less.
This drama in 13 episodes is held together by a fine performance from John Ramm as the eponymous hero, a man who originally thought himself Pedro the Great but soon had to take on the suffix of Pretender.
He is a lovable rogue with a chequered background who enjoys disguise. This hero has the wisdom of Solomon and more than a touch of Robin Hood to him. He also reveals himself towards the end as none other than Miguel de Cervantes, whom many will remember as a character in Don Quixote and who, like Cyrano, has a penchant for appearing in his own work.
This staging by Mike Alfreds is simple with scenes taking place downstage, observed by the remaining actors from a large company sitting further back. Props are kept to a minimum although the costumes, as throughout this season, are attractive and take the audience back to rural life in Spain in 1615.
The effortful translation by Philip Osment will not appeal to all, as the blank verse far too often strives for rhymes, both internal and external, at the expense of rhythm and sometimes meaning. At least in the case of the large, stupid mayor played by Jules D'Silva, the latter is a consequence of a bad case of malapropism, if the reader will pardon the anachronism.
There are many tales running through the two and three quarter hours but the strongest is that of the beautiful, blonde gypsy Belica, played by Claire Cox, who has dreamy ambitions far above her lowly station and, to the surprise of all, ultimately satisfies them when she receives an audience with the King, Joseph Millson.
Belica has this opportunity, as a result of the fine efforts of Pedro to unburden a wealthy but incredibly mean widow of her riches. Melanie McHugh's Marina passes them over (relatively) willingly in the hope of a joyous afterlife.
Wound around this story are others of love and foolishness, greed and envy featuring a rich selection of characters many of whom are old favourites from this season giving further fine performances. These include sweet-voiced Katharine Kelly as Benita, a shepherdess who almost gives herself away to the wrong man on St John's night but is saved by canny Pedro, Simon Trinder as an innocent shepherd, John Stahl as gypsy chief Maldonado and Rebecca Johnson as the jealous queen.
Rae Smith's design that reaches its peak with a pair of comic, male flamenco dancers who could have come straight from a Paula Rego painting; and an eight-strong band, who assist with some song and dance interludes, ensure that the atmosphere is suitably light.
Pedro the Great Pretender shows another side to a great author, who is now known for a single work and while not as outrageously funny as its two companion pieces, succeeds thanks to a strong company and in particular, its leader John Ramm.
This season has proved to be a real delight and it is to be hoped that the RSC will present more themed revivals of classics from around the world to complement their great work with the Bard and his English contemporaries.
This review originally appeared on Theatreworld in a slightly different version
Peter Lathan reviewed this production in Newcastle
Reviewer: Philip Fisher