Peer Gynt
Henrik Ibsen
National Theatre of Iceland
Barbican Pit
(2007)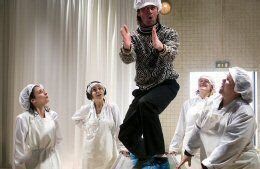 Thanks to regular visits from Vesturport, the British are becoming familiar with what appears to be a distinctive Icelandic style of theatre.
The Barbican, which has twice enjoyed Vesturport's Woyzeck, now welcomes the National Theatre of Iceland, containing a number of regulars from that company.
This highly unusual rendering of Peer Gynt is directed by Baltasar Kormákur, perhaps better known in this country as the man who directed the films 101 Reykjavik and The Sea. In his home country though, he is also recognised as one of their finest theatre directors and was winner of the country's best director award for this play.
Some might wonder why, while others such as Guardian critic Michael Billington, without whom this piece would never have come to the Barbican; and the substantial Icelandic contingent at the performance under review, will be in no doubt that it is a masterpiece.
Peer Gynt is a difficult play at the best of times, with its exploration of the life of a dissolute man who eventually picks up on the dictum "to thine own self be true" from the king of the trolls no less, and cheerfully follows it through to a not very logical conclusion.
The director has chosen to set his modern-day version in a far from clean lunatic asylum. That immediately takes us a long way from Ibsen but begins to ask some very relevant questions about Björn Hlynur Haraldsson's Peer.
This anti-hero is not only the bane of his long-suffering mother Aase's (Ólafia Hrönn Jonsdóttir) life but is a real devil whenever there is a woman around.
His true love is Solveig, played by Brynhildur Guðjónsdóttir, an actress who trained in Britain and, unlike the remainder of the team, has no Icelandic twang to her accent. She is petite and pretty but as Peer has ignored her, chooses another man played by Ólafur Egill Egilsson to be her husband.
This doesn't worry our hero a jot. He rolls up to the wedding ceremony, grabs the bride and deflowers her much to the anger of her almost-husband and family.
The trolls fare little better as, having pinned a tail on to what they believed to be a human donkey, he ravishes their Princess leaving her pregnant.
Remember, all of this is taking place within the shabby tiled walls of an asylum with the odd madman lurking around. By this stage too, Peer is seemingly dead but has been given a brief lease of life by Ingvar E. Sigurðsson playing the button moulder who will eventually accompany him into the Underworld.
This two and three-quarter long play, primarily translated in rhyming couplets, veers between straight Ibsen and a desire to present many weird, often absurdist images that seem to have little to do with the original.
At its best, it is a real novelty that tells its story in a highly original way. It also has a knack of making political comments that are very deliberately speaking to audiences today, especially in a long and spectacular scene in which an American leader promotes slavery and idolatry as well as a bloody war "in the name of liberty". Sound familiar?
It is perhaps best to see this Peer Gynt as a limited success, since it eventually becomes absorbed in delighting itself rather than rendering a classic play. Many though will happily accept the avant-garde entertainment at face value without worrying too much about its source, which by the end has been left far behind.
Reviewer: Philip Fisher