Peer Gynt
Henrik Ibsen in a new version by Arthur Riordan
Rough Magic Theatre Company
Ulster Bank Dublin Theatre Festival O'Reilly Theatre, Belvedere College, Dublin
(2011)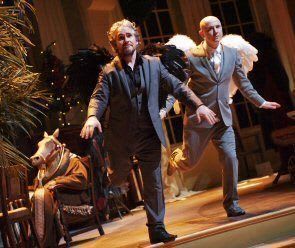 Let's peel back the onion layers of this three-hour production of Ibsen's 1867 witty ironic Baron Münchausenian / Faustian / Voltairean picaresque tall tale, poetic and philosophical in equal measure.
Music, in the driver's seat, superlative; adaptation jaunty; direction imaginative; set extraordinary; costumes amusing; lighting moody; acting ensemble excellent; but, as in Peer Gynt's onion, the core is not there. No mercurial Peer, no peerless storyteller boy-man with his eyes on the stars, more an earthbound fallen angel.
Original music by Tarab, a talented quintet, plays the play's choreography into being. Director Lynne Parker uses them to underpin, structure, and steer the play. Rhythm and musical range - sometimes Gilbert and Sullivan ('a Croesus of the shipping trade'), sometimes rap and jig, sometimes Sprechgesang, improvisational jazz, cabaret, classical, Middle-Eastern oud, Irish bodhrán drum, universal accordion - triumph over text, reign over Peer's journey into the landscape of himself.
But what a broad landscape of the confined mind let loose the set is. One has to read it from left to right. No wonder the actors are miked. On the O'Reilly Theatre stage, one of the widest in Dublin, in Belvedere College, a Jesuit-run private boys school founded in 1832 - James Joyce was a pupil there - Rough Magic have set Peer Gynt.
An Irish Peer Gynt makes very good sense. Yeats and Synge were inspired by the dramatic poem; GB Shaw tried to translate it. And wasn't James Joyce himself obsessed by Ibsen? Ireland's folklore matches Norway's with its belief in little people, its mysterious hidden lakes, bogs and mountains, its religion, and pious conformity.
Rereading it (in Michael Meyer's translation) one hears Irish poetry, its lilt, wit, and gifted way with words. If anyone has the gift of words it is Arthur Riordan, the play's adapter, whose Improbable Frequencies, probably one of the best productions I have ever seen, so dazzled everyone at the 2004 Edinburgh Festival. He acts too.
John Comiskey's and Alan Farquharson's incredible towering set, with sound design by Carl Kennedy and costume design by Joan O'Clery, defines the director's concept. We're in One Flew Over The Cuckoo's Nest land. A grand house turned sanatorium, period antique furniture, tall plants in pots, and floor to ceiling windows. A rotunda in the middle with windows that serve as magical entrances and escape routes on to a garden beyond, the musicians faintly visible through them.
Soft lights, late evening. A man is sitting at a desk, tapping on a typewriter, another watching an old TV promoting this show (Riordan's in-joke - wearing his other hat as an actor), at the other end of the wide wide stage sits a nurse at the reception desk. Peer is brought in, changed into pyjamas - all are in pjs and dressing gowns - given an injection.
Time to dream, to travel to distant lands simply by changing hats - delusional visions and folie de grandeur, schizophrenic dialogues with an angel (the Light Self - Peter Daly) and a daemon (the Dark Self - Fergal McElherron), his divided self and his chorus. Wim Wenders' Wings of Desire angels in grey suits, one with white wings, the other with black.
Well-cast, both are wonderful shape-shifters: toads and snails, child's play. Nurses turn into pig-snouted trolls in 1960s psychedelic glad rags, Riordan their long-haired geriatric hippy trippy Mountain King - he's also the one dishing out the pills from the medicine trolley - the inmates in charge of the asylum.
A very pretty nurse becomes Peer's faithful love, Solveig, doubling as his Eastern delight Anitra. Petite Sarah Greene is perfect in these roles. Karen Ardiff is moving as his mother Aase, and Hilary O'Shaughnessy intimidating as head nurse and Ingrid the betrayed woman in red wedding dress and veil.
A dynamic Will O'Connell enchants in half a dozen minor roles, both male and female. Rory Nolan's low-key Peer Gynt doesn't stand a chance against him. O'Connell, who plays the Writer at the typewriter (surely the Writer is Peer, but no, we're wrong-footed there), the mad Begriffenfeldt, and an alluring dancing girl, has a great sense of rhythm. He and Sarah Greene would have made a nifty couple.
Silver screen influences abound - Powell and Pressburger, Stanley Donen, Ernst Lubitsch - in this cornucopia of styles singing dancing show. There's nothing rough about this magical show, the expensive-looking Hollywood set, high-quality production values, outstanding acting. Only poor 'blowhard loser' 'in-between' Peer seems to have mislaid his romantic quicksilver impulsive self. Grounded by a too too solid set.
"Peer Gynt" runs until 16th October 2011
Reviewer: Vera Liber