Peggy: The Life of Margaret Ramsay, Play Agent
Colin Chambers
Salamander Street
Released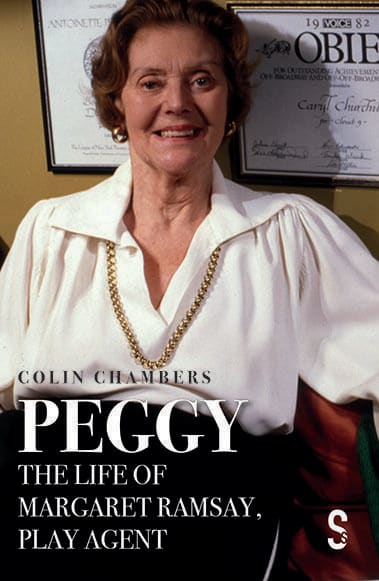 On the face of it, the biography of an agent who represents playwrights might not instantly grab the attention. However, Peggy Ramsay was a character in the most colourful sense of the word and her life well worth commemorating.
An indication of her appeal can be seen from the fact that, in addition to this magisterial biography first published in 1997 when it won the inaugural Theatre Book Prize, one client Simon Callow has written a devoted memoir, Love Is Where It Falls, and Maureen Lipman appeared in a stage re-creation of her life, Peggy for You, from another, Alan Plater.
She worked tirelessly on behalf a significant proportion of the finest playwrights of her era, broadly 3½ decades from the mid-1950s. Where most artists would expect their agents to maximise their bank balance, try to avoid double bookings but little more, Peggy was the exception that proves the rule. Her interests typically lay in discovering a young writer, in some cases while still at university and even occasionally school, and then helping them to develop their talent to the fullest.
Given that Peggy was a private person and possibly over-imaginative, the early chapters of the book, detailing her life before she became the agent par excellence, can be sketchy. In summary, she had something of a difficult childhood in South Africa before coming to England to enter a brief, disastrous marriage then forge a career on the stage. She was never more than a jobbing actress, but did manage to peak with a single West End appearance.
It was only in her 40s that, almost by accident, she was given an opportunity to try her luck at becoming an agent, supported sometimes reluctantly by a small but loyal group of friends and financiers setting up shop in cramped offices over an alleyway behind St Martin's Lane. As with so many overnight successes, it took a decade for her company to take off, by which time she was able to buy out her business partners and run the show solo.
In the early days, the company very nearly went out of business, saved by her tenacity and luck in roughly equal measures. Although it took time to build up a business, she did quickly manage to get to grips (as client and lover) with highly esteemed Eugène Ionesco.
The pivotal moment of her life arrived in the person of Robert Bolt. Having nurtured the budding playwright through the early stages of his rise, she ensured that A Man for All Seasons was a runaway success on stage and, further down the line, the silver screen.
Thereafter, the best way of remembering Peggy Ramsay: Play Agent is through the names of some of her cherished clients. Even ignoring high-profile stars like Tennessee Williams, Iris Murdoch, Václav Havel and John Lennon, where her skills were not fully exercised, the list is extraordinary.
John Mortimer came on board early and was followed by Joe Orton, Peter Nicholls, Alan Ayckbourn, Edward Bond, Christopher Hampton, David Hare and Caryl Churchill. There were hundreds of others to appeal to all tastes, although generally speaking Peggy favoured the literary, intellectual types ahead of commercial stars, Willy Russell proving to be a notable exception.
Following that principle, Peggy was also much more interested in work for the stage than TV or cinema, although she was still able to help clients and broker deals in those media with great success.
Colin Chambers has written a wonderfully affectionate but far from hagiographical biography that remains a wonderful read quarter century after its original publication and three decades after the death, still working in her 80s, of its unforgettable star.
Reviewer: Philip Fisher