Peggy to her Playwrights: The Letters of Margaret Ramsay, Play Agent
Selected and edited by Colin Chambers
Oberon Books
Released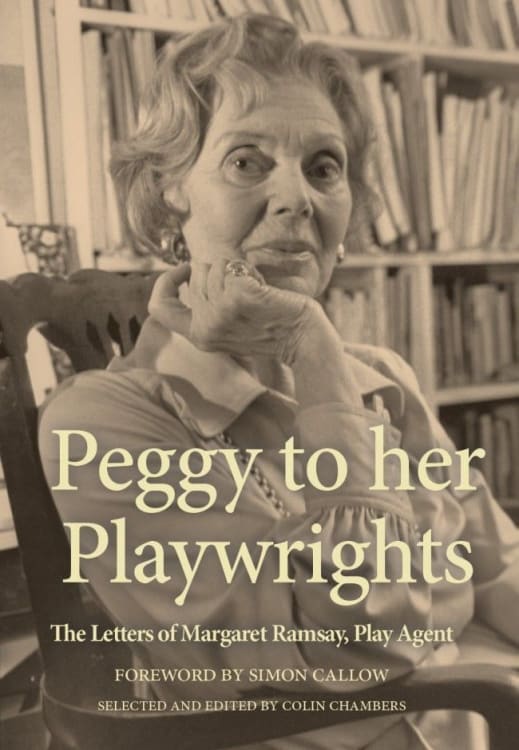 How could anyone resist a book (published by Oberon at £20) that contains the following statement from Simon Callow's introduction: "if Peggy was incandescent in the flesh—and she was—she was electrifying on the page".
Pleasingly, the actor turned writer has not oversold the talents of his friend, the playwrights' agent Peggy Ramsay, an eccentric but lovable character with a strong philosophy who frequently gave the impression that she would sacrifice her health or even her life for clients.
The fascination in this volume is manifold. In the first place, it is wonderful to discover how an agent works, the commitment that she shows to her writers and the boldness with which this feisty lady attacks those whom she believes are being unfair to her charges. She also has a charmingly old fashioned but welcome view that theatrical presentations should underpinned by writers rather than star actors.
It helps that the Ramsay list included many of the greatest writers of the second half of the 20th century including, inter alia, Sir Alan Ayckbourn, Sir David Hare, Joe Orton, Caryl Churchill, John Mortimer, Peter Nichols and Willy Russell, as well as overseas representatives such as Wallace Shawn and Eugene Ionesco, although not every one of those was the recipient of letters in this volume.
Although the letters are organised alphabetically by recipient, the book gets off to a cracking start with exchanges between Miss Ramsay and John Arden / Margaretta Darcy about the writers' strike when they are unhappy with the RSC's presentation of The Island of the Mighty.
For this reviewer, a single letter to Edward Bond starting at page 90 and covering 3½ pages would justify the purchase of this book on its own. In it, Peggy Ramsay not only accurately portrays the skill sets, pains and joys of her vocation but also encapsulates the impact that supreme artistic endeavours can have on the mind and soul.
As one discovers in this letter and others, to do this job as well as this quirky icon, it is necessary to be a sharp businesswoman and a shrewd judge of a play that has artistic merit but also the ability to fill theatres. She had both in abundance. It also helped that she could spot stars in the making when they had barely their first faltering steps into the profession and believed in investment, happily losing money in the early years in the belief that eventually her writers would prosper.
The writing style is gossipy and entertaining, which always helps, but the real value of this book lies in the insight that it gives into both the work of a play agent and the tips that any aspiring playwright will pick up about the pleasures and vicissitudes of their chosen career.
As such, Peggy to her Playwrights should be compulsory reading for any playwright, while the general reader will love the anecdotes and undoubtedly enjoy the opportunity to get into the mind of a precious but highly creative genius.
Reviewer: Philip Fisher