People Like Us
Jake Brunger
James Quaife Productions
Pleasance Theatre
–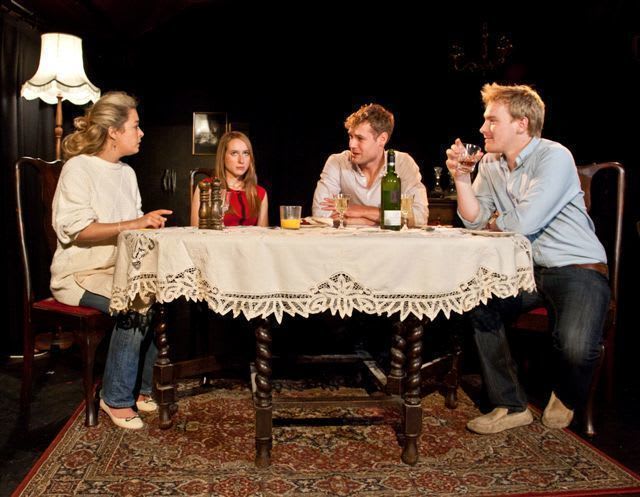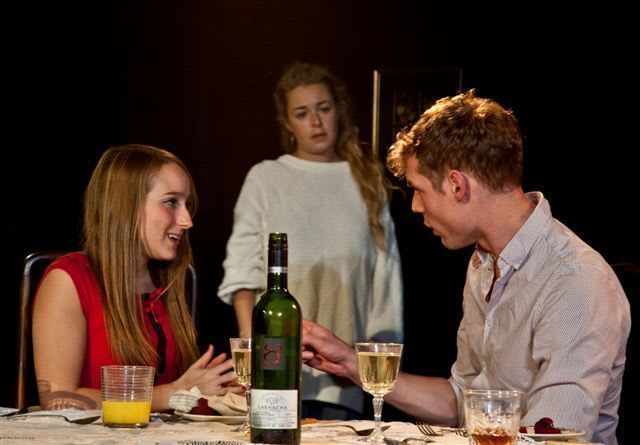 Clemmy (Sammy Kissin) and Tom (Nicholas Banks) are a couple, indeed they may be married. They awaiting the arrival of Clemmy's brother Josh and his new girl friend, whom they are about to meet for the first time.
As Clemmy instructs obnoxious Tom to be on best behaviour and doubly careful what he says, the slightly unnatural style of the dialogue tells you there is something wrong with their relationship. He is especially full-of-himself because he has just been promoted at the advertising agency where he works. You know that the dinner is going to be disastrous.
When Josh (George Taylor) and girlfriend Sally (Leah Brotherhead) turn up you discover that she is a real Essex girl and Tom can't stop himself being obnoxious. But Sally, who has created her own successful business, is up to it.
What doesn't become clear until well into the dinner, which begins with a cheese dip and doesn't get as far as the next course, is that it is all taking place in grand country house—the furniture of Gabriella Slade's setting doesn't suggest it. In fact there is another plot line running: a conflict between left-leaning Josh and Sally as to what happens to the crumbling ancestral home.
Television coverage has made the problems of stately home landowners common knowledge and we learn nothing new, nor do we discover what is wrong between Tom and Clemmy. Director Kirsty Patrick Ward draws nicely contrasting performances from her cast with laughs along the way, but after a mildly entertaining fifty-odd minutes this has not got anywhere. It feels like the first act of a play that has yet to be completed.
Commendations to James Quaife who presents this as a double bill with Hannah Rodger's Happy Never After. At a time when many theatres, both West End and fringe, are offering playgoers a single play that can sometimes run less than an hour and still charge full prices, he presents a programme of two nearly hour-long plays on a single ticket.
Reviewer: Howard Loxton