People, Places and Things
Duncan Macmillan
Dorfman Theatre (National)
–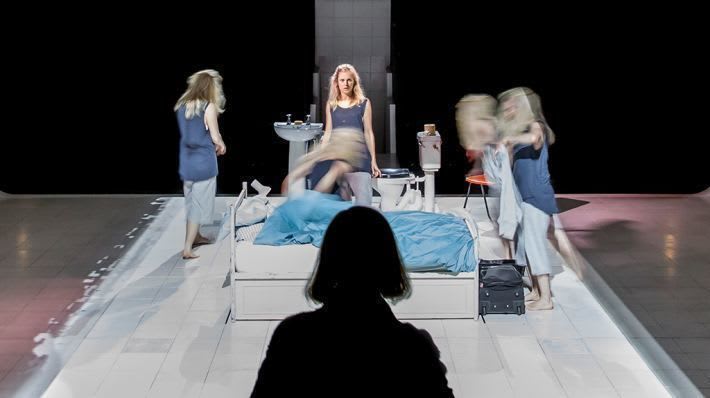 If you ever wondered what life as an addict is like, People, Places and Things presents a graphic and at times shocking impression of the experience. One has come to expect great things from Duncan McMillan following Lungs and Every Brilliant Thing and his National Theatre debut lives up to the hype and hope.
What makes Macmillan's new play exceptional is his even-handedness, presenting the pleasure that legal and illegal highs can bring alongside the pain.
Denise Gough gives what might well be an award-winning performance as the protagonist, who changes her name so often that using any one would be a waste of time. For the sake of expediency, the name of Emma in the programme is used in this review.
Jeremy Herrin has deliberately chosen a traverse staging to create a goldfish bowl effect as viewers voyeuristically sit on the side-lines of a rehab clinic through a series of gripping but gruelling scenes.
The play opens as Emma is playing Nina in The Seagull but losing not only her lines but her senses.
From there, she reluctantly checks into a clinic but fights with all her might to keep control and evade the help that is on offer.
This comes not only from Barbara Marten as the Doctor but a therapist, a couple of caring orderlies and her fellows, each of whom has endured a similarly ghastly experience.
The stages of recovery are mapped in great detail before an interval that comes quite a way into the 140 minutes.
Afterwards, there can be a sense of rush, as the cure begins to take effect before a deeply moving scene of reconciliation with parents provides at least a partial explanation of why the actress has felt the need to escape reality via acting and then drink and drugs.
In addition to presenting a portrait of an addict who eventually travels through delusion to denial, acceptance and potential recovery through truth, the play manages to make some pertinent observations about acting and the psychology required to make the grade. While this might only be a partial view presenting the thoughts and motivations of a single person, many thespians might nod in recognition at some of her observations.
Miss Gough's performance reaches such heights that it is easy to forget that she is acting rather than actually experiencing the painful drying out process in tearful, Technicolored real life.
She gets good support not only from Miss Marten but also Nathaniel Martello-White playing patient turned orderly-therapist Mark and Alistair Cope as Foster.
People, Places and Things might not always make for easy watching, although there are some good jokes to lighten the mood, but it is compelling and for those that have been lucky enough to have limited experience of addiction, it will be a real eye-opener.
Anyone that has been less fortunate is likely to recognise facets of themselves or their friends and family and should take solace from seeing the addict's predicament sympathetically re-enacted.
This is yet another big Rufus Norris success and bodes well for his tenure at the helm of our National Theatre.
Reviewer: Philip Fisher