Pericles, Prince of Tyre
William Shakespeare
Shakespeare's Globe
(2005)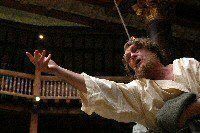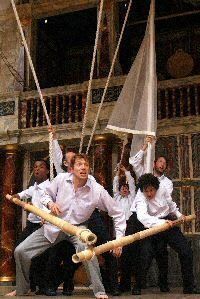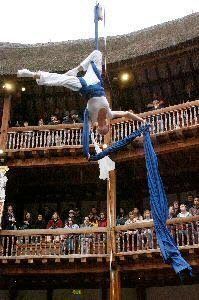 The Season of the World and Underworld featuring Shakespeare's last plays is turning into an exhibition of director-led theatre. Following Tim Carroll's three-man Tempest, Kathryn Hunter's Pericles has a full cast but not a standard one.
Three key figures - the younger Pericles, Gower and Helicanus - are played by actors using strong Slovakian, African and Italian accents respectively. This means that the verse, not this play's strong point anyway, disappears almost completely.
This is balanced by some fine examples of physical theatre as one might expect from Miss Hunter, notably a comic wrestling bout and a team of aerial gymnasts who wow the audience and create truly beautiful storm scenes.
The narrator Gower is played by Patrice Naiambana who maintains a light tone, if not his African accent, throughout. He has further glory doubling as Cerimon, a doctor who miraculously raises the hero's wife Thaisa from the dead.
Pericles is played for most of the play by Robert Lucksay, watched over by his older self, Corin Redgrave. The latter occasionally steps in, for example failing in his desperate attempts to protect his daughter from the worst of foster parents. The baton is passed between the two symbolically with the urn containing his/their daughter's supposed ashes.
The production is set in the present day in visual terms and the action moves around the globe - pardon the pun. Pericles stops in Africa, the Middle East and Greece, the last most entertainingly during an Olympic Games. These contain stunning displays as the gymnasts (literally) take off.
There is a lack of seriousness throughout the first half of the three and a quarter hour performance that only disappears when Laura Rees playing Miranda moves centre stage. She is Pericles' virginal daughter, almost slaughtered then sold into prostitution.
However, this strong-willed maiden proves to be the worst harlot in history. She charms the city's governor (played by Jude Akuwudike) and, more impressively, the awful whoremonger Boult. She them pulls off a greater coup for goodness by rescuing her unrecognised father, by this point the quivering Corin Redgrave, from a catatonic state.
The final miraculous reunion as the pair delightedly identify each other is moving but soon turns into melodrama as multiple coincidences pile up to ensure a happy ending.
Apart from an embarrassing interlude straight from panto, this is a pleasant evening's entertainment that will be best remembered for its spectacular visual effects, largely courtesy of their Master, Marcello Magni, who also makes a fine Boult.
Reviewer: Philip Fisher