Period of Adjustment
Tennessee Williams
Almeida Theatre
(2006)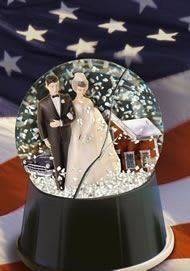 It is snowing in the front stalls of the Almeida, at the moment. The frosty conditions extend to life onstage as well.
Cultural commentators have frequently suggested that men and women are so ideologically differentiated that they inhabit different planets. The men and women comprising the two couples in this play could almost originate from different universes.
To most couples, the time just after their marriage is their honeymoon, a time of unbridled joy and, in 1958 when this play was written, ecstatic and unprecedented passion. Tennessee Williams had a different take on marital bliss, looking at this time as a period of uncomfortable adjustment rather like a seven (or in this case six) year itch.
This may not be one of Williams' best plays but director Howard Davies' revival is welcome since Period of Adjustment is a forgotten piece that has not been seen on a London stage since soon after its creation.
It is an odd mix of drunken slapstick, gloom and sexual philosophising and the balance between these elements is not always perfect.
The film version in 1962 starred the young Jane Fonda playing Little Bit in one of her early appearances on celluloid. Apparently, the part had been created for Marilyn Monroe and Davies ensures that his audience is well aware of this by giving Lisa Dillon the look of the blonde starlet.
It may not be surprising that Little Bit and George, her husband of one night (played by Benedict Cumberbatch) do not understand each other. The new bride's knowledge of men, with the exception of her strict Texan father, is close to zero, while loud George may have fought in two wars but has still to overcome his fear of a far greater enemy - the woman.
This couple is counterpointed by the husband's old war buddy, Ralph, given weary life by Jared Harris. He may have been married to the unseen Dorothea for six years but seems to know almost as little of women as his pal.
Dorothea, who eventually appears in the ungainly shape of Sandy McDade, is a millionaire's daughter whom Ralph marries for her daddy's money rather than any sense of love. She has eventually walked out on him on Christmas Eve, taking their three-year-old "sissy" son back to her family home for the Yuletide celebrations.
It is very noticeable that the two men are far closer to loving each other, in a platonic sense, than the husbands and wives will ever manage. They also know each other far better.
As Little Bit becomes increasingly shrill and unhappy, there is little that either her husband, who is equally panicky having failed to consummate the marriage the previous night, or his friend can do to calm her down.
All this is delivered in a tone that varies between realism and situation comedy. Towards the end of the evening's two-and-a-half-hour duration, Dorothea arrives and unwittingly changes the focus so that a relatively happy ending can be reached, as everybody achieves not only knowledge of their partners but also, to an extent, of themselves.
It is often difficult to watch a play about intensely irritating people annoying each other and it could be argued that Williams spends far too long observing the warfare before introducing the voice of reason, which will allow the two couples to pursue their lives at least moderately happily.
Designer Mike Britton has successfully created a two-storey wooden house within the small space at the Almeida and picks up on the playwright's symbolism by placing a large fissure on the back wall. This is the result of a massive cavern on which both the house and the premise for this play have been built.
By the end, the cavern may still be there but its moral equivalent in the minds of these characters has probably, but not certainly, been filled in forever.
Reviewer: Philip Fisher