Persuasion
Jane Austen, in a new adaptation by Tim Luscombe
Salisbury Playhouse
(2011)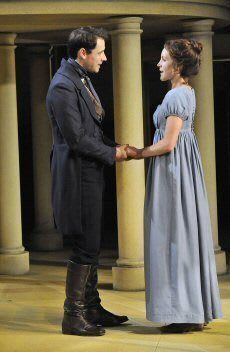 It is not hard to understand why Jane Austen's work is relatively rarely performed on the stage. The number of characters, to say nothing of their fine costumes, presents the initial obstacle.
Then there is the even more formidable barrier in the paucity of writers with a real flair for adapting Austen's novels for the stage. Nick Dear's 2007 account of Persuasion for television was a modest success though by no means universally acclaimed.
Yet with the arrival of Tim Luscombe's version of Persuasion, written for Salisbury Playhouse, it would seem that Austen fans have found their champion.
Following the success of Luscombe's rendering of Northanger Abbey, also for Salisbury, his new adaptation of Austen's last work, published after her death, is both colourful and touching.
And Luscombe's work is graced by a fine production by Kate Saxon, who began her directing career at Salisbury twelve years ago. There is also an excellent multilevel setting by Libby Watson which really speeds along the action.
One of the joys of Austen is her multiplicity of characters already referred to, and here Luscombe's intelligent doubling gives us more then twenty characters from ten players - a fairly good return in terms of artistic productivity in an age of economy.
The action opens with a prologue-like scene in the midst of the Battle of Trafalgar. Alas, however, and this is almost my only reservation about a splendid production, much of the exciting dialogue is lost in the shouting.
It seems to be a problem with whatever kind of amplification is used, that miked voices crash around the auditorium. So much so that I wonder if, in such a small auditorium, amplification should be used at all? It was certainly not needed by the Salisbury thespians of yore.
There are excellent performances by Stephen Billington, long lost villain of Coronation Street, who covers Admiral Croft, Mr Harville, butler - and singer, handing some Italian from Bellini's Il Pirate with the skill of a true professional.
Simon Chandler is a nicely pompous Sir Walter with Jessie Burton as Elizabeth, Mrs Harville and Jemima and Lydia Larson as Louisa and Lady Dalrymple.
There is a very nice performance by Jessica Turner, the neighbour who throttled romance - and admitted it - and the whole is, literally and metaphorically, joined together by Tim Delap's ardent Frederick and a sensitive performance by Marion Oldham as the love he so nearly lost.
Original music is by Richard Hammarton and there is excellent work by the costume team.
Persuasion is Austen's most emotional, poignant and most biographical work and well deserves this latest revival.
The production continues until 12th November.
Reviewer: Kevin Catchpole