Peter and the Starcatcher
by Rick Elice, based on the novel by Dave Barry and Ridley Pearson
Brooks Atkinson Theatre, New York
–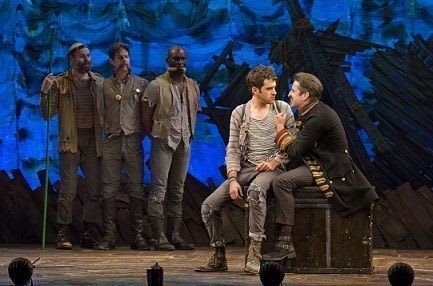 Peter and the Starcatcher is billed as a prequel to Peter Pan, although that is a disingenuous description with which J M Barrie might have some justifiable doubts.
It is only in the final moments that any serious links are developed with the original. By that time, a rather bland Boy, played by Adam Chanler-Berat, has taken the name loved by generations of children, a Captain has lost his hand (though not to the ticking croc) and the show's only girl has suggested that she will bear a daughter called Wendy.
What had gone on before was an entertainment with mixed antecedents, possibly owing something to the fact that it is directed by two diverse individuals.
From Wales comes Roger Rees, still best known for his title role in The Life and Adventures of Nicholas Nickleby for the RSC a generation ago.
Indeed, the multiple narration in the early scenes and other elements spread through the remainder suggest that he learned much from his work on that production with Sir Trevor Nunn and John Caird.
Quickly, all of the actors become English, with the exception of future-Peter and his two lost pals.
Now, we are asked to enjoy a journey made by two ships with equally evil captains. On one, navigated by the splendid egotistical pirate Matthew Saldívar's Black Stache, travels Rick Holmes as aristocratic Lord Aster. This ship was originally captained by the trussed-up Robert Falcon Scott (of Antarctic fame), of all people.
On the other is his 13-year-old daughter Molly the Starcatcher, wise beyond her years in the capable hands of Betsy Hogg. She and the Boys are tormented by the Slank, Matt D'Amico every bit as unpleasant as his rival.
To add to the confusion, two identical trunks are swapped, one containing sand, the other something far more magical.
With these elements drawn from a novel of the same title published by an arm of the Disney conglomerate, Rick Elice and his co-directors conjure up a far-fetched story that has elements of swash-buckling, nobility, and even a dollop of teen love.
The ingredients are souped up, presumably by Rees and Alex Timbers, who was the mastermind behind the wild and wonderful Bloody Bloody Andrew Jackson a couple of years back.
Rather than merely telling the story and allowing it to work its charm on the audience, the production goes beyond some lovely physical theatre work created by everyone's favourite at the moment on both sides of the Atlantic, Steven Hoggett, and a couple of songs.
There is constant use of contemporary language and cultural referencing to get laughs, strangely, giving the 2¼ hours something of the aura of a British pantomime, with audience asides and low common denominators to the fore.
This can create a clash of sensibilities as what should be a traditionally told children's tale is mixed with a rather raucous comic style in order to get laughs.
At its best, the performance can be funny, poignant and rather exciting. However, at times, it seems more concerned with trying to amuse at the expense of following its narrative through to the logical conclusion.
Following the end of its Broadway run, Peter and the Starcatcher is set to move back off-Broadway, where it might well have a healthy run in more intimate surroundings than the lovely old Brooks Atkinson.
Reviewer: Philip Fisher