Peter and the Wolf
Music by Prokofiev, choreography by Matthew Hart
Royal Ballet School
Royal Opera House
From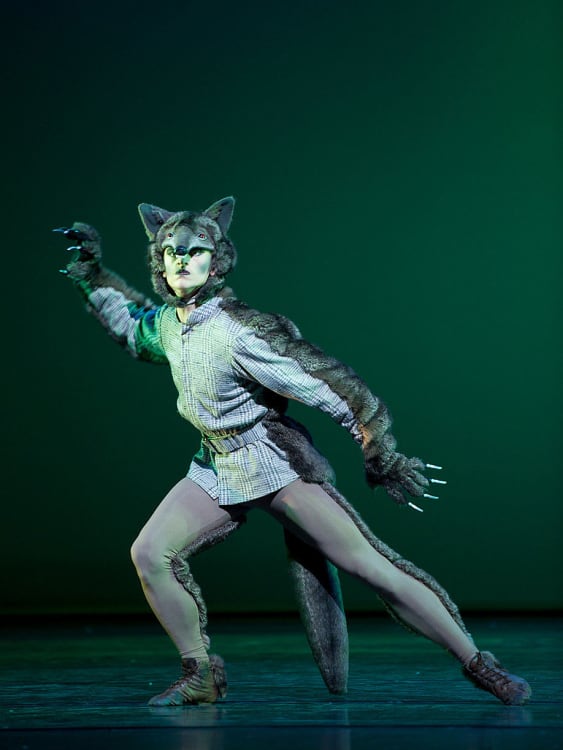 Like many other theatres, the Royal Opera House's response to being forced to close has been to share performances digitally, in a series titled #OurHouseToYourHouse—the first of these being an online première of the Royal Ballet School production of Peter and the Wolf, originally performed in 2010.
Prokofiev's famous symphonic fairytale, written for children, integrates narration with music in a format that is accessible and appealing to both young and old audiences alike. The format is set out clearly by the narrator—played here by actor-dancer Will Kemp—who introduces each character and explains their musical motifs: flutes for the Bird, clarinet for the Cat, strings for Peter and so on. The jaunty signature tune recurs throughout, a comforting reminder that in this fairytale world, good will always triumph over evil.
This production has great visual appeal too, with bright colours in the costumes, green and yellow tinted lights—which create the illusion of sunlight through leaves—and even in the narrator's blue hair and beard. A raised platform in the centre of the stage, which doubles as a tree for the characters to shelter in, is covered in graffiti to add a playful modern touch.
Like the music, Matthew Hart's choreography is largely functional, every step conveying character and building the story. The young corps de ballet are also used creatively to build scenery—most memorably the pond swum on by the Duck, which is made up of flapper-esque dancers in bubble wigs performing floor work reminiscent of Busby Berkeley.
Peter and the Wolf is a great showcase for the Royal Ballet School's talented young dancers, but aside from the narrator there is one other adult in the cast—the villainous Wolf, danced by none other than former Principal Sergei Polunin, who is currently a controversial figure in the ballet world. Here however, he fully embraces his role with pantomime theatricality, with short solo bursts only hinting at his technical capabilities.
This performance is still available to watch via catch-up, so if you're after half an hour of charming ballet escapism, head to the Royal Opera House YouTube channel.
Reviewer: Georgina Wells