Peter Grimes
Benjamin Britten
English National Opera
London Coliseum
–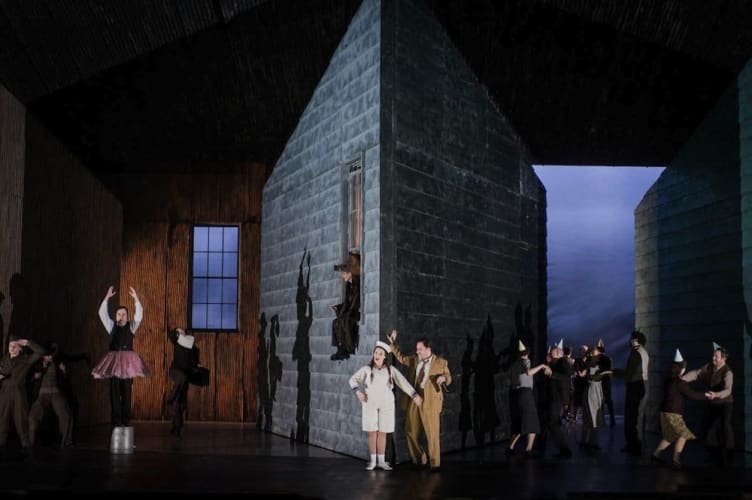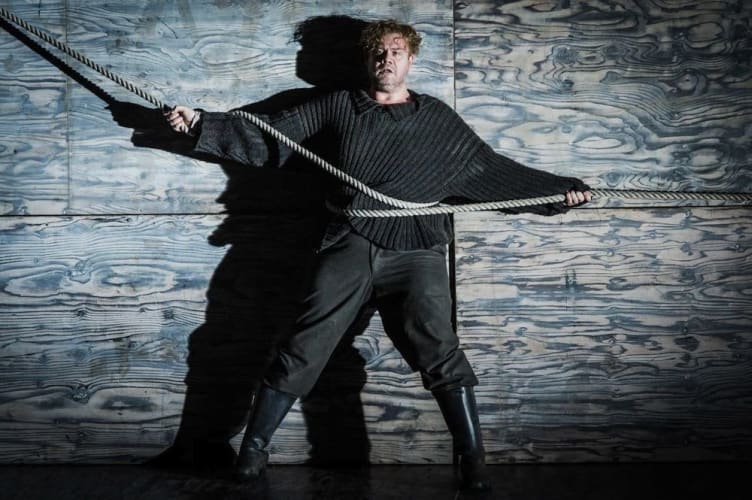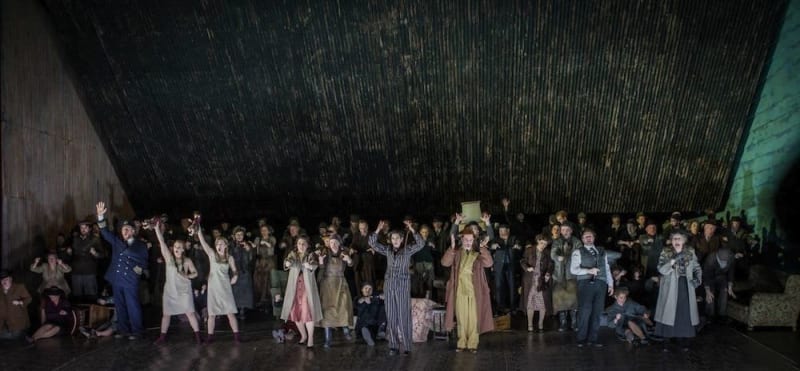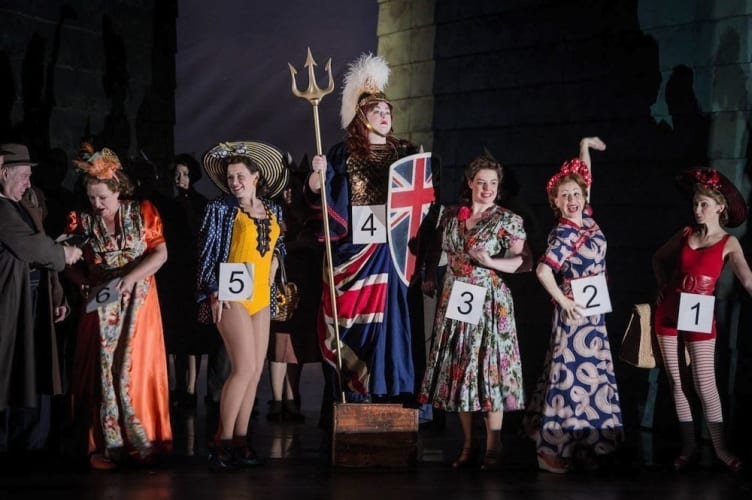 What director David Alden has done with Benjamin Britten's Peter Grimes is remarkable. Perhaps not to conservative taste, but a theatrical tour de force however one looks at it. The three-hour production requires a treatise not a short review.
Five- and four-star sell-out in 2009, its present revival is garnering equal praise. Edward Gardner (sadly leaving at the end of the 2014/15 season) conducts like a man possessed, the orchestra and cast rising to his coaxing, the chorus sing as if possessed, and Peter Grimes is possessed—by a rash dream of wealth that will redeem his outcast status in The Borough.
Montagu Slater's libretto taken from George Crabbe's 1810 poem, sets the story 'towards 1830', but Alden has chosen to bring out not only the autobiographical element in his post-second-world-war setting—Peter Grimes opened a month after VE day at Sadler's Wells, and this is where we are, in an insular Britain of rationing, utility clothes, black-marketeering, finger-pointing bigotry and religious hypocrisy—but also its psychological darkness in nightmare overlay.
The Flying Dutchman, The Ancient Mariner and Wozzeck; Shakespearean, Verdian, Mephistophelean drama; and Mahlerian mood—Alden picks up on many potential shades of meaning in Britten's metatext. But is the Britannia pageant strictly necessary?
A visual tapestry (set Paul Steinberg, costume Brigitte Reiffenstuel, lighting Adam Silverman) of multi-layered clues, tiny detail, references and influences, busy scenes full of eccentric life—why is that man in a pink tutu? Is that a Lowryan nod to Dickens (slow social progress in the provinces), that cloth-capped figure wheeling a boy in a wheelbarrow across the stage in the final scene?
The opening scenes are Stanhope Forbes genre paintings come to life, Ellen Orford's second act brief moment of Sunday rest and hope is a breezy Eric Ravilious harbour setting, and the corrugated iron roof, the walls that shift, divide and press in angular claustrophobic mental madness are German expressionism.
Ned Keene (Leigh Melrose) in loud suit is a pill-popping lascivious lounge lizard of an apothecary, Bob Boles (Michael Colvin) a drunken, self-righteous Methodist sex pest, Auntie's inseparable pigtailed doll-carrying 'nieces' (Rhian Lois and Mary Bevan) are Mädchen in Uniform, and it doesn't take long for lawyer Swallow (Matthew Best) to get his pants down.
Gaunt Auntie (Rebecca de Pont Davies), the town publican, in Radclyffe Hall striped suit, cane and fur coat, wears a pig's head in the Moot Hall barn dance bacchanalia—Lord of the Flies… Peter Grimes as Piggy…
In shapeless jersey, unkempt hair, stolid Grimes is a mess: thin-skinned, violent, needy, impetuous—a tragic hero. And the crowd a fearsome beast—'him who despises us we'll destroy'.
Lonely misfit fisherman Grimes is cleared of the death of his apprentice on a fishing trip, but he is tainted by it. He can never escape the villagers' conviction that he is a murderer. And the laudanum-imbibing Mrs Sedley (Felicity Palmer), whose hobby is crime, is a Miss Marple in reverse.
Told never to take on another apprentice, he precipitates his end by doing just that. Buying poor boy John (Timothy Kirrage) from a London workhouse to help with his haul, which will enrich him and stop the mouths of his accusers in his mind, he sends him down a crumbling cliff.
Why doesn't Grimes leave? The answer is Britten's, the conscientious objector who did leave but came back, 'I am native, rooted here'. Britten poured his love of his native Suffolk into his work: "it has more of me, of the sea, of Suffolk, of the worry of 20th-century life, than perhaps anything I've ever done'.
In the 'Now the great Bear and Pleiades… clouds of human grief' soliloquy Skelton's tenor softly draws out the inner man who wants 'to buy respect' and 'freedom from pain'. 'In dreams I've built myself some kindlier home'.
'What harbour shelters peace', sung without orchestral support, shows his hopes are dashed. There can be only one outcome, Captain Balstrode's advice to scupper his boat. And follow his silent apprentice boys.
A driven, flawed character, hemmed in by unkind people and unkind fate: 'In ceaseless motion comes and goes the tide'. Only two people stand by him, the widow schoolmistress Ellen (Elza van den Heever), whom he hopes to marry when he's made his money (he wants no pity from her, and that's the pity of it), and one-armed Captain Balstrode (Iain Paterson).
As Peter Grimes (Stuart Skelton) piles Ossa on Pelion in his descent into madness, so do Alden and his choreographer accomplice Maxine Braham heap image on image. Each character vividly realised, body language equal to vocal reach, the singing is individually and collectively superlative.
Blown by sea storms and the storms of life, Peter Grimes is a small town tragedy of Greek and Biblical proportions, heightened by a hauntingly beautiful score of cataclysmic onomatopoeic richness. Hobson's (Matthew Trevino) drum that the Reverend Horace Adams (Tim Robinson) does not silence is beating still. 'Man alone has a soul to save'.
'The most significant British opera in over two centuries, Peter Grimes is a work of visceral and sustained beauty, and is notable for the orchestral interludes that depict the sea in different moods.' I can't better that.
The interludes are thinking time, and the opera's dramatic silences—music withheld—make you sit up and listen and hold your breath. Peter Grimes richly deserves the whistles and cheers and hollers I hear on the second night of its present run.
If you can't get tickets for the Coliseum, which I urge you to do, Peter Grimes will be broadcast live to cinemas across the UK and Ireland and selected cinemas worldwide on 23 February 2014 as part of ENO Screen.
Reviewer: Vera Liber